'Bhaiya, mujhe bohot darr lag raha hai': VIDEO of woman pleading during paragliding goes viral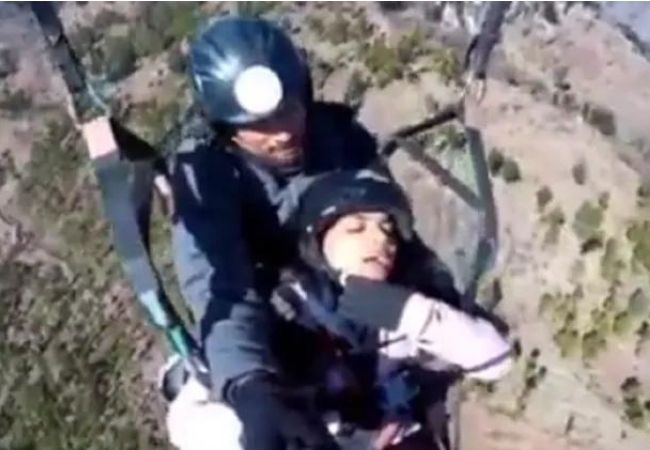 New Delhi: Paragliding is not a fun sport for everyone. Several videos go around the internet which show anxious paragliders screaming and pleading their instructors to bring them back on land. Another such video has gone viral which shows a woman has opted for paragliding and is not at all enjoying the ride rather feeling scared throughout.
The now-viral video shows an unidentified woman who was feeling scared throughout her paragliding journey. She keeps on telling her instructor, "Bhaiya, mujhe bohot darr lag raha hai." The instructor tries to divert her mind but all goes in vain. The instructor was putting so much effort that towards the end of the clip he was heard telling the woman that the video is being recorded and will get viral like the 'Land Kara De' video while he was not at all wrong.
The clip was shared on Twitter by IAS officer MV Rao. He captioned the video as, "Paragliding is Amazing, isn't it? (sic)"
Watch the video here:
Paragliding is Amazing, isn't it ? pic.twitter.com/Y6pKUx35sa

— Dr. M V Rao, IAS (@mvraoforindia) January 15, 2022
The video has garnered over 400 likes and has been retweeted 79 times. Besides, several netizens have been in splits after viewing the video. Some even shared their paragliding experience. Here are some of the reactions:
I had such a good time paragliding ?.

— Jogulamba (@JogulambaV) January 15, 2022
Haha, even the Guide cum instructor alarming " Video Viral ho jayegi" uske words sahi gaye,

— deepaindu singh (@deepaindu) January 17, 2022
100 200 jyada lelo https://t.co/KfaxHVv59q

— Roheet (@iam_roheet) January 18, 2022
This is hilarious ???? https://t.co/hIttLV6xGY

— TakShak  (@B4dBucky) January 18, 2022
Land kara de isse..?? https://t.co/MPaW7sowGa

— Alok Singh (@Phulutu) January 18, 2022
वीडियो वायरल का नाम क्या लिया तुरंत चेहरे पे मुस्कान आ गई ।तीर निशाने पे ??????

— Sukhbir Kadiyan (@SukhbirKadiyan2) January 17, 2022
In the pre-Covid year 2019, a video of Vipin Sahu went viral all over the internet. He became an internet sensation after his paragliding clip went viral where he requested his instructor to say, "Land kara de (Please drop me)." After the video became a hit, he made several TV appearances and took part in Roadies Revolution. Eventually, he overcame his fear and went paragliding again at Bir Billing in 2021.