Ramdas Athawale 'schools' Shashi Tharoor on typos; Twitterati give their take on latter's goof-up
Nirmala Sitharaman addressed the Lok Sabha on Thursday during a discussion on the Budget 2022-2023.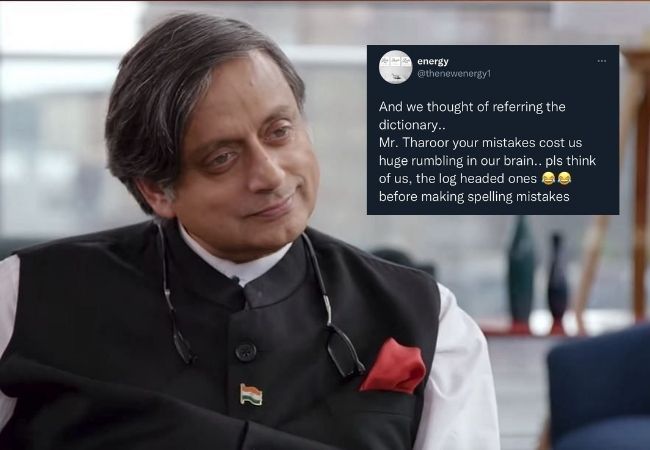 Shashi Tharoor apart from being the MP of Congress is well known to be a word wizard. An avid user of social media platforms, Tharoor's posts engage a lot of netizens for being humorous and knowledgeable at the same time. However, this time, Tharoor's blunder in one of the posts did not escape the audiences' troll.
Sharing a photo on his Twitter on the Budget session held on Thursday, Shashi Tharoor pointed out the Union Minister, Ramdas Athawale who was present at the session. The photo shows finance minister Nirmala Sitharaman replying to a discussion on Union Budget 2022, where Athawale looked bewildered. Taking a jibe at the Union Minister, Tharoor said that even Athawale's 'stunned and incredulous expression' proves that the treasury bench doubts the finance minister's claims about the economy and her budget.
Nearly two-hour rely to the Bydget debate. The stunned & incredulous expression on Minister @RamdasAthawale's face says it all: even the Treasury benches can't believe FinMin @nsitharaman's claims about the economy & her Budget! pic.twitter.com/wOGY7TJYg8

— Shashi Tharoor (@ShashiTharoor) February 10, 2022
Replying to his tweet, Athawale pointed out Tharoor's typos saying, "Dear Shashi Tharoor ji, they say one is bound to make mistakes while making unnecessary claims and statements."
Dear Shashi Tharoor ji, they say one is bound to make mistakes while making unnecessary claims and statements.

It's not "Bydget" but BUDGET.

Also, not rely but "reply"!

Well, we understand! https://t.co/sG9aNtbykT

— Dr.Ramdas Athawale (@RamdasAthawale) February 10, 2022
This counter-attack made by Athawale gave Twetteratis an open field to attack the word wizard in no time. One of the users said, "Sir you are a Member of Parliament. If a Member of Parliament writes wrong English so imagine how this will affect the students of India. It's budget not bydget . @nsitharaman @RamdasAthawale  @EduMinOfIndia @dpradhanbjp @ZeeNews @sudhirchaudhary," while another commented, "Are you smoking something these days….now you want to comment on the facial expression and make it a national issue. First learn to type a tweet with such silly mistakes 'rely instead of reply' and 'Bydget instead of Budget'."
Sir you are a Member of Parliament. If a Member of Parliament writes wrong English so imagine how this will affect the students of India.
It's budget not bydget . @nsitharaman @RamdasAthawale @EduMinOfIndia @dpradhanbjp @ZeeNews @sudhirchaudhary https://t.co/7IwMTbeSN8

— Soumyaditya Nath Sharma (@NathSoumyaditya) February 11, 2022
Are you smoking something these days….now you want to comment on the facial expression and make it a national issue.

First learn to type a tweet with such silly mistakes 'rely instead of reply' and 'Bydget instead of Budget' https://t.co/41Ja2fSFHA

— SomeshNandVanshi 🇮🇳 (@aheersomesh) February 11, 2022
Here are some of the reactions of the Twitteratis flooding Shashi's Twitter wall:
An increasingly irrelevant man making appropriately irrelevant comments. https://t.co/LpsffwYHWX

— Shailja Singh (@ShailjaSgh) February 11, 2022
First correct your spelling 😅. Then tell us what Your Prince Charming @RahulGandhi was doing during your tenure? https://t.co/t2ovuBG3sG pic.twitter.com/L6zO49dKsw

— Mon Mohan (@MMGogoi) February 11, 2022
Typos self generated, exempted. No need for Athavale to crib let him have his bottle of hooch @ashoswai@SaketGokhale @RanaAyyub@khanumarfa@LadyVelvet_HFQ@ashoswai@rautsanjay61@DalitRights https://t.co/RENY7V9pj8

— Jhanvi Kapoor (@JHANVIKAPOOR61) February 11, 2022
What was Shashi Tharoor's expression post #SunandaPushkar Murder?

oh wait, the cctv footages, evidences were tampered…

But we hear Sunanda Pushkar came crying to hotel …https://t.co/DURihTIZgW

— Raman (@SaffronDelhite) February 11, 2022
@ShashiTharoor is ur account hacked? Is this really ur tweet? https://t.co/RewhAQwvzx

— Abhiram Maddi (@abhiramkmr) February 11, 2022
Has Varun Gandhi ticked you off on your English ? https://t.co/8MAW3Bfn1z

— RotsLayer (@rotslayer) February 10, 2022
Budget* https://t.co/60z9wlIpNT

— lakshya nayyar (@oyelakshya) February 10, 2022
Searched whole dictionary but not able to find word bydget. U can't be wrong. Plz guide. https://t.co/BtYQPfqDFd

— Gopal Mote (@gopalmote) February 10, 2022
Can you share the stuff you're using nowadays with me also. Seems to be good. Your spellings are shaking. https://t.co/oZzm9qjuHk

— Srinivas M N 🇮🇳 (@SrinivasMN6) February 11, 2022
@SharadBishnoi05 bhai I told he takes the same cheap stuff that Pappu takes …. Dekh lo https://t.co/FZw6J2rJRu

— Konark Sangal (@konarksangal) February 11, 2022
S. T.
Earlier you used to look at Down towards females nowadays looking upward towards male's are you a photographer or politician?
S. T. : I'm a most Stupid person. https://t.co/k1eLIzoEA2

— B. T. Hindu Samraat. (@MukeshM93739493) February 11, 2022
Shashi your tongue used to licking , is slurring

It's Budget and Reply .

Nice company too I hope !! https://t.co/SEj7JDzFhl

— Nirav Vaidya (@niravjagruti) February 10, 2022
And we thought of referring the dictionary..
Mr. Tharoor your mistakes cost us huge rumbling in our brain.. pls think of us, the log headed ones 😂😂 before making spelling mistakes https://t.co/8YWFuvZZe5

— energy (@thenewenergy1) February 10, 2022
The incident followed after Congress, IUML, DMK on Thursday walked out of the Lok Sabha during Nirmala Sitharaman's speech. Nirmala Sitharaman addressed the Lok Sabha on Thursday during a discussion on the Budget 2022-2023. Sitharaman said in a reply, "In the 2008 financial crisis, India's GDP took a hit of 2.21 lakh crores in terms of reduced gains. In the recent crisis, India's GDP lost 9.57 lakh crore. Despite disruption to the supply chain, inflation in 2020-21 was 6.2 per cent, whereas in 2008-09, it was 9.1 per cent."