Viral Video: Ravana dances over Bhangra song at Ramlila celebration; netizens go crazy
An old video has gone viral over the internet on Thursday where a man dressed as Ravana is seen dancing Bhangra on a Punjabi song.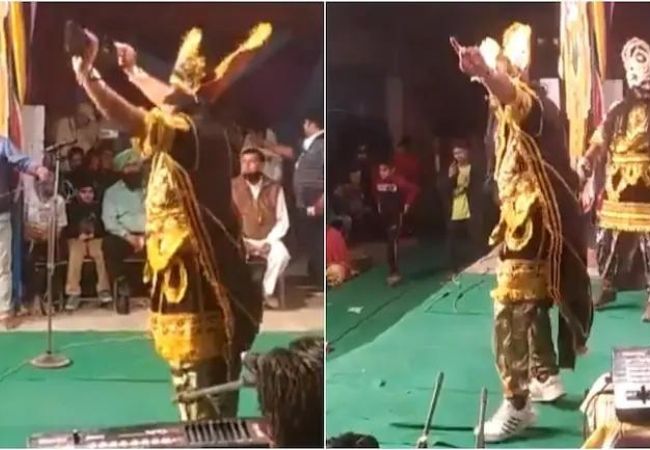 New Delhi: Amidst the Dussehra celebration all across the country, a celebratory atmosphere of Punjab has caught the limelight. An old video on Ravana dancing has gone viral over the web on Thursday. Apart from giving a dramatic performance, 'Ravana' decided to entertain the audience by dancing Bhangra on "Mitra da naa chalda."
A Twitter user has shared this 30-second video clipping where a man is seen dressed as Ravana. The man is matching steps with the beats, dancing Bhangra. He keeps aside the gun he was carrying to dance. He was dressed in classic black-gold attire with a crown placed on his head. Besides, his co-actors were also accompanying him with the vibe created.
Often, in several parts of India Ramlila celebration takes place where people enact the life journey of Rama according to Hindu epic Ramayana. This celebration takes place during the festive season of Dussera.
From the time of share, the video got 21,000 views.
See the video here:
Kra lao Punjab vich Ramayan?? pic.twitter.com/f3MxQZQhjM

— ਅਦਨਾਨ ਅਲੀ ਖਾਨ ( عدنان علی خان ) (@AdnanAliKhan555) October 13, 2021
On seeing the video on the micro-blogging site, netizens have gone crazy about it. The video has several tweets and re-tweets and innumerable comments. One of the users wrote, "Super Hillarious and so realistic in the context of Punjab," while another commented, "This is the most heartwarming and hilarious thing I have seen today… Made my day."
See the comments below:
Raavan….Mitran da na chalda??
Punjabi Ramlila!!!

— Karmjit Singh Biding (@KBiding) October 13, 2021
Balle balle, says Ravana, as he slaps his thighs and prances on the stage in this Ram Leela in Punjabi !!! https://t.co/b9o2WBEzMC

— Vivek Sengupta (@vsengupta) October 14, 2021
Super Hillarious and so realistic in the context of Punjab? https://t.co/jS65TZAoWg

— Aakriti_Sood (@aakriti_08) October 14, 2021
This was so common in the pind in the 80's / 90's. I remember it from my childhood as well. The Hindu Punjabis would happily take part (along with everyone else). Anyone not from Punjab wouldn't understand. https://t.co/ZuP4UAMCtO

— SIKH HISTORY AND CURRENT AFFAIRS (@SikhHCA) October 13, 2021
This is the most heartwarming and hilarious thing I have seen today… Made my day ❤️ https://t.co/Nhlylgexzs

— Anshul Gupta (@oyegupta_) October 13, 2021
Adding necessary spice to it, totally loving the vibe ?? https://t.co/GAY0VeH2Vm

— Touchstone. (@unclecorleone) October 13, 2021
Best Ravan Ever!

— bender_y (@sushil86y) October 14, 2021
Happens every time. Great fun to watch

— Sumeet Padda ਸੁਮੀਤ ਪੱਡਾ ?? (@PaddaSumeet) October 13, 2021
It's quite normal in rural areas. I still remember that in my childhood late 90's my village was doing Ramayan every year and to entertain people Hanuman Ji was doing some tricks or Ravan and Ram ji had some funny punchlines. And those jhankis in between the episodes.

— Broken Soul (@DeadpoolKaPapa) October 13, 2021