"You Cannot": Panelist's reponse to Navika Kumar on TV debate leaves Netizens in split
As she further asked him, "Where do I go?" with an angry tone, Chandran sarcastically replied, "wherever you want"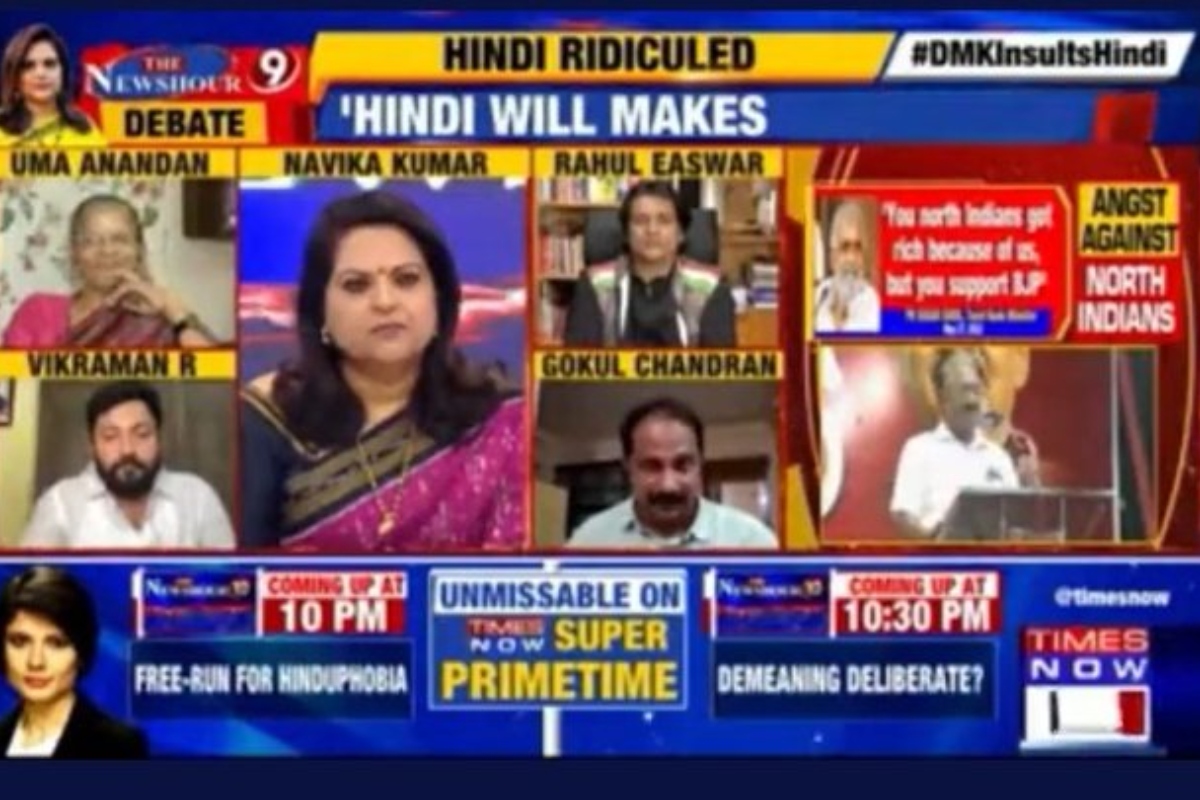 New Delhi: An ex-Indian Navy lieutenant Gokul Chandran, who is also a political analyst has left the users of the Indian side of social media in splits after he exchanged a slightly heated conversation with news anchor Navika Kumar during a panel discussion.
At a Times Now debate on Monday evening, news anchor Navika Kumar who usually gets the best of her guests on the panel, and overpowers them to react to her ways, wouldn't have expected the tables to take a turn this once.
Here's what happened
Chandran, while speaking about Shudras, told Navika, "Aryans aren't just a caste, and were instead invaders historically".
His statement raged off Kumar as she responded him by asking, "Oh, so we are invaders? With your permission, can we live in this country, sir? Since you are the boss and the owner of this country, can we live in this country?"
"No, you cannot," replied Chandran with a straight face.
"So, you are saying I must go", a surprised Navika asked him, to which he responded with a "yes".
As she further asked him, "Where do I go?" with an angry tone, Chandran sarcastically replied, "wherever you want".
Watch:
What wrong did I say? 😁 pic.twitter.com/afV40dGVsQ

— Lt Cdr Gokul (@gokulchan) June 6, 2022
As soon as the clip of the debate surfaced online, Twitter users are cracking up on a penalist roasting Navika in her own show.
Check some hilarious reactions here
Navika- So, you are saying I must go
Gokul( Mallu way)- Aa Aa Aa😂
Navika- Where do I go!
Gokul : Wherever you like!!
😂😂😂😂@gokulchan 🔥🔥🔥🔥 https://t.co/UBUFciMATr

— Mini Nair (@minicnair) June 7, 2022
Navika Kumar wanted to prove she was an Arya. Gokul Chandran said, according to Ambedkar, the so-called Aryas who Invaded India were Shudras.
Navika wanted to know where should she go😂😂😂😂😂😂😂😂😂pic.twitter.com/kI9QMXbi0C

— Ravi Nair (@t_d_h_nair) June 6, 2022
Poor Navika is having a terrible time these days….. pic.twitter.com/C7guizNq6J

— Vinay Kumar Dokania (@VinayDokania) June 6, 2022
How dare you!How dare you moment for Navika 🤣🤣🤣🤣🤣 https://t.co/x6nO47zYq0

— Malz (@Malz59408224) June 7, 2022
I would like to follow the person who very nicely said Navika that she should leave. It was hilarious. Can you please let us know his name and twitter handle? https://t.co/Z5cvrwucM5

— Raghurama Sastry Madgula (@raghu_madgula) June 7, 2022
RT if you think Navika kumar Kachra Deserves to leave our country 😂 pic.twitter.com/rcthzbXIrF

— अनुज पाठक (@Anuj_Speaks27) June 6, 2022
I was waiting for a comeback from Navika, but it never came ….. 😂 😂 https://t.co/XvvuRXwhbW

— Mayank Saxena (@mayank_sxn) June 6, 2022