Rohit interviews Kohli post 71st ton; their witty chat & Sharma's 'shuddh hindi' cracks up social media
After the successful match against Afghanistan and Kohli's 122 runs of 61 balls, India captain, Rohit Sharma engaged in a one-to-one chat with the former skipper in 'shuddh Hindi.'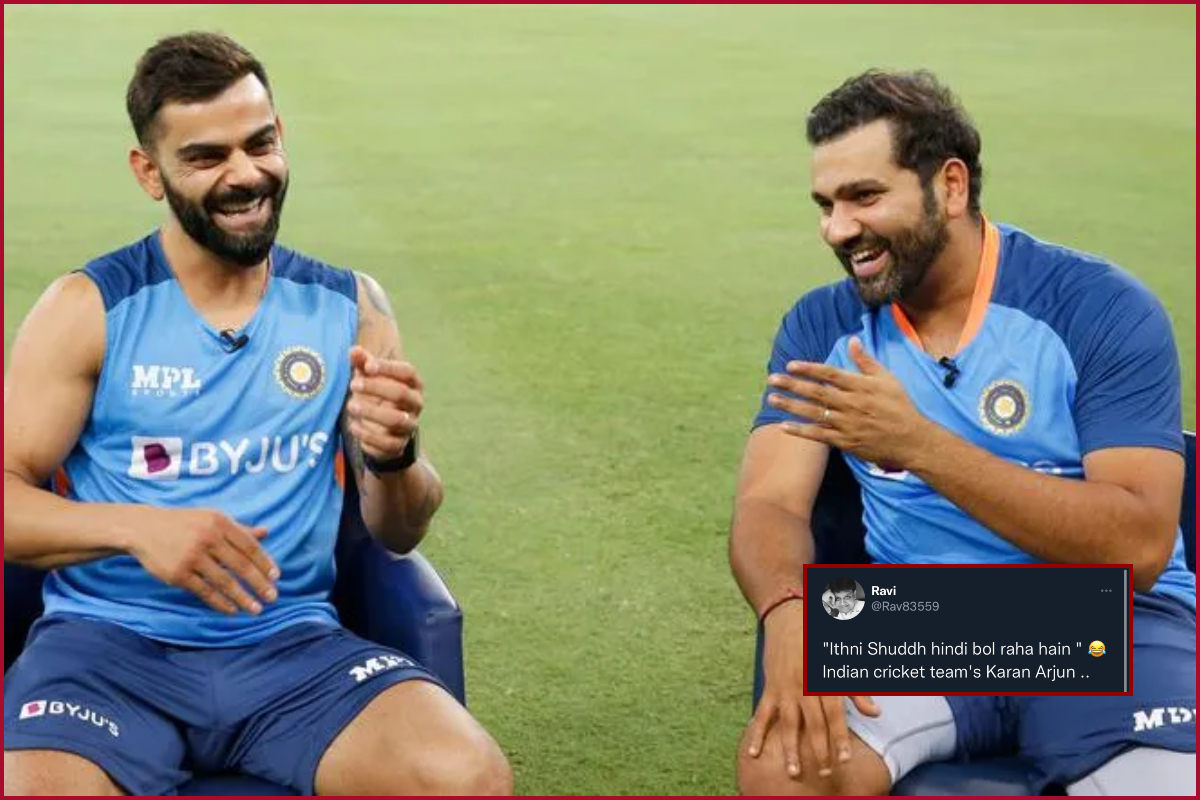 New Delhi: Virat Kohli celebrated his 71st century at the last match against Afghanistan in the ongoing Asia Cup 2022 along with him, the whole of India celebrated his much-awaited century. The cricketer after a month-long break is back in form and is quite visible from the very first game. As the tournament proceeded, Virat Kohli just improved his form.
After the successful match against Afghanistan and Kohli's 122 runs of 61 balls, India captain, Rohit Sharma engaged in a one-to-one chat with the former skipper in 'shuddh Hindi.' Rohit Sharma who missed out on the match against Afghanistan asked Kohli about how he felt after scoring a century. The latter couldn't stop smiling and shared his experience.
"Virat, bahot bahot badhaayi aapko, aapka 71st hundred. Poori India wait kar rahi thi, I am sure aap zyada wait kar rahe the. Aapne jo innings kheli usmein kaafi kuch dekhne ko mila, aapne gaps achhe dhoondhe, shots achhe lagaaye, toh apni innings ke baare mein bataaiye, kaisi shuruaat huyi, aur uske baad kaisi thi feeling (Many congratulations to you on your 71st ton. The entire country was waiting and I am sure even you were waiting. In today's knock, we saw you were finding the gaps nicely, playing good strokes. Take us through your knock and also tell us how is the feeling," Rohit said.
What happens when @ImRo45 interviews @imVkohli ☺️ 👏

Laughs, mutual admiration & a lot of respect 😎- by @ameyatilak

Full interview 📽️https://t.co/8bVUaa0pUw #TeamIndia | #AsiaCup2022 | #INDvAFG pic.twitter.com/GkdPr9crLh

— BCCI (@BCCI) September 9, 2022
"Itni shuddh Hindi bola raha hai mere saath pehli baar (For the first time he is talking to me in pure Hindi)," Kohli looked at the camera and said.
Fans have loved Rohit Sharma and Virat Kohli's candid conversation. Twitteratis have congratulated the former Indian skipper for his century as well as joked at Rohit Sharma's 'shuddh Hindi'. 
Take a look at how fans have been reacting:
Subtitle podra @BCCI daiii😤 https://t.co/6awMROJx42

— Billa SK 10👣🍁 (@billa_SK10) September 9, 2022
Beautifully done

Team is confident on their strengths
Clear communication on roles
Middle over acceleration when needed
Learn regroup and get us back boys https://t.co/ZTueosZSc2

— ARAVIND R (@dakaltydamalty) September 9, 2022
This was much needed after all the fan wars happening between Virat and Rohit.. #BCCI #TeamIndia #T20WorldCup2022 https://t.co/J4AzZAyScC

— aniket manchekar (@im_ANI91) September 9, 2022
https://t.co/uSRtfi9lHY pic.twitter.com/X1iFSJ6AQo

— அந்த நாலு பேர் 👥👥 (@arthvvader) September 9, 2022
Best moments for Virat Kohli & Rohit Sharma fans as well as #TeamIndia fans 💕 #ViratKohli𓃵 #RohitSharma𓃵 #ViratKohli #RohitSharma https://t.co/rFtW6wGD4G

— Jebin Mathew (@Im_JEBIN) September 9, 2022
"Ithni Shuddh hindi bol raha hain " 😂
Indian cricket team's Karan Arjun .. https://t.co/UMzBEWDNMd

— Ravi (@Rav83559) September 9, 2022
Shuddh Hindi 😭😭😂😂

Rohit and Virat 🥹🥹 https://t.co/0YF97P2u0q

— Deepa ll VKK FanGirl 💕 (@D4kkvk) September 9, 2022
This century came when no one was expecting it https://t.co/qw5wzDaa68

— Pawan Kalyan's Bhagat Singh (@vakilfan) September 9, 2022
Rohirat 🧿❤️ https://t.co/ZIumyzO80B

— Manic Psycho 🖤 (@Fierce_Firefly_) September 9, 2022
Bas issi ka to intazaar tha 😍🤗 #RohitSharma𓃵 #ViratKohli𓃵 https://t.co/6EXx4wQXBJ

— Aneesh Singh (@Aneesh0123) September 9, 2022
Best cricketing minds, we have with us today.
Jai Hind 🇮🇳 https://t.co/QHdxYg3qOb

— 𝚂𝚊𝚗𝚍𝚎𝚎𝚙 (@InduruMan) September 9, 2022
Ppl who dont understand hindi 😅 https://t.co/JOJBYALtuq pic.twitter.com/y5VQOncTwF

— Yash Cult Sid (@YashCultSid) September 9, 2022
#RohiRat 🥹💙..look at the Smile on their faces 🌝💙 https://t.co/EyJ0nqNvAW

— KingKohli𓃵👑 (@SankheAayush) September 9, 2022
Imagine this duo open the innings. @ImRo45 @imVkohli @BCCI https://t.co/6o0fMEVl6v

— Vinay Kumar (@VinaykumarParri) September 9, 2022
Virat brutally honest as always👌 https://t.co/GjTEyzLo8g

— Backfoot_Punch (@kookaburra_221) September 9, 2022
Remember, it took 2 years 9 months, and 15 days for #ViratKohli𓃵 to hit a century.

Patience, Persistence, Perseverance, and Positivity are the key to success.https://t.co/InLDIgo9t9

— Joy (@who_coder) September 9, 2022