After 'Boycott Eros Now' trends on Twitter over 'vulgar' Navratri memes; Eros issues statement, delete posts
On Thursday morning, Twitter witnessed the hashtag #BoycottErosNow as one of its top trends. This comes after a section of netizens shared screenshots of the production and distribution company's tweets around Hindu vs Muslim festivals.
October 22, 2020 11:08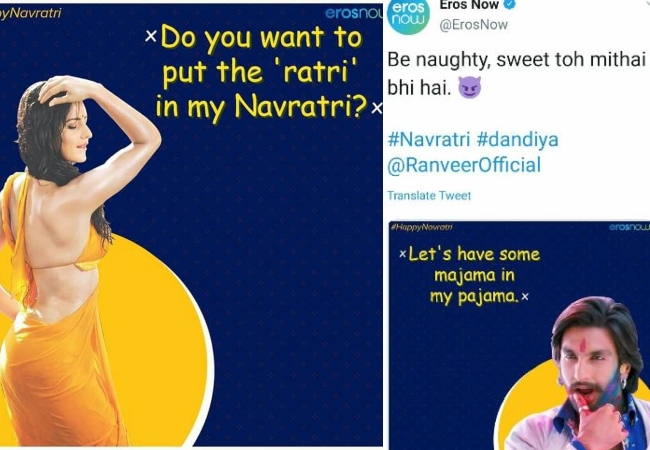 New Delhi: After boycott Eros Now started trending on social media on Thursday morning for sharing "vulgar" tweets and memes on Navratri. Eros has now issued a statement after removing the vulgar tweet linked with Navratri.
The statement read, "We at Eros love and respect our cultures equally. It is not, and it has never been our intention to hurt anyone's emotions."
It further said, "We have deleted the concerned post and apologize for having offended anybody's sentiment."
— Eros Now (@ErosNow) October 22, 2020
A section of the internet is upset with Eros Now for allegedly "violating" the religious festival of Navratri by "mocking" and "insulting" it.
Just a small sample of the Hinduphobic posts by @ErosNow on Twitter and Instagram.

It seems brands have started offending Hindus to get cheap attention. Don't let this attention come for "cheap". pic.twitter.com/LFLCyAZL32

— Monica (@TrulyMonica) October 22, 2020
Maximum RT And #BoycottErosNow

Shame On " Eros Now " https://t.co/EVTJbUYaBp

— Narendra Kumar Chawla (@NarenderChawla1) October 22, 2020
We strongly support #BoycottErosNow and condemn their #Hinduphobic behavior.

Vulgar video post are made for #DurgaPuja and #Dandiya but @ErosNow was very sensitive (Sanskari) while wishing #Eid …

We can't tolerate such anti Hindu campaign.

— khemchand sharma #IStandWithFarmersBill (@SharmaKhemchand) October 21, 2020
Shame On @ErosNow 😠

Maximum Retweet And Repeat With Me #BoycottErosNow pic.twitter.com/NunUhoW9pl

— Arun Yadav (@beingarun28) October 22, 2020