BJP set for landslide majority in UP, likely to cross 300 mark, predicts Axis My India Exit Poll
Akhilesh-led SP is also seen raising its numbers substantially but not enough to pose any challenge to the saffron party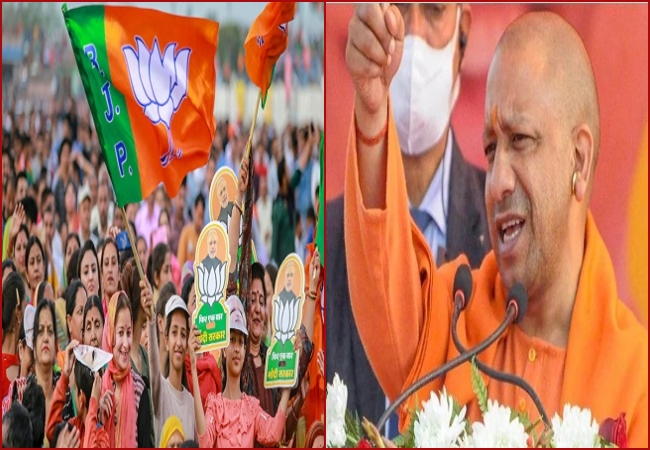 New Delhi: The Bharatiya Janata Party (BJP) is all set to repeat its 2017 performance and is likely to storm to power with thumping majority, predicts Axis My India Exit Poll. In the 2017 elections, the BJP-led alliance had won 325 seats with party clinching victory on 312 seats on its own.
2022 Assembly elections were dominated by speculations and reports of strong anti-incumbency against Yogi govt but the polling agency has given clear and absolute mandate to the saffron party in the state. Opposition parties including Samajwadi Party, BSP and Congress are completely failing in their efforts to dislodge the Yogi government.
As per Axis MY India Exit poll, BJP is all set to cross 300 mark in best scenario. The party is projected to win 288-326 seats, thus repeating its 2017 mega performance.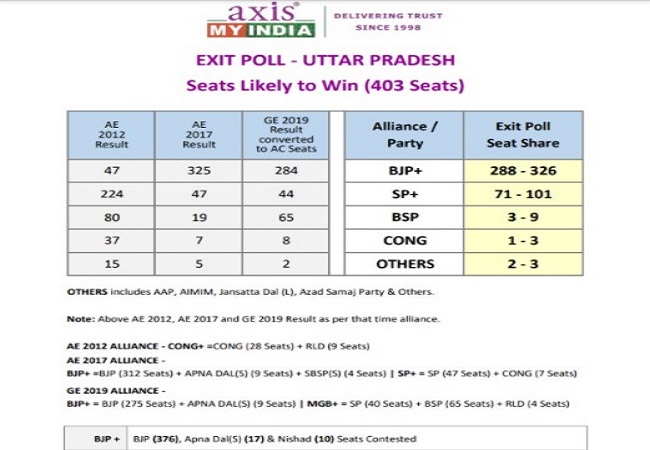 Akhilesh-led SP is also seen raising its numbers substantially but not enough to pose any challenge to the saffron party. Mayawati-led BSP remains on the fringes while Priyanka-led Congress is seen heading for a humiliating defeat despite the Gandhi scion personally steering the party's campaign.
BJP vote share set to rise 5%, history in making
In terms of vote share too, BJP is taking long strides. In comparison to 2017 elections, BJP is seen getting a rise in vote share by almost 5%.
With a projected vote share of 46% in 2022 polls, the party is looking at its best poll numbers, even bigger than 2017 Assembly elections.
SP is expected to benefit heavily in terms of vote share but BSP & Congress are witnessing big dip in their vote share.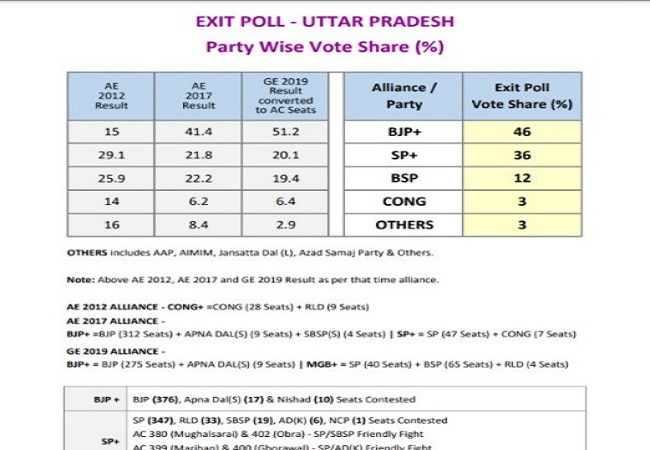 Another remarkable feature of the elections is BJP's likely return to power for second consecutive term. In last 30 years, no party has won the elections in successive terms. If Yogi-led BJP romps home, it will script a new history in the state.
BJP's dominance across all regions
The polling agency further predicts BJP's stellar performance across all regions. Not just Western Uttar Pradesh, party is seen maintaining its dominance across its stronghold areas also including Awadh, Bundelkhand & Poorvanchal.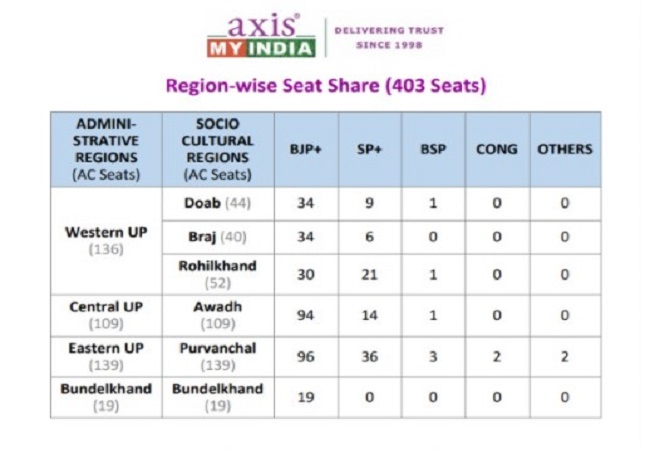 Prior to elections, SP and RLD alliance was projected to ruin BJP's prospects in West UP but the exit polls don't see making Akhilesh-Jayant duo making an impact except in Rohilkhand.