Fact Check: Did PM Modi pause in WEF speech because of teleprompter malfunction?
The video clip of the incident went viral in no time, with rivals making baseless claims and making #TeleprompterPM trend on Twitter.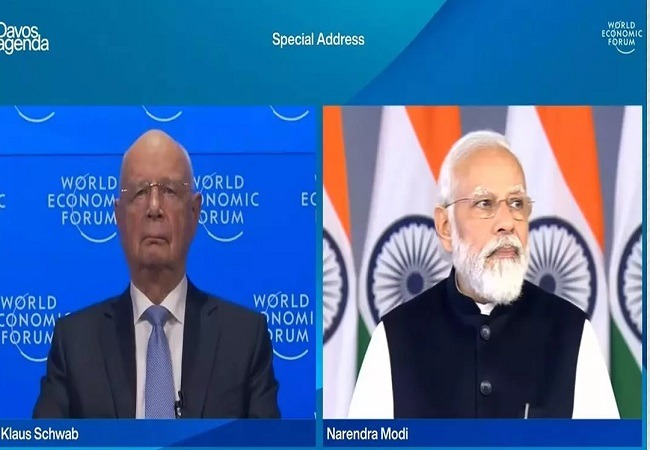 New Delhi: The abrupt pause in Prime Minister Narendra Modi's speech at the World Economic Forum (WEF) on January 17 kicked up a major controversy and became a fodder for political rivals as well as 'meme artists'.
During the speech, PM Modi stopped midway through his speech, looked sideways, adjusted his earpiece and then proceeded to ask Klaus Schwab, Executive Chairman of the World Economic Forum, whether he could be heard clearly.
The video clip of the incident went viral in no time, with rivals making baseless claims and making #TeleprompterPM trend on Twitter. Political leaders including Congress sought to target the PM, accusing him of using choreographed speeches. Congress leader Rahul Gandhi tweeted, "Even teleprompter could not bear such lies".
Even Cong official Twitter account shared a video of disruption during the live streaming and Rahul Gandhi took a dig at him. A series of Congress leaders took the opportunity to target PM over 'video gaffe'.
Congress leader Revanth Reddy juxtaposed two videos and sought to build a false propaganda. Not just Congress handles, AAP leader Sanjay Singh also made similar claims.
As always Rahul ji's prediction about PM has come true…
This is embarrassing for all Indians.

#TeleprompterPM pic.twitter.com/bfloBs8GnG

— Revanth Reddy (@revanth_anumula) January 18, 2022
But, the fact check reveals that this was a technical glitch and not interruption in PM Modi's speech as propagated by the Opposition.
What led to technical glitch?
PM Modi's speech at the WEF was telecasted across many YouTube channels – Narendra Modi, Doordarshan National & World Economic Forum. The technical glitch showed up on DD & WEF but Narendra Modi's channel didn't witness any glitch.
In the DD's version of video, PM Modi was already speaking for over 6 minutes but this portion of his speech was not broadcasted on WEF's YouTube channel. As PM Modi began speaking, the organising member team alerted him that formal welcome was not over. Someone from the background is heard telling the PM to ask this through the microphone whether he was audible to the WEF audience. After the confusion was sorted, WEF chairman introduced PM Modi again, following which PM Modi began his speech afresh.
After the video clip landed on social media, Modi's critics went overboard and stepped up the offensive accusing the Prime Minister of floundering mid-way through the speech. But, the fact check clearly establishes that it was nothing than 'dirty tricks department' of opportunists & political rivals who smelled an opportunity in the technical glitch and took turns to tarnish the image of PM & the country.