FACT CHECK: 'No national flag was removed,' Shivamogga SP busts Congress claims on Karnataka Hijab row
Karnataka High Court's single bench of Justice Krishna Dixit refers petitions challenging the ban on hijab in colleges to a larger bench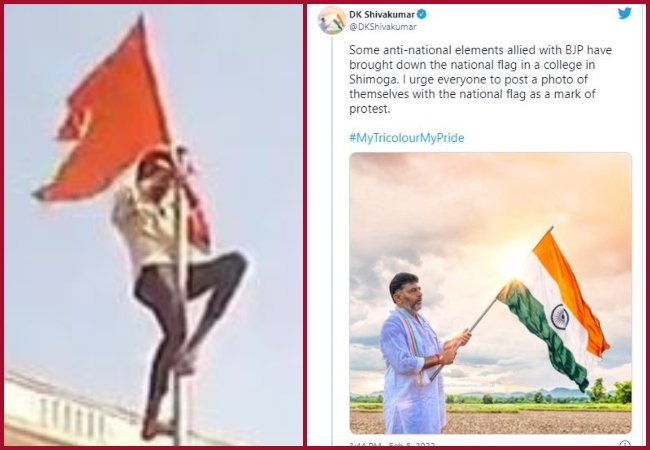 New Delhi: Following Hijab controversy in Karnataka, the state's Congress unit claimed that 'anti-national elements' had taken down the Tricolour at a college in Shivamogga and had replaced it with a saffron flag.
After which,  Shivamogga SP BM Laxmi Prasad busted the Congress' claim and confirmed that there was no National Flag placed in  the said flag-pole.
Karnataka Congress President DK Shivakumar in his series of Tweet had alleged that BJP is involved in the incident and he went ahead asking the citizens to post images with the National Flag as a mark of protest.
"The situation in some Karnataka educational institutions has gone so out of hand that in one case, the National flag was replaced by a saffron flag. I think the affected institutions should be closed for a week to restore law and order. Teaching can continue online," he tweeted.
Some anti-national elements allied with BJP have brought down the national flag in a college in Shimoga. I urge everyone to post a photo of themselves with the national flag as a mark of protest.#MyTricolourMyPride pic.twitter.com/zHvPg53FHh

— DK Shivakumar (@DKShivakumar) February 8, 2022
Later the Karnataka BJP has shared the statement of the police officer and demanded an apology from 'Tukde-Tukde gang leader' DK Shivakumar.
"National Flag was not hoisted. The flag pole was empty. Students hoisted the Saffron Flag & removed it".

This is what Shivamogga SP Lakshmi Prasad stated about this matter which was falsified by "Tukde Tukde Gang Leader" member @DKShivakumar.

We demand his immediate apology. pic.twitter.com/sZtGYh18a4

— BJP Karnataka (@BJP4Karnataka) February 8, 2022
Meanwhile, Karnataka Chief Minister Basavaraj Bommai has announced that all the high schools and colleges will remain closed for the next three days and have also asked everyone to cooperate with orders.
Also, Section 144 has also been imposed in several regions.