'Godzilla' spotted shopping in a 7-11 store in Thailand; Twitter declares title of next MonsterVerse film
People saw the real godzilla trying to get something from the top shelf. Twitter declares the name of next film in MonsterVerse.
April 8, 2021 11:22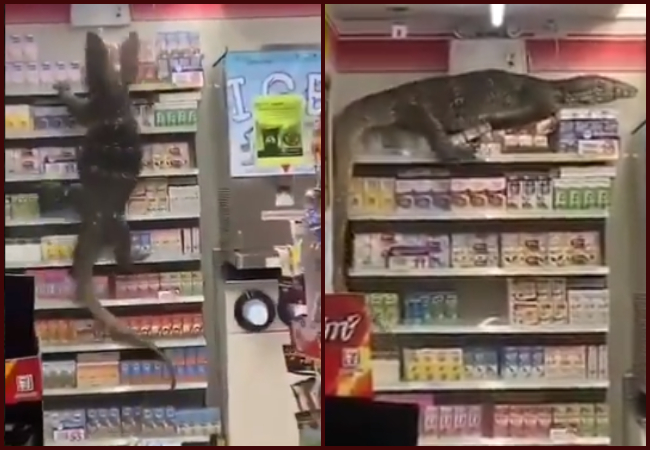 New Delhi: A seven-11 store in Thailand was visited by an unusual customer, a monitor lizard. Yes, a giant lizard entered the store and climbed on of the shelves. While the people were acting like it was normal, on the other hand, Twitterati compared the reptile to none other than Godzilla.
Journalist Andrew MacGregor Marshall, shared the video of the lizard on Twitter:
OMFG pic.twitter.com/a2Vbsh4bjf

— Andrew MacGregor Marshall (@zenjournalist) April 7, 2021
Reactions on Twitter:
One user declared the title of next MonsterVerse film
Is this the coming attraction for Kong vs. The Monitor?

— Mark Stern (@mfstern) April 7, 2021
While some people said he was just there to buy some groceries
Well, he's still searching and can't find it.
Why nobody is helping him? 🤔 https://t.co/801amflxY2

— qUOTE bITCH (@MontysFashion) April 7, 2021
They need to keep the dry skin cream on the bottom shelf! Every time he goes there he asks them to move it! https://t.co/66V32nO6wU

— Łíám Kęłłŷ (@Jose_Kelliniho) April 7, 2021
One user said that the lizard was a new employee in store
Dont mind them it's their first day on the job

— III Ocean Kitty (@definitelyeehaw) April 7, 2021
Here lemme get that for ya. and that. and all that. and somma this.

And I'll just take my break up here it that's okay, thanks boss.

— I Don't Rate Geckos (@Peezkyweezky) April 7, 2021
While one user declared seven-11 as the next one to face Godzilla
Godzilla vs 7eleven

— Ponchi (@Ponchi76088780) April 7, 2021