Video of Jill Biden kissing Doug Emhoff trends on Twitter, netizens call it "Se** start to the State of the Union"
Viral video of Joe's Biden's wife kissing Doug Emhoff, husband of Kamala Harris goes viral on social media.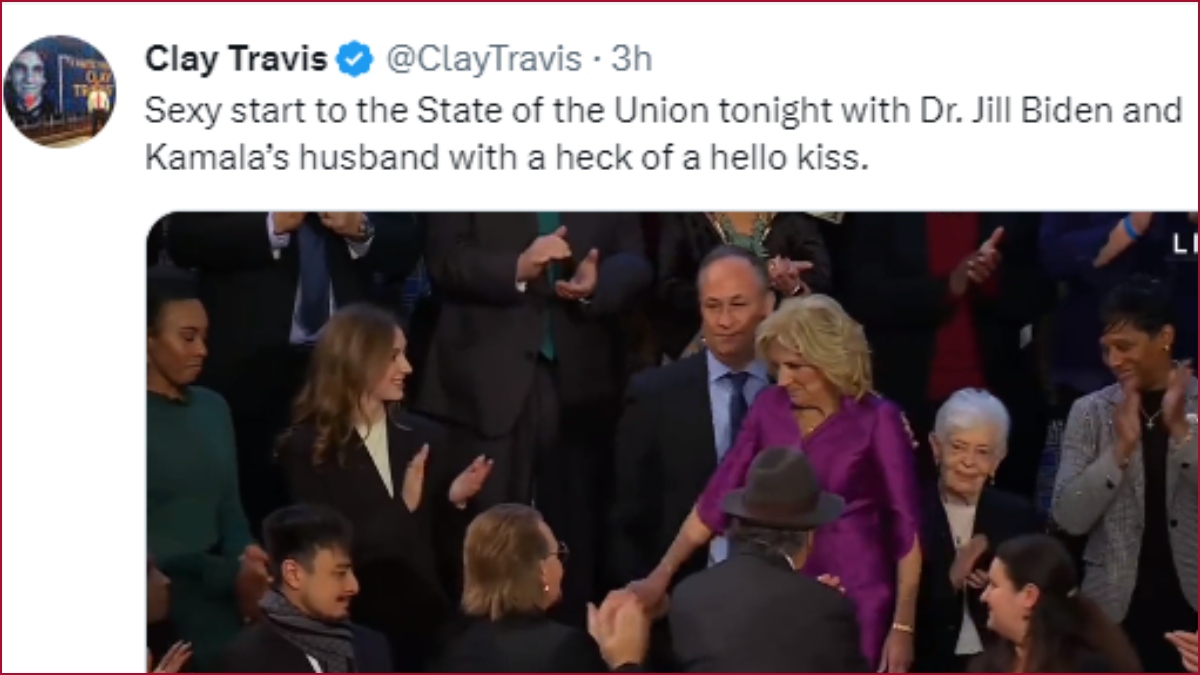 New Delhi: Video of US First lady Jill Biden kissing Vice President Kamala Harris' husband, Doug Emhoff 'on the lips' has gone viral on social media. This happened ahead of the State of the Union Address on Capitol Hill on Tuesday (February 8).
Soon netizens started sharing the video on social media with captions.
Several users questioned Jill Biden's gesture while some expressed anger.
On Tuesday, Joe Biden delivered his second State of the Union address after losing the majority in the US House of Representatives.
Joe Biden talked about US economy and he also acknowledged Hakeem Jeffries, the first Black party leader in the House and the minority leader of the House.
Here is how netizens reacted to US First lady, Jill Biden's kiss on Vice President Kamala Harris's husband:
Sexy start to the State of the Union tonight with Dr. Jill Biden and Kamala's husband with a heck of a hello kiss. pic.twitter.com/bOE3GsA2ia

— Clay Travis (@ClayTravis) February 8, 2023
Didn't know US Capitol Hill had that Kiss Cam thing going on during #SOTU #JillBiden #DouglasEmhoff pic.twitter.com/5Tmg3Atwgn

— Yo Yo Funny Singh (@moronhumor) February 8, 2023
Let's get it on 😂 pic.twitter.com/cxN8d5YXHi

— I Meme Therefore I Am 🇺🇸 (@ImMeme0) February 8, 2023
@VP Kamala come get your man #StateOfTheUnion #JillBiden #JoeBiden pic.twitter.com/z27dDmbHab

— Qu33ng.eth (@G_Trades) February 8, 2023
This had to be an accident #StateOfTheUnion #JillBiden pic.twitter.com/fWGunZPH2w

— Product of the Government #AmericanMade 🌎🇺🇸 (@4everContrarian) February 8, 2023
Well that was awkward to see!#JillBiden #StateOfTheUnionAddress pic.twitter.com/hNiuW2XHPG

— Mary Scott (@maryrscott) February 8, 2023
This was easily my favorite moment from the #StateOfTheUnionAddress: #JillBiden @jonfavs @jonlovett @allitude @PodSaveAmerica pic.twitter.com/yGcxItgDh9

— Brad Heitmann (@bradheitmann) February 8, 2023
What the hell? #JillBiden kissing #DouglasEmhoff pic.twitter.com/J0TPmgghbx

— WinsoN (@Crypto4Winz) February 8, 2023
Also Read: Who is Jill Biden, Joe Biden's wife who kissed Kamala Harris's husband Doug Emhoff on the lips? (VIRAL VIDEO)