Home » Coronavirus »
Covid-19 Bulletin: Out of 8 lakh Corona patients, 5 lakh have recovered; Do's & Don'ts of defeating pandemic
Out of the total number of cases, 2,83,407 are active, 5,15,386 have been cured/discharged/migrated and 22,123 have died so far due to the infection, according to the Union Ministry of Health and Family Welfare.
July 11, 2020 20:58
New Delhi: With the highest single-day spike of 27,114 COVID-19 cases and 519 deaths reported in the last 24 hours, the total number of COVID-19 cases in India reached 8,20,916 on Saturday with the recovery rate standing at 62.78 per cent.
Out of the total number of cases, 2,83,407 are active, 5,15,386 have been cured/discharged/migrated and 22,123 have died so far due to the infection, according to the Union Ministry of Health and Family Welfare.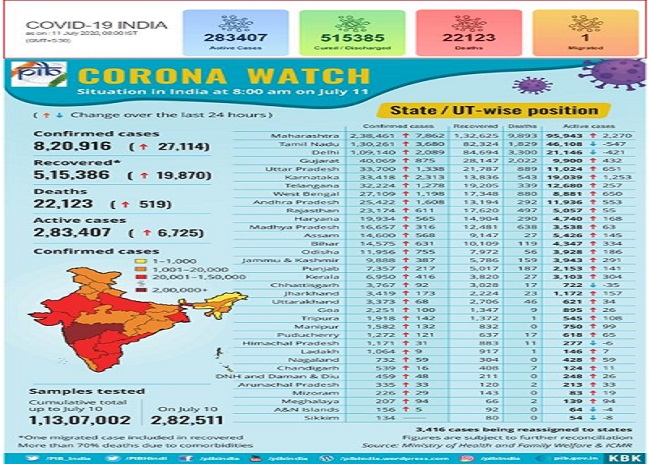 Recovered cases nearly 5 lakhs, recovery rate nearly 63%
The cumulative total number of recovered cases among COVID-19 patients has crossed the 5 lakh mark today. 5,15,385 COVID-19 patients have so far been cured and discharged. The recovered cases outnumber the COVID-19 active cases by 2,31,978. With this progressively widening gap, the recovery rate has further improved to 62.78%.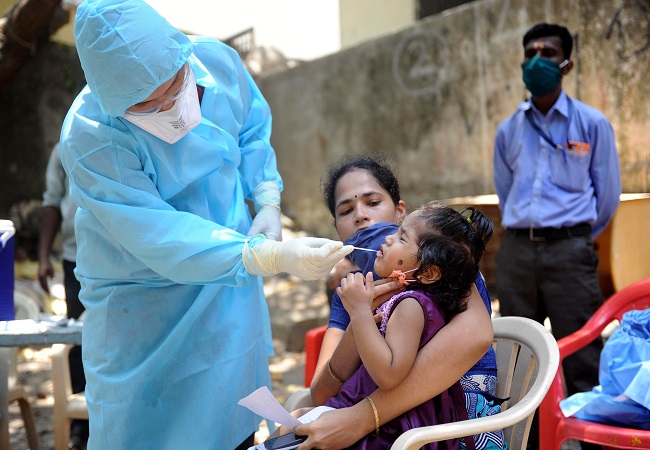 During the last 24 hours, 19,870 COVID-19 patients have been cured and discharged. There are 2,83,407 active cases and all are under medical supervision either in the central and state government hospitals for severe cases, and in home isolation for pre-symptomatic patients and those showing moderate symptoms. So far, 1,13,07,002 samples have been tested through the collective public and private labs under ICMR's diagnostic network of 1180 labs in the country.
PM chairs review meet on Covid-19 pandemic preparations
Prime Minister today reviewed the Covid 19 situationin the country. The review meeting was attended among others, by Union Home Minister Shri Amit Shah, Union Health Minister Dr. Harsh Vardhan, Member, NITI Aayog, Cabinet Secretary and other senior officials of Government of India. The Prime Minister directed that we must reiterate the need to observe personal hygiene and social discipline in public places.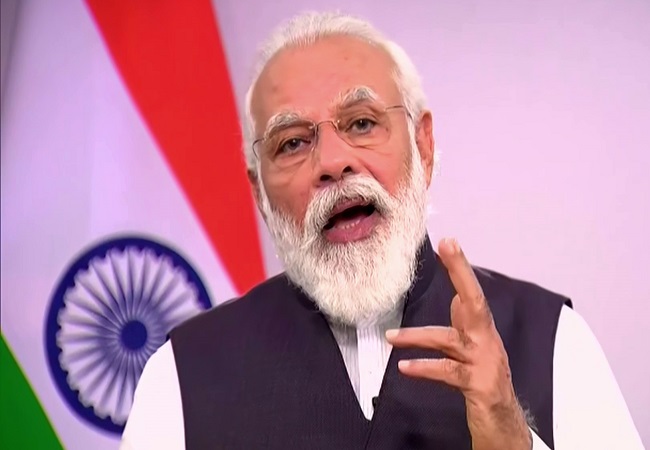 The awareness about Covid should be disseminated widely and a continuous emphasis on preventing spread of the infection should be laid.Prime Minister also directed that real time national level monitoring and guidance should be provided to all affected States and places with high test positivity rate.
DCGI nod for Emergency use of Itolizumab in treating COVID-19 patients
Itolizumab (rDNA origin), a monoclonal antibody which was already approved for severe chronic plaque psoriasis, has now been granted Restricted Emergency Use authorisation by the Drugs Controller General of India (DCGI) based on clinical trials data. M/s Biocon has been manufacturing and marketing this drug for the treatment of patients with moderate to severe chronic plaque psoriasis under brand name Alzumab.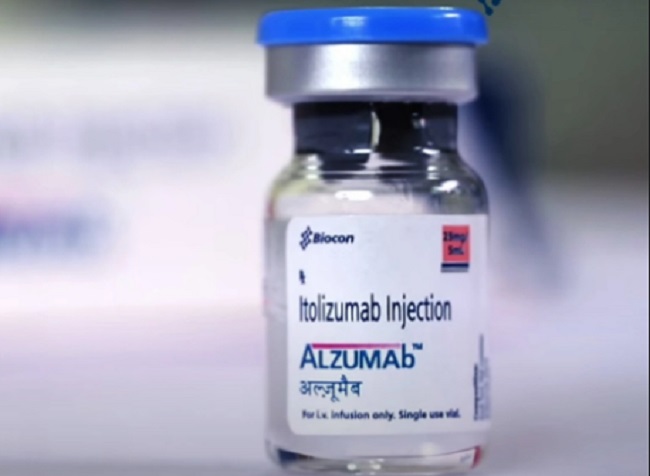 This indigenous drug has now been repurposed for COVID-19.M/s Biocon has presented the Phase II clinical trial results generated in COVID-19 patients to DCGI.DCGI has decided to grant permission to market the drug under Restricted Emergency Use of the drug for the treatment of Cytokine Release Syndrome (CRS) in moderate to severe Acute Respiratory Distress Syndrome (ARDS) patients due to COVID-19
Standard of care for Clinical Management Strategy for COVID-19
The approach for treatment of COVID-19 is largely based on asymptomatic and supportive care, since there is no cure as yet. Maintaining good hydration is also essential. Based on severity of symptoms, COVID-19 can be categorised into 3 groups: mild, moderate and severe. In a Video Conference with States on 10.07.2020 and a virtual meeting on "COVID Case Management by State / UT Centres of Excellence", ICMR and AIIMS, New Delhi emphasised the theme that in the absence of a cure, the standard of care treatment for mild, moderate and severe cases as described in the Clinical Management Protocol of Ministry of Health & Family Welfare (MoHFW), would be most effective. All the 'investigational therapies' are required to be carried out only in proper health care facilities where close monitoring of patients is possible so that potential complications can be managed.
Pulses sowing area 2.5 times in comparison to last year under kharif crops
The Department of Agriculture, Cooperation and Farmers Welfare, Government of India is taking several measures to facilitate the farmers and farming activities at field level during COVID 19 pandemic.There has been satisfactory progress of sowing area coverage under Kharif crops.
Dr. Harsh Vardhan releases White paper on 'Focused Interventions for 'Make in India'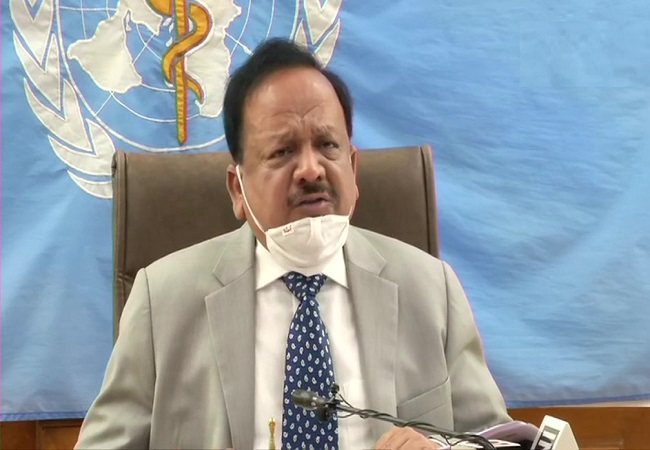 Dr. Harsh Vardhan, Union Minister for Science & Technology, Health and Family Welfare and Earth Sciences released a white paper on "Focused Interventions for 'Make in India': Post COVID 19" and "Active Pharmaceutical Ingredients: Status, Issues, Technology Readiness and Challenges", prepared by Technology Information, Forecasting and Assessment Council (TIFAC). It captures sector-specific strengths, market trends, and opportunities in five sectors, critical from the country's perspective, includes healthcare, machinery, ICT, agriculture, manufacturing, and electronics with reference to supply and demand, self-sufficiency and mass-scale production capacity. It has identified policy options primarily in the areas of Public health system, MSME sector, Global relations: FDI, recalibrated trade alignments, new-age technologies, etc. The recommendations are directed towards giving immediate technology and policy impetus to make India "ATMANIRBHAR". Based on the linkages and interdependencies between the outputs of different sectors, output multiplier and income multiplier for various sectors have been presented in the paper.
Vice President calls for the adoption of Green and Sustainable Architecture
Vice President M Venkaiah Naidu today called upon the architects of the country to adopt and promote Green Architecture. He said that the use of renewable energy sources such as solar energy should be promoted in the upcoming building projects.Expressing concern over the impact of COVID-19 pandemic on the health and livelihoods of people, the Vice President said that the construction sector was severely affected due to massive decline in on-site works and called upon the architects and designers to answer the challenge posed by the pandemic. "Architects need to explore new ideas and create a dialogue across design boundaries to help find solutions that can address the pandemic and its aftermath", he added.