Home » Coronavirus »
Covid-19 Bulletin: Record 6.42 tests in last 24 hours, recovery rate climbs to 64%, Dos & Don'ts of fighting pandemic
Dr. Harsh Vardhan said, "Out of the total Active Cases, only 0.28% patients are on Ventilators, 1.61% Patients needed ICU support and 2.32% are on Oxygen support".
July 31, 2020 21:24
New Delhi: Total recoveries from Covid-19 crossed 10.5 lakh mark today. In past 24 hours, the highest number of 37,223 recoveries have been reported in the country. A total of 10,57,805 people have recovered in the country so far and with this, the recovery rate has improved to 64.54 per cent. The mortality rate due to coronavirus has further declined to 2.18 per cent in the country.
Presently, the total number of active corona cases in the country is 5,45,318. In a single day, 779 deaths have been also reported taking the nationwide toll to 35,747.

Record 6,42,588 Covid-19 tests in last 24 hours
Dr. Harsh Vardhan, Union Minister of Health & Family Welfare chaired the 19th meeting of the high-level Group of Ministers (GoM) on COVID-19 by a video-conference, today. He stated that India has achieved the milestone of more than 1 million recoveries which has taken the Recovery Rate to 64.54%. This shows that the active cases under medical supervision are only 33.27% or approximately 1/3rd of total positive cases. India's Case Fatality Rate is also progressively reducing and currently stands at 2.18%, one of the lowest globally.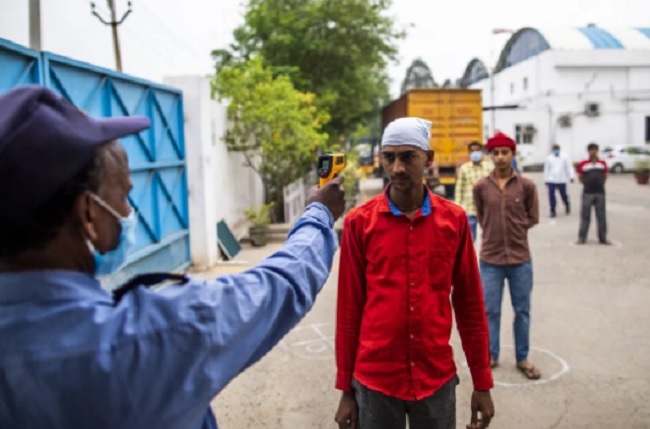 Dr. Harsh Vardhan said, "Out of the total Active Cases, only 0.28% patients are on Ventilators, 1.61% Patients needed ICU support and 2.32% are on Oxygen support". On the rapidly expanding testing capacity of India, the Union Health Minister highlighted that as on date, through a network of 1331 labs (with 911- Government labs and 420 private labs), India has conducted a record 6,42,588 tests in the last 24 hours. This has taken the cumulative tests to more than 1.88 crore. In terms of healthcare logistics, cumulatively 268.25 lakh N95 masks, 120.40 lakh PPEs and 1083.77 lakh HCQ tablets have been distributed to States/UTs and Central Institutions.
Govt working with RBI on Industry's needs for loan restructuring
Union Minister of Finance and Corporate Affairs Smt. NirmalaSitharaman today said that the government is working with RBI on the Industry's need for the restructuring of loans due to the COVID-19 impact. While addressing the National Executive Committee Meeting (NECM) of the Federation of Indian Chambers of Commerce and Industry (FICCI), Smt. Sitharaman said, "The focus is on restructuring. Finance ministry is actively engaged with RBI on this. In principle, the idea that there may be a restructuring required, is well taken."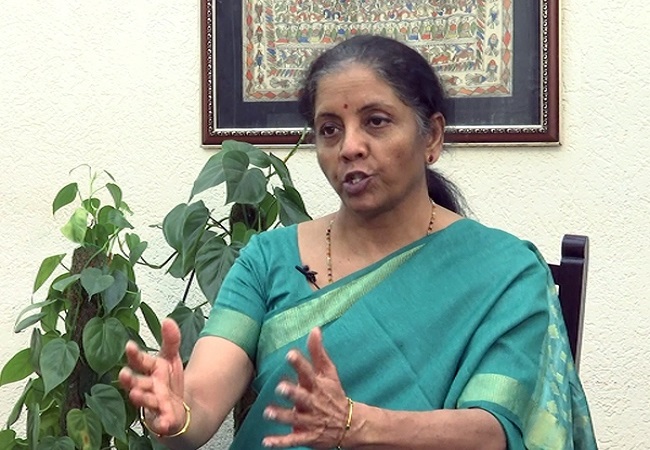 Stressing on the need for reciprocity in trade deals, Smt. Sitharaman said, "Reciprocal arrangements are being asked with the countries with which we have opened up our markets. Reciprocity is a very critical point in our trade negotiations." The Finance minister said that the decision on reducing GST rates on the healthcare and other products will be taken by the GST Council.
Commerce Ministry working for early resolution to MEIS issue
Inaugurating CII National Digital conference on Ease of Doing Business for Atmanirbhar Bharat today, the Minister emphasized that a single window system for industrial approvals will soon be in place. He urged both industry and government to work as partners and urged the industry to play a proactive role in helping the government identify the tax evaders and violators.
Speaking on the Covid situation, the Minister said that economy is bouncing back in the country and restrictions were temporary and are now being eased. He highlighted that during Covid crisis, the country's services sector continued to serve global clients. He said that India's exports are almost 88% of the last year's level while imports are almost 75% of the same period last year.
Dr Harsh Vardhan releases a compendium of Covid-19 technologies and products developed by CSIR
Minister of Science &Technology, Earth Sciences and Health & Family Welfare, Dr Harsh Vardhan has announced that Indian scientists from DBT & CSIR have sequenced more than 1000 SARS-CoV-2 viral genomes making it the largest effort in the country. "This will help in understanding the prevalent strains and the mutation spectrum in India, which will help in diagnostics, drugs and vaccines", he said.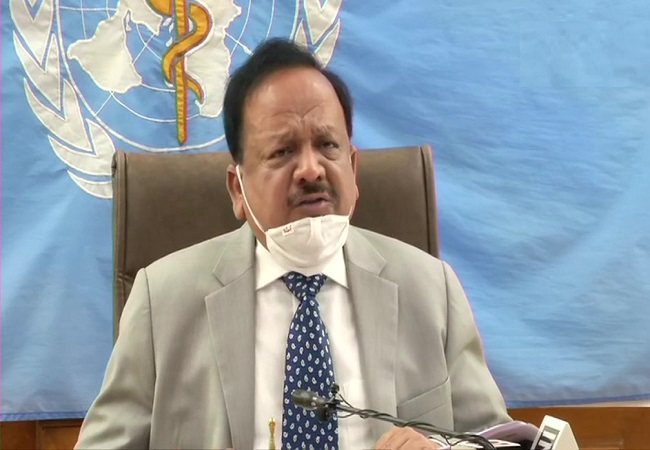 Dr. Harsh Vardhan was speaking while releasing a compendium of Covid-19 technologies and products developed by CSIR. He said "The compendium brought out by CSIR captures the technologies and products well in one place and can help industries and other agencies who are seeking solutions for Covid-19 to access them easily." Dr Harsh Vardhan also complimented the role of CSIR in bringing repurposed drugs against Covid-19 to patients at the earliest in partnership with industry such as Cipla for Favipiravir. He emphasized that efforts such as these will benefit Covid19 patients by making the drugs affordable.
13.92% increase in sowing area coverage of kharif crops in comparison to last year
The Department of Agriculture, Cooperation and Farmers Welfare, Government of India is taking several measures to facilitate the farmers and farming activities at field level during COVID 19 pandemic. There has been satisfactory progress of sowing area coverage under Kharif crops. As on 31.07.2020, the total Kharif crops has been sown on 882.18 lakh ha area against 774.38 lakh ha area during the corresponding period of last year, thus, increase in area coverage by 13.92 % compared to last year in the country. As a whole, there is no impact of COVID-19 on progress of area coverage under kharif crops as on date.
FACT supports Govt of Kerala fight against COVID-19
Fertilisers And Chemicals Travancore Limited (FACT) a PSU under the Ministry of Chemicals and Fertilizers supports Government of Kerala in their fight against Covid-19 by allotting its main auditorium, M K KNayar Hall, for setting up a Covid First-Line Treatment Center (CFLTC) by Eloor Municipality, to accommodate 100 beds. For this purpose, the Company has also supplied cots, beds, mattresses, etc. under its CSR initiative.