Home » Coronavirus »
Covid-19 Bulletin: With 10 lakh recoveries in last 11 days, recovered cases exceed active cases by 5 times
Covid-19 Bulletin: The national Recovery Rate has further increased to 82.58%. 15 States/UTs are showing recovery rate more than the national average.
September 28, 2020 21:12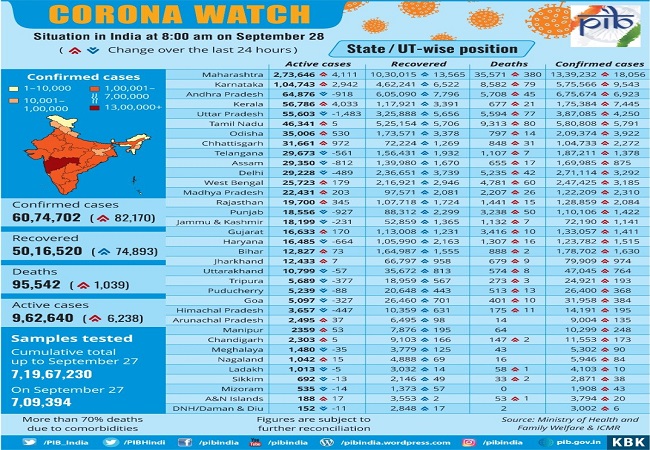 New Delhi: Covid-19 recovery rate continues to be on uptrend with recovery reaching 82.58%. The total number of recoveries has reached a milestone of milestone of 50 lakh. To be precise, total of 50.16 lakh Corona patients have been cured from the deadly virus.
According to official figures, 10 lakh recoveries have been added in just 11 days, which means the country has recording a very high level of more than 90,000 recoveries every day recently. Recovered cases now exceed active cases by more than five times.
Total Covid-19 recoveries cross 50 lakh, 10 lakh recovered in last 11 days
India's total recoveries have crossed the landmark milestone of 50 lakh today (50,16,520). 74,893 recoveries have been registered in the last 24 hours in the country. India has witnessed a very high level of more than 90,000 recoveries every day in the recent past. The total recovered Cases have outpaced active cases by more than 5 times. With the exponential increase in the recoveries, there is close to 100% increase in recovered cases in one month. The national Recovery Rate has further increased to 82.58%. 15 States/UTs are showing recovery rate more than the national average. 73% of the new recovered cases are being reported from ten States, viz. Maharashtra, Karnataka, Andhra Pradesh, Uttar Pradesh and Tamil Nadu, Delhi, Kerala, Odisha, West Bengal and Punjab. Maharashtra leads the tally with more than 13,000 new cases of recovered patients.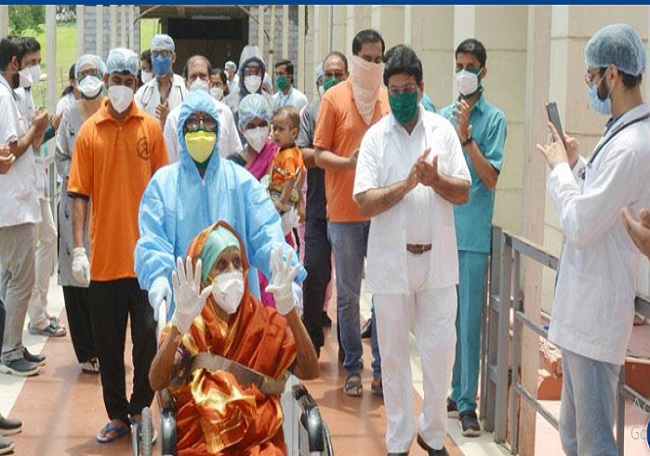 The rise in total recovered cases from 1 lakh in June 2020 has been steep. The last 10 lakh recoveries were added in just 11 days. 78% of the total recovered cases are recorded in 10 States/UTs. Maharashtra contributes maximum to the total recovered cases followed by Andhra Pradesh and Tamil Nadu. A total of 82,170 new confirmed cases have been reported in the last 24 hours in the country. 79% of the new cases are concentrated in ten states. Maharashtra contributed more than 18,000 to the new cases. Karnataka contributed more than 9,000. 1,039 deaths have been registered in the past 24 hours. 84% of new deaths are reported from 10 States and UTs. 36% of deaths reported yesterday are from Maharashtra with 380 deaths followed by Tamil Nadu and Karnataka with 80 and 79 deaths, respectively.
Dr Harsh Vardhan interacts with social media users via Samvaad-3
Dr. Harsh Vardhan, Union Minister of Health and Family Welfare answered questions posed by his social media interactors on the third episode of Sunday Samvaad. Besides the present COVID crisis, these questions covered a multitude of queries concerning themedical infrastructure, the future of Public Health in India, India's contribution to Climate Change Research and advancements in Meteorology. The Union Health Minister dispelled fears regarding the phased opening of schools and advised on proper protocol to be followed while visiting salons and hair-spa. The Minister asked everyone to always raise awareness regarding COVID appropriate behaviors which he himself does by stopping his car and asking non-compliant people to wear their masks. The Health Minister also coined the slogan: दो गज की दूरी, और थोड़ी समझदारी, पड़ेगी कोरोना पे भारी।He further cautioned that ICMR's Sero survey report should not create a sense of complacency in people. The first sero survey of May 2020 revealed that the nationwide prevalence of novel coronavirus infection was only 0.73%. Dr Harsh Vardhan stated that States/UTs have been advised to lower the prices of COVID tests. In the early days of the pandemic, as the kits were imported, the price tended to be high. But now, supplies of testing kits have also stabilized and domestic production of these kits have also commenced. He added that he has spoken personally to several State health ministers regarding reduction of prices of testing in their respective states. On a question related to 'AtmaNirbhar Bharat Yojana', Dr. Harsh Vardhan spoke of India's two-pronged strategy of incentivizing production and creation of common infrastructure for high-quality medicines and medical devices to make the country self-reliant.

Health Ministry's 'eSanjeevani' telemedicine service registers 4 lakh consultations
eSanjeevani OPD platform of Ministry of Health and Family Welfare has completed the landmark milestone of 4 lakh tele-consultations. The top performing States, Tamil Nadu and Uttar Pradesh have logged in 1,33167 and 1,00124 sessions, respectively. The other States that have registered highest consultations through eSanjeevani and eSanjeevani OPD platforms are Himachal Pradesh (36,527), Kerala (33,340), Andhra Pradesh (31,034), Uttarakhand (11,526), Gujarat (8914), Madhya Pradesh (8904), Karnataka (7684), Maharashtra (7103). The usage trend shows that there has been a quick uptake of this service in smaller districts like Villupuram in Tamil Nadu. Over 16,000 consultations have been recorded from Villupuram, which is the topmost district in terms of tele-consultation services availed of by the beneficiaries.Nationally eSanjeevani platform is being used by 26 States and over 12,000 practitioners of various State Government health departments have been on-boarded on eSanjeevani and their services have been sought by people from 510 districts of the country. The last 100,000 consultations have come up in 18 days, whereas the first 100,000 consultations had taken around three months. eSanjeevani OPD services have enabled patient-to-doctor telemedicine in midst of the COVID-19 pandemic.