Bihar college urges students to take exams with a phone flashlight due to a power outage
He claimed that "the university is neither swift in holding exams on schedule nor regularising sessions."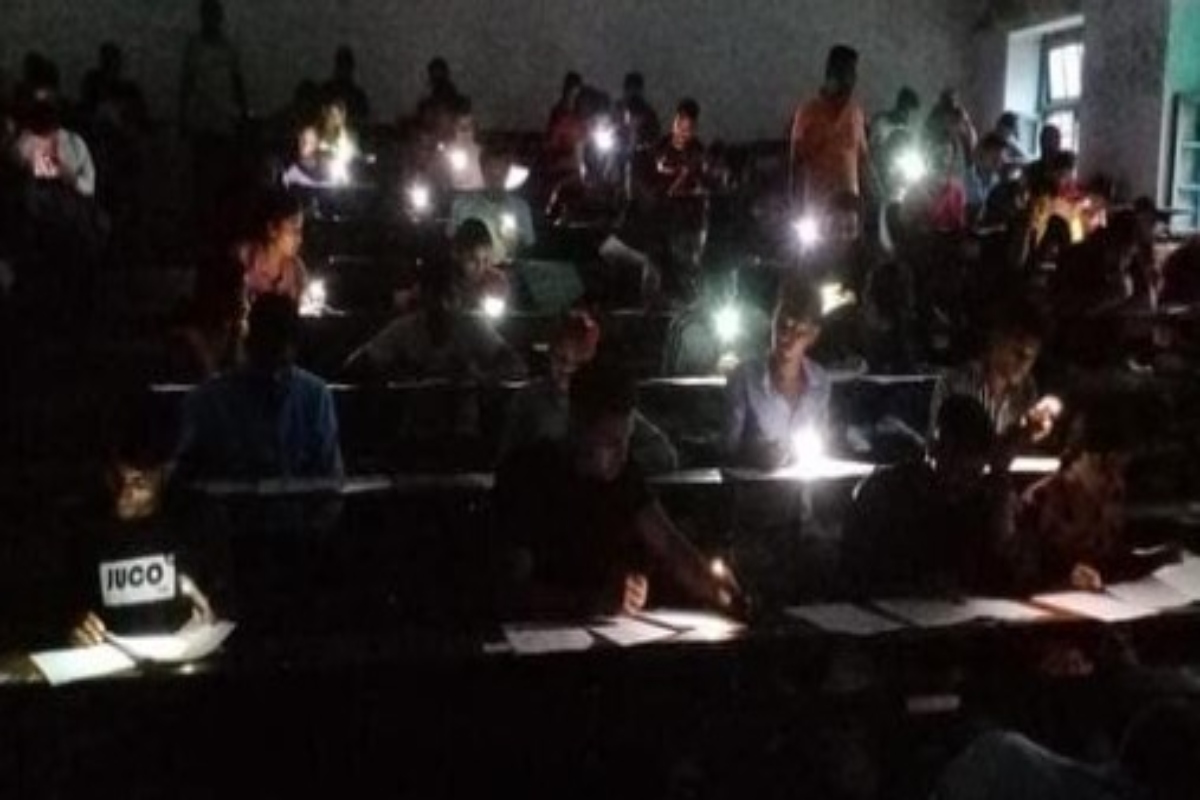 New Delhi: Students at a prestigious college in Munger, Bihar, were allegedly permitted to take exams using the flashlight on their cell phones. When the power had been cut off due to bad weather and the college generator was not working either, the incident was reported from RD & DJ College in Munger. "We were composing our answers when all of a sudden the control was cut and we were cleared out in obscurity because it was raining," an examinee distinguished as Ashutosh Mishra said.
"After the organisation fizzled in beginning the generator, they requested us to utilise our portable burn to compose answers," Mishra included. "But it was not simple to handle a versatile phone with one hand while composing answers by utilising the other hand," he said.
बत्ती गुल ,परीक्षा कंटिन्यू…बीए पार्ट 1,2 की #मुंगेर के #आरडी एंड डीजे कॉलेज में अपनी मोबाइल फ्लैश की रौशनी के सहारे परीक्षा देते परीक्षार्थी…कॉलेज प्रशासन की और से जनरेटर ठीक होने तक मोमबत्ती की व्यवस्था की जा रही है ताकि कुछ परेशानी कम की जा सके। pic.twitter.com/wfs4bmZ4HF

— Govind kumar (@govind_aajtak) June 29, 2022
Another examinee,without revealing his personality, said, "The college and the college here are playing a brutal joke on students." During the progressing BA Portion I examination, understudies were composing their auxiliary papers on history when it began down-pouring intensely, because of which the power supply got disturbed. Later, the college management attempted to use the generator but was unsuccessful since it had become stuck.
Sanjay Bharti, the centre supervisor, stated, "We were helpless after our generator did not start. We even attempted to contact a mechanic to fix the snag, but it could not be started. We urged the examinees to use their cell phones as continuing tests could not be postponed. Regarding the prohibition against using portable torches within the exam room, he opted to keep quiet. He responded, "We were helpless," when questioned if carrying a phone into the exam room was not an unfair means. Vicky Anand, a member of the Akhil Bharatiya Vidyarthi Parishad, stated: "The university is setting all kinds of records in terrible things."
He claimed that "the university is neither swift in holding exams on schedule nor regularising sessions." On the other hand, Ram Ashish, the exam controller at Munger University, stated that the centre superintendent had been handed a show-cause notice and that they were awaiting it. He stated, "All the colleges have been advised to provide backup lighting in case the power goes out when exams are taking place." He expressed irritation that test-takers were allowed to bring their phones inside the testing facilities.