Bigg Boss 16 Grand Finale VIDEO: When Salman Khan said "for me the real winner is Priyanka Choudhary"-Watch
Shiv Thakare is the runner's up and Priyanka secured the third position in the show.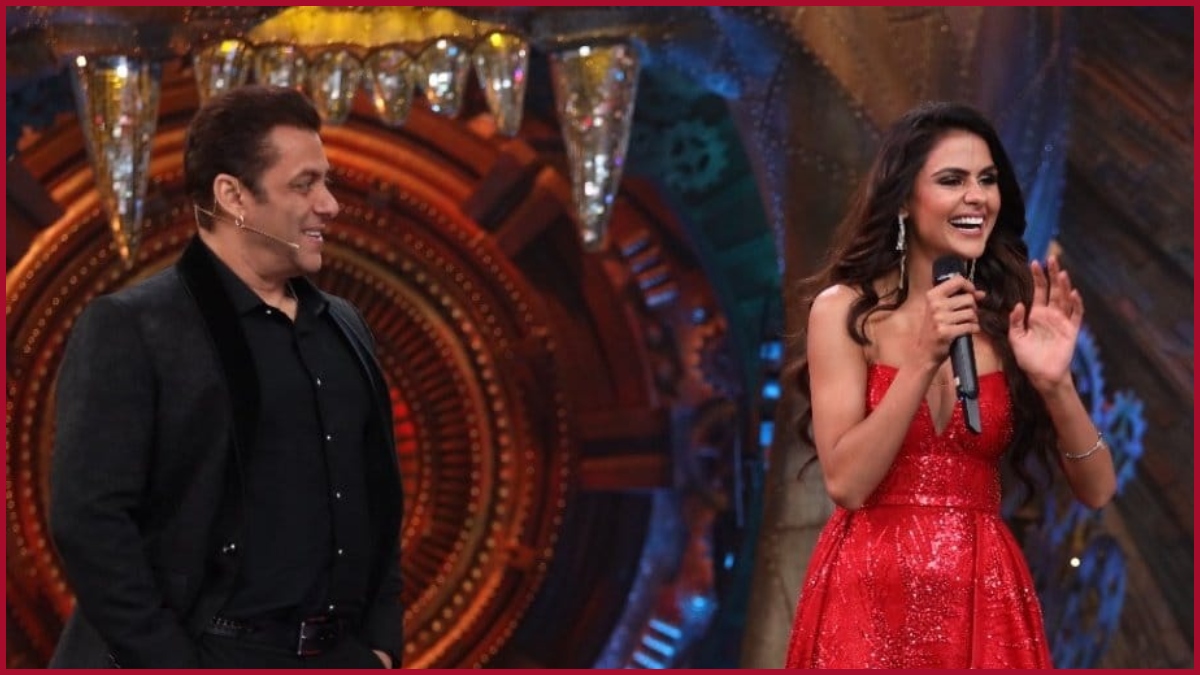 New Delhi: Rapper MC Stan won the Bigg Boss 16 title and a cash award of Rs 31 Lakh and 80 thousand and a car, but who really won everyone's heart was Priyanka Choudhary.
Priyanka Chahar Chaudhary who was one of the strongest contestants of Bigg Boss 16 ended up on the third position and Shiv on the second.
But what has caught everyone's attention is what Bigg Boss 16 host Salman Khan said about Priyanka after she was evicted.
A small video clip that has gone viral on social media in which Salman Khan can be heard praising Priyanka for getting evicted after coming so close in the competition.
"Esa lag raha tha jese Priyaka was going to win Bigg Boss season 16. Itni mehenat krne kea baad, akeli khadi hone kea baad, saath chootne kea baad…Har cheez kea baad ea ladki ghar sea nikli hea. Meri nazar mein winner ea hea"
You know the channel fcuked up when even #SalmanKhan has a full meltdown & goes on a rant how #PriyankaChaharChaudhary deserved to win.

Even without winning PCC has won today. Even tho I am not her fan. She won me over today. ?? pic.twitter.com/YBGsPN2qIm

— k. (@karishmaokay) February 12, 2023
Just A Quick one for @PriyankaChaharO ❤️#Priyankachaharchoudhary #BiggBoss16Finale #bb16 pic.twitter.com/feq6fslITq

— ?? | ✪ (@NdSPov) February 12, 2023
Salman praised priyanka for her grace and said she's the actual winner.
Which is true imo, coz the way she handled her defeat ?❤️❤️❤️❤️, she won hearts bro ✨#PriyankaChaharChaudhary #BiggBoss16Finalepic.twitter.com/2ncKrWpMBb

— BIGG BOSS live feeds (@BB_live_feeds) February 12, 2023
During the video of her journey in Bigg Boss, Priyanka Choudhary was described as a leader and not a follower.
Bigg Boss contestant Ankit Gupta who shared a special bond with Priyanka was also seen getting emotional after Priyanka was out from the final run.
The love & care he has for pri is so pure,he was not sad during his eviction,but was shocked when she was eliminated, him crying, not able to speak/his voice cracking up, shows how much he wanted her to win
YOU'RE A GEM ANKIT,class apart.❤#AnkitGupta #AnkitBattalion #PriyAnkit pic.twitter.com/FzYCuD47wH

— Sankalp (@sankkalp_) February 13, 2023
Ladies this is to remind y'all that if your man doesn't cry at your losses more than he cries at his own then he isn't the one please raise your standards like i raised mine yesterday night? #Priyankit • #BB16    • #AnkitGupta
PRIYANKA WON FOR LIFE pic.twitter.com/0hP1YCy1MA

— Simmi Sahu ? (@Simmi_Sahu_) February 13, 2023

Even though Rapper MC Stan won the trophy, but Priyanka Choudhary's fans believe that the real winner of Bigg Boss is Priyanka.
But sk loves them soo much ??
That speech he gave for pri, nd here was feeling bad that anki cried nd said pri "sudharo isse, warna mai aaunga isse sudharne" ??
Sk adores them soo much?#PriyAnkit #PriyankaChaharChoudhary #AnkitGupta pic.twitter.com/SF5fBfRVvi

— ? || pari won hearts? (@kaashwopal) February 12, 2023
"itne sary log" baby there's many more people waiting for you. what a slayer y'all. ❤️ #priyankachaharchoudhary pic.twitter.com/GdpOYZ2btH

— ☘︎ (@alizehvm) February 12, 2023
"itne sary log" baby there's many more people waiting for you. what a slayer y'all. ❤️ #priyankachaharchoudhary pic.twitter.com/GdpOYZ2btH

— ☘︎ (@alizehvm) February 12, 2023