Home » Entertainment »
Kangana Ranaut and Anurag Kashyap's bitter war of words on Twitter… see here
Kangana Ranaut and Anurag Kashyap had a bitter Twitter spat today after the latter took a dig at former with satirical tweet. Kangana hit back with a caustic jibe at the director.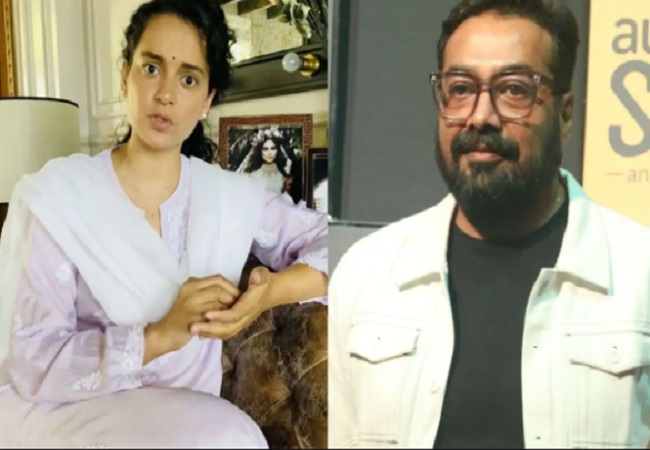 New Delhi: Actress Kanagana Ranaut and director Anurag Kashyap got into a bitter verbal exchange on Twitter today, after the latter posted a satirical tweet on the actress.
Trying to lampoon the actress after she called out the industry big-wigs for nepotism and 'ghar ki thaali', Anurag Kashyap sought to persuade her to go to India-China border and see how deep the Chinese have transgressed into Indian side.
"The country will be safe, till the time you stay positioned at the border", director said in a satirical tweet.
बस एक तू ही है बहन – इकलौती मणिकर्णिका । तू ना चार पाँच को ले के चढ़ जा चीन पे।देखो कितना अंदर तक घुस आए हैं । दिखा दे उनको भी कि जब तक तू है इस देश का कोई बाल भी बाँका नहीं कर सकता। तेरे घर से एक दिन का सफ़र है बस LAC का । जा शेरनी। जय हिंद । https://t.co/PZA6EFSKQj

— Anurag Kashyap (@anuragkashyap72) September 17, 2020
Kangana known for her witty and strong rejoinders, gave it back to the director with a caustic jibe. She said this is not B-grade film industry where any person becomes any character.
"Till the time we were friends, you were intelligent. When have become so dumb", the actress said in a strong retort.
It may be noted that Kangana has been supportive of government's bold stance against Chinese aggressive while Anurag Kashay extremely critical of the Centre on the issue.
ठीक है मैं बॉर्डर पे जाती हूँ आप अगले अलिम्पिक्स में चले जाना, देश को गोल्ड मडेलस चाहिए हा हा हा यह सब कोई बी ग्रेड फ़िल्म नहीं है जहां कलाकार कुछ भी बन जाता है, आप तो मेटफ़ॉर्ज़ को लिटरली लेने लगे, इतने मंदबुद्धि कबसे हो गए, जब हमारी दोस्ती थी तब तो काफ़ी चतुर थे? https://t.co/TZVAQeXJ43

— Kangana Ranaut (@KanganaTeam) September 17, 2020