Home » Entertainment »
Kangana Ranaut urges PM Modi to "tame" Mamata Banerjee using his "Virat Roop" from "early 2000s"
The acto rurged Prime Minister Narendra Modi to "tame" Mamata Banerjee using his "Virat Roop" from "early 2000s" in Bengal.
May 4, 2021 13:14
New Delhi: Bollywood actor Kangana Ranaut had compared West Bengal CM Mamata Banerjee to an unleashed monster following violence in Bengal.
She also asked PM Modi to show his Virat roop from early 2000's.
In her Tweet, she wrote, " This is horrible…we need super gundai to kill gundai…she is like an unleashed monster, to tame her Modi ji please show your Virat roop from early 2000's."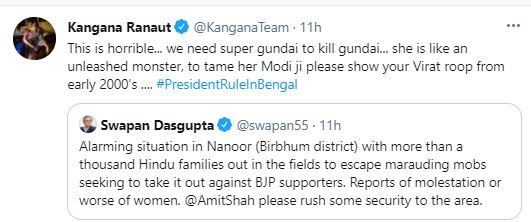 Also Read: Kangana Ranaut's Twitter handle suspended; check her Tweets here
Actress @KanganaTeam demands #PresidentRuleInBengal. She added, Mamata Banerjee 'not Ravana', she's 'blood thirsty demon Tadka'

read more – https://t.co/dl04nXGETr pic.twitter.com/mkJLaATlZj

— Newsroom Post (@NewsroomPostCom) May 4, 2021
Th