No Time To Die Twitter review: Magnificent way for James Bond to sign off; fans call it 'fitting finale'
No Time To Die is the fifth and final movie of Daniel Craig portraying as James Bond, an 007 agent. The movie hit the theatres in London on September 30.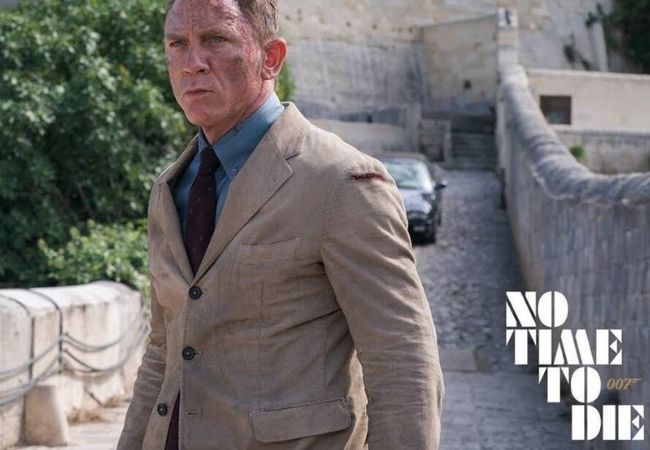 New Delhi: The outbreak of the Covid-19 pandemic had impeded many cinemas to halt their release in theatres. After a long delay, 'No Time To Die' finally hit the theatres in London. The premiere show was quite glitzy and fans seemed to be overwhelmed with the Bond film.
The film has an additional fanbase as it marked Daniel Craig's fifth and final playing of the role of iconic 007 agent. Cary Joji Fukunaga's directorial film was the 25th movie of the James Bond franchise. The 2.5 hour-long films had ceiling-touching expectations as they showcased a goodbye to the 007 agent.
Bond's fans took time to watch the film released on September 30 and expressed their opinion on the final movie featuring Daniel Craig as James Bond. With a superb storyline, the movie introduced some new characters one of which is Rami Malek, who played the role of facially scarred villain. In the movie, Bond is on a mission to save a kidnapped scientist. Later Bond realised that he got into the trap of a villain, possessing dangerous new technology.
Below are some of the Twitter reviews that sum up the thoughts of the fans:
#NoTimeToDie (non-spoiler) mini-review: watch it before everyone spoils it. Solid 4/5 – no Casino Royale beater but better than QOS/Spectre + best tenure closure in the series. Possibly a divisive entry for some, I loved some of the bold creative decisions. Owes OHMSS some beers!

— Andy Carslaw (@andycarslaw) September 30, 2021
#NoTimeToDie Review :
It's FANTASTIC ENDING FOR #DanielCraig 💜
Actions 🔥🔥
Bgm and Visuals 👌👌
EMOTIONS and elevations 💯 👍#RamiMalek as Antagonist 👍
Lea seydoux Beautiful 😘
CLIMAX 💔 😭

🌟 🌟 🌟 🌟

GO and Watch in Theatres 💜 pic.twitter.com/7U23ejx349

— 🅼🅰🅷🅴🆂🅷 ④⑤ (@maheshpupa) September 30, 2021
No Time To Die : 8/10
The score on this movie is 👌🏻!! Action was fun, and Ana de Armas is va va vooom!!!! Bit too long.. and i enjoy action in beginning more rather in the end.. also weak villain #NoTimeToDie #jamesbonf #movie #review pic.twitter.com/vkQwi4k5bi

— GOTHENVOKER (@suryogss) September 30, 2021
#NoTimeToDie #NoTimeForSpoilers
This Bond movie is Classy, Intense & Raw.
Stellar performances, Cinematography is like a painting, coolest gadgets & breathtaking locations.
Stands out as Craig's last & best bond film.
Watch it with low expectations 😄@007 #Fayeezhaimushkil pic.twitter.com/azleWxNpph

— Fayeez Parvez (@just_fayeez) September 30, 2021
So finally saw Bond , First Day , First show and enjoyed watching it. Yes it felt like a bit dragged out and Expected a lot More from Safin. His character does a lot of things & we really don't get to watch a lot of him ( 🚨 SPOILER 🚨 ). #NoTimeToDiereview 1/3

— Mridul Nair (@MridulMax) September 30, 2021
I have a fear that half way through #NoTimeToDie someone's going to walk into the cinema screen, turn it off and announce it's been delayed again. Won't be able to relax until the credits role

— Lewis (@lewisjwr) September 28, 2021
The wait is over. #NoTimeToDie is in cinemas in the UK now. pic.twitter.com/JmWT7G1AF5

— James Bond (@007) September 30, 2021
Absolutely amazing, a fantastic performance by all, stellar from Daniel Craig and what a way to sign off as James Bond

— Gareth Sparrowhawk (@hawkhawkster) September 30, 2021
Watched it this morning. Absolutely brilliant with some major surprises, wonderful throwbacks, some fun, some sad moments and plenty of action.

Fantastic movie 👍

— MarkGerardCox (@markgerardcox) September 30, 2021
Saw it at 00.01. Amazing. Still processing it. Deep, action packed, roller coaster of a love story.

— Adam (@AdamT69) September 30, 2021
An absolutely spot on review for #NoTimeToDie. To add a couple of minor points: I enjoyed #BillieEilish's theme as a stand-alone tune but it doesn't work with the lacklustre titles. Also like #OnHerMajestysSecretService there are too many too clever references to earlier films.

— Graham Thomas FRSA🇯🇵🇬🇧📷🖋 (@japanauthor) September 30, 2021
#NoTimeToDie is a fitting finale to Daniel Craig's Bond. It often feels like a throwback while still pushing the franchise further. Cary Fukunaga's direction is inspired to the brim. It may stumble here and there, but it quickly bounces back and makes up for it (1/3) pic.twitter.com/0CWWuUPo4I

— Andrew J. Salazar (@AndrewJ626) September 28, 2021
My #NoTimeToDie Review

A tribute to the incredible arrogance of Daniel Craig. Why Barbara Broccoli gave him her father's legacy is anyone's guess

Thoroughly predictable #Bondfilm and very disappointing

— Paul Casella (@PaulCasella2) September 30, 2021
Now it's out (at last!), here again is my review of #NoTimeToDie, a film which reminded me just how hard it can be to say goodbye, especially to a character and performance as remarkable as Daniel Craig's #JamesBond https://t.co/MgE6K0gFpD pic.twitter.com/15Nobhmlsn

— J🎃rdan "The Pumpkin" King (@JordanMBKing) September 30, 2021
For your eyes only, here's my full review of #NoTimeToDie for @thedigitalfix 🙌

Despite its inconsistencies and weak villain, it bids a fond farewell to Craig's Bond with an adventure that wears its heart on its sleeve. Yes, I cried.

Enjoy!https://t.co/YbxtrhMcsG

— Emily Murray (@EmilyVMurray) September 29, 2021
Here's my #NoTimeToDie Review.

If you've been following Craig's Bond with more than a passing interest you'll absolutely love it. 5/5. Brilliant.

If you're just a 'cinema goer' who likes an action/adventure movie with no real interest in Bond. 4/5.

— jamie (@mr_jwf) September 30, 2021