Watch: Rajkummar welcomes Patralekhaa with whistle; she applies sindoor on his forehead (Video)
Rajkummar Rao and Patralekha share a video of their wedding that took place on November 15 at Chandigarh.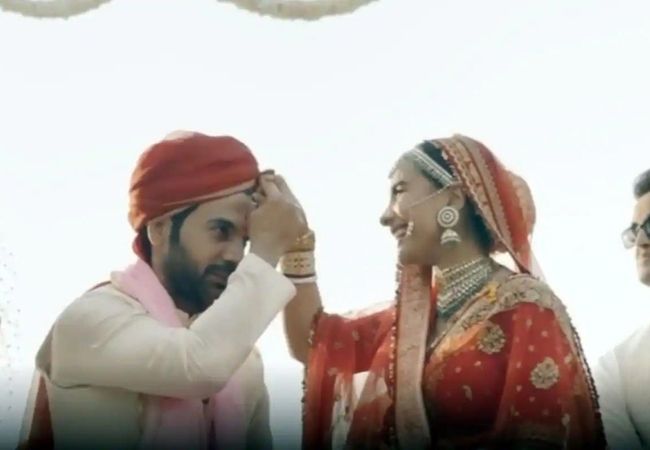 New Delhi: We are still in the hangover of Rajkummar and Patralekhaa's wedding that took place on November 15 at Chandigarh. The duo has taken to Instagram to release their wedding video which was filled with emotions. The video starts with Rajkummar Rao standing for Patralekhaa as he walks up to him.
Rajkummar welcomes her with loud whistles before they exchange the 'I love you' vows with hand gestures. She stands beside him after which she says, "Raj, it's been 11 years but I just feel like I know you since a lifetime and not only this lifetime. I am sure it has been many lifetimes."
The video plays the clippings from the wedding followed by Raj's voiceover, sharing his thoughts and love of their relationship to Patralekhaa. "Honestly, it has been 10-11 years but it still feels like we've just started dating. We just love each other's company so much, we thought let's just do it. Let's just be husband and wife," he stated.
Watch the video here:
View this post on Instagram
In the video, there were glimpses of garland exchanges between the two, with Rajkummar dancing during and pheras and hugging each other after the ceremony. "We keep saying this to each other but we are soulmates and I truly, truly believe that. Thank you for being my wife," Rajkummar said to Patralekhaa at the ceremony.
The video ends with Rajkummar applying vermilion on Patralekhaa's forehead and urging her to do the same. Raj captioned the video as "US" while Patralekha wrote, "Sharing a glimpse of the most beautiful day of our lives with all of you."
Here are some other photos from Rajkummar and Patralekha's wedding: