Western Journalist triggers massive outrage by calling Shahrukh Khan India's Tom Cruise
We would like to use this as an opportunity to bring back this gem of a reply from SRK when he was asked about working in Hollywood." My English is not good. I am a little brown, not tall enough and I am 42 years old…"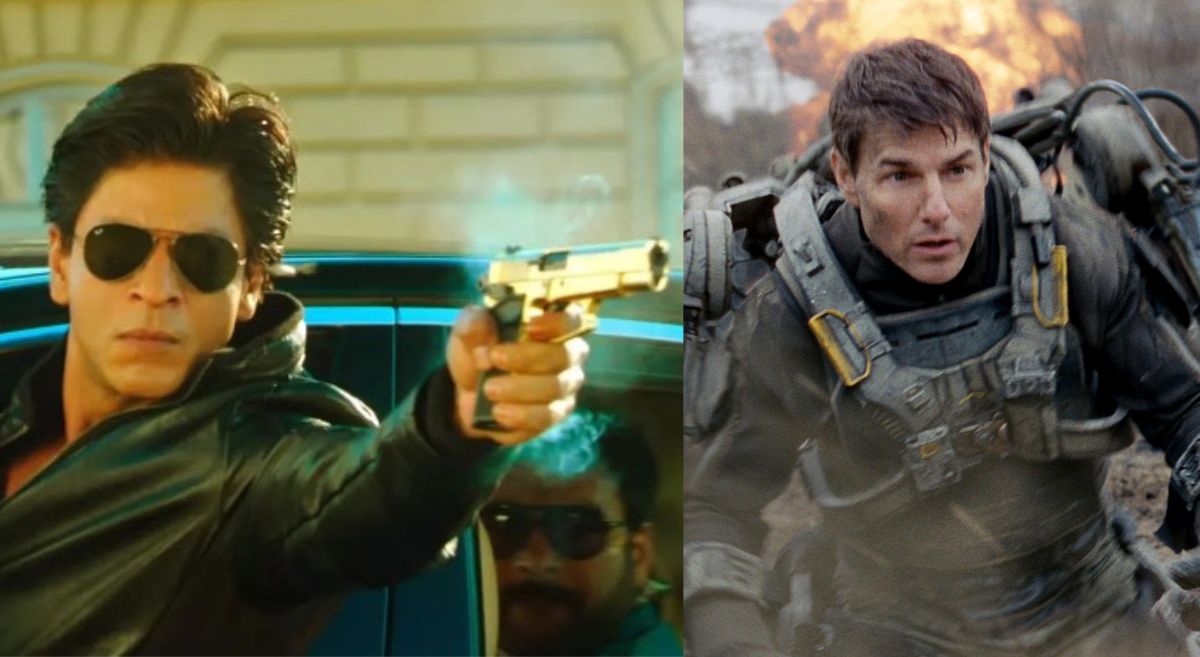 New Delhi: Shahrukh Khan's comeback movie Pathaan solidified his crown as the King of Bollywood. With its unmatched success, Pathaan has become a topic of discussion for cinephiles, at home and abroad. Scott Mendelson, an American journalist, in a positive appraisal article for Pathaan's success, called Shahrukh Khan ' India's Tom Cruise.'
In this editorial piece, Scott wrote that how Shahrukh Khan's Pathaan saved the failing Bollywood industry.
However, this accolade ended up pressing the wrong buttons. Scott Mendalson's article enraged Shahrukh Khan's fans as it called SRK Indian Tom Cruise.
Fans felt that Shahrukh Khan's zenith is beyond any comparison. "How about you call Tom Cruise America's Shahrukh Kahn," was a common sentiment among enraged fans.
Sorry, have to agree with everyone. There is just no comparison. Shah Rukh Khan is Shah Rukh Khan! ??✨ he is known & loved globally, not just India. He is more than an actor. He is an inspiration to fans around the world. ☺️

— Pathaaaaaaan ♡⋆。°✩ (@HibalovesSRK) February 3, 2023
Tom cruise is the Shah Rukh Khan of Hollywood not the other way around https://t.co/FF4SbPerjp

— Coffee head (@formula_coffee) February 3, 2023
Netizens slammed the scribe saying that Shahrukh is a global star, whose stardom is much bigger than Tom Cruise, or any other actor for that matter.
One fan wrote, " Shahrukh could do Jerry Maguire but Tom Cruise can't do DDLJ.
"Do people from the west not realize that there is more to the world than just US and not everything revolves around them," asked an outraged fan.
The same age old habit of Westerners to show everything Indian as a second class copy of something similar in the West which began from calling Kalidasa as "Shakespeare of India".They need to understand Kalidasa is Kalidasa and SRK is SRK, not some local Tom Cruise. https://t.co/qMFmYDfB8k

— G.ONE (@Invincible1G) February 3, 2023
srk can do jerry maguire but tom cruise cannot do ddlj

— bulan ? (@Debalina_11) February 3, 2023
People also mentioned how Shahrukh Khan was named the biggest movie star in the world by Forbes magazine and also that he is the world's richest actor, leaving behind Tom Cruise.
No offense but according to Forbes and other sites SRK is "World's Biggest Moviestar" and also known as "God of Acting"

— Azhar (@i_am_azhar_) February 3, 2023
We would like to use this as an opportunity to bring back this gem of a reply from SRK when he was asked about working in Hollywood.
Circa 2008, Shahrukh was asked by a western reporter during a press conference if he has ever thought of working in the dream factory (Hollywood).
Watch:
Shahrukh, with his utmost grace and charm, made it clear that he wants to work in India only and would rather take Indian cinema to the world.
In his humble reply, he said " My English is not good. I am a little brown, not tall enough and I am 42 years old…I don't do Latin Salsa or Tango… can't do Kungfu. I don't think I have any special USP as an actor. There is no place for me there."
He closed his epic reply by saying that taking Indian cinema to the world platform is his only ambition