What to binge on Netflix, Hotstar, Zee5 this weekend?; Check here
Some of the action and adventurous series and shows that you would like to binge on over this weekend.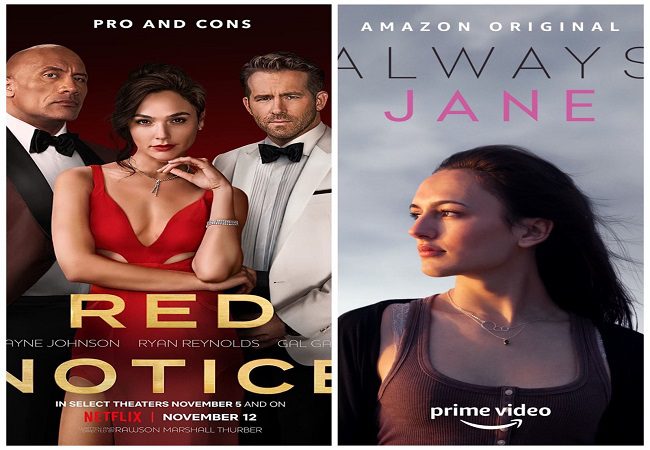 New Delhi: This weekend, dedicate yourself to watch something thrilling and adventurous. OTT platforms present some of the shows or series that might lead to seat edging action and adventure. From Dwayne Johnson, Ryan Reynolds, and Gal Gadot's Red Notice to Vicky Kaushal's episode of Into the Wild with Bear Grylls, will take you to a rollercoaster ride.
Here are some of the shows or series that you would like to binge on over the weekend:
On Netflix
Red Notice
Cast: Dwayne Johnson, Ryan Reynolds, Gal Gadot, and others.
About: An FBI profiler pursuing the world's most wanted art thief becomes his reluctant partner in crime to catch an elusive crook who's always one step ahead.
Happiness Ever After
Cast: Renate Stuurman,Khanyi Mbau,Nambitha Ben-Mazwi and others.
About: This sequel to "Happiness is a Four-Letter Word" finds Zaza, Princess, and Zim living new chapters of their lives amid loss, family grudges, and new love.
Passing
Cast: Tessa Thompson, Ruth Negga, André Holland, and others
About: In 1920s New York City, a Black woman finds her world upended when her life becomes intertwined with a former childhood friend who's passing as white.
On Discovery+
Into the Wild with Bear Grylls
In the recent episode of Into the Wild with Bear Grylls, Indian actor Vicky Kaushal will be seen performing survival skills. Talking about the show, Vicky said, "The thought of being in the middle of an ocean and not having a floor beneath you is not easy, but Bear's constant motivation and determination has helped me rise out of this triumphantly."
On Zee 5
Squad
Cast: Bhim Rana, Aria, Nandini Rajput, Abhay Bhatnagar, Mimi Banerjee, Rinzing Denzongpa, Malvika Raaj, Pooja Batra, Mohan Kapur, Dishita Jain
About: A thrilling story of an STF squad tasked with the responsibility of protecting the granddaughter of a renowned scientist, who holds the blueprint of a lethal cyborg programme.
On SONY LIV
Chumbak
A Marathi film under Akshay Kumar's production stars Swanand Kirkire, Sahil Jadhav, and Sangram Desai in lead roles. The story goes around two teenage boys who try scamming people but ultimately get into trouble as the middle-aged man whom they try to capture gets an idea about their scheme.
On Disney+Hotstar
Special Ops 1.5
The story is about the aftermath of the 2001 attack on the Parliament of India. Kay Kay Menon plays the role of Himmat Singh. The series is directed by Neeraj Pandey.
On Amazon Prime Video
Always Jane
The series is about Jane Noury and her family who lives in New Jersey and undergoes several ups and downs of teenage life. She also unveils her true identity of being transgender. The series talks about the importance of family support, understanding, and motivation for children.