A rare image of PM Narendra Modi with Bharat Ratna Nanaji Deshmukh, both in RSS attire is viral
Nanaji Deshmukh and PM Modi's rare image in RSS Khakhi attire is going viral. Meanwhile, this picture was taken when the Sarsanghchalak of RSS was Balasaheb Deoras.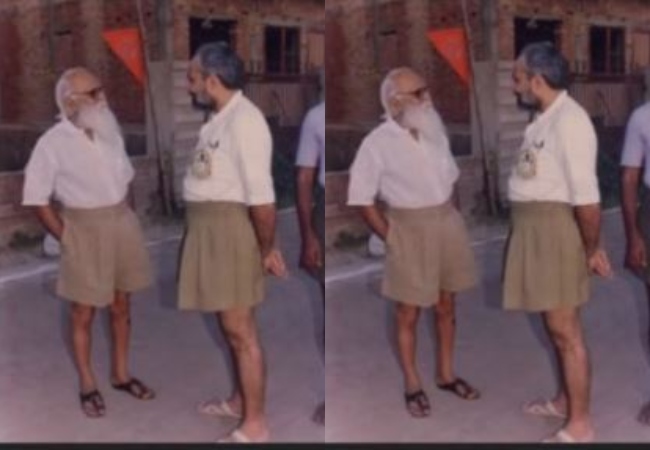 New Delhi: An archival picture of Prime Minister Narendra Modi with Bharat Ratna Nanaji Deshmukh is being highly circulated on social media. In the picture, both of them are seen wearing Khaki shorts, which was once part of the official uniform of Rashtriya Swayamsevak Sangh(RSS).
Meanwhile, the Khaki shorts have been replaced by brown trousers. This picture is undated and has been sourced from the RSS archives.
It is said that this picture was taken when the Sarsanghchalak of RSS was Balasaheb Deoras.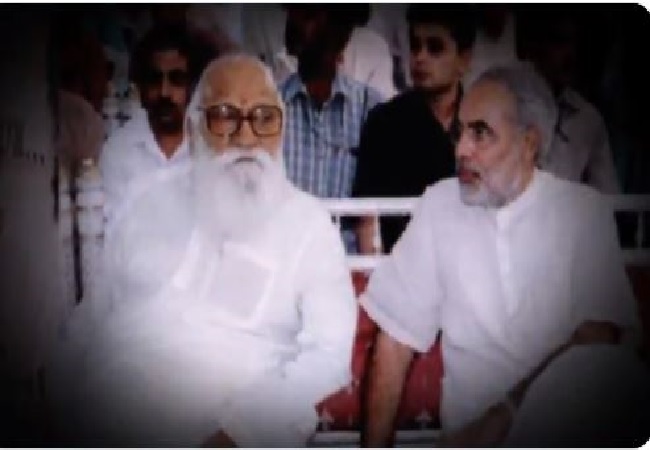 About Nanaji Deshmukh
Nanaji Deshmukh was born on 11 October 1916, he was awarded Bharat Ratna, the country's highest civilian award, in 2019. Born was into a Marathi-speaking Deshastha Brahmin family at Kadoli, which is a small town in the Parbhani district.
Nanaji Deshmukh was the founder member of the Janata Party and one of the seniormost members of the Bharatiya Janata Party. A social activist, Nanaji played an important role in carrying out the social restructuring programme in over 500 villages of Uttar Pradesh and Madhya Pradesh. He also worked in the fields of education, health, and rural development and self-reliance.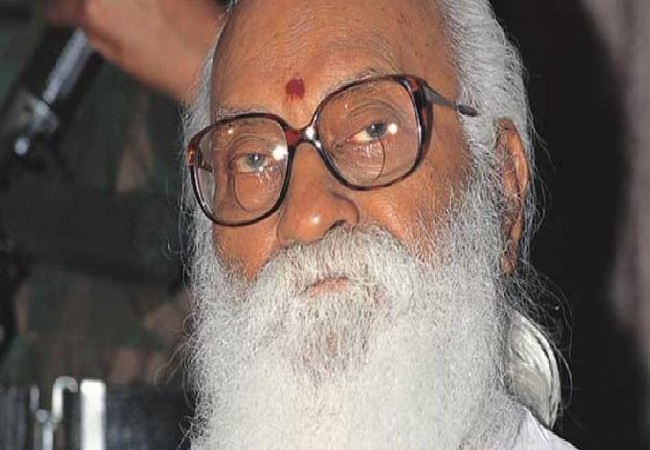 PM Modi paid tributes to Nanaji on his Birth Anniversary
Prime Minister Narendra Modi paid rich tributes to RSS stalwart Nanaji Deshmukh on his birth anniversary on October 11, saying India is proud that legends like him were born in this land.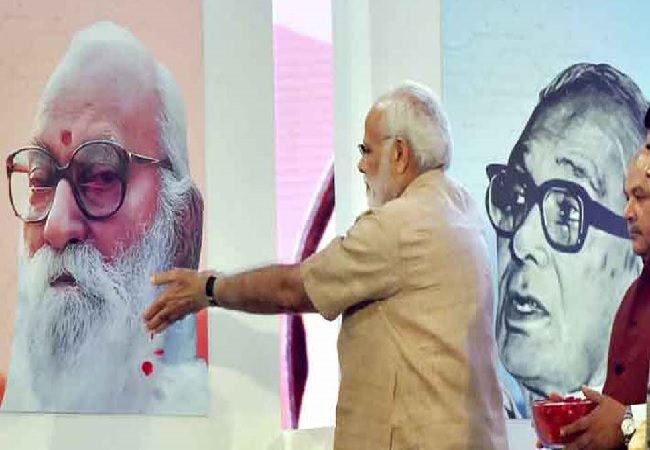 Praising Nanaji Deshmukh, PM Modi said, "The great Nanaji Deshmukh was one of Loknayak JP's most devout followers. He worked tirelessly to popularise JP's thoughts and ideals. His own work towards rural development motivates us. Remembering Bharat Ratna Nanaji Deshmukh on his Jayanti."
Remembering Nanaji Deshmukh on his birth anniversary. We are constantly motivated by his noble service & emphasis on rural development. pic.twitter.com/IuzBvOaoBV

— Narendra Modi (@narendramodi) October 11, 2017
JP Nadda on Nanaji
BJP national president J P Nadda recalled the contribution of Padma Vibhushan Nanaji Deshmukh, saying the noted social worker did not get the dignity in Indian politics which he received by doing social work. "Deshmukhji devoted his entire life to the welfare of villages and farmers.His contribution to nation-building will always remain an inspiration for the countrymen," he said.