At Yogi oath ceremony, a rare glimpse of top BJP brass gets Twitter talking
Yogi-led BJP returned to power in the state with a massive mandate for the second term, winning 273 seats in the 403 member Assembly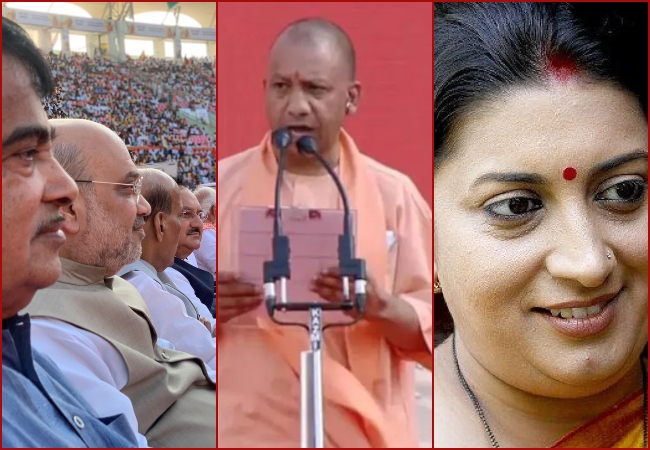 New Delhi: The swearing-in ceremony of Yogi Adityanath cabinet 2.0 turned out be a gigantic event with more than 50,000 people making their attendance in person, at the Atal Bihari Vajpayee Ikana Stadium on Friday.
From Prime Ministers to Central Ministers to Chief Ministers of all BJP-ruled states, the stage saw the presence of the party's biggest & tallest leaders.
However, one photo from the oath ceremony became a major talking point in political circles, rather left the BJP supporters elated & excited.
The photo, apparently clicked by Union Minister Smriti Irani became a viral sensation, the moment it landed on social media.
मेरा परिवार #भाजपापरिवार ? pic.twitter.com/AapXyh0iCf

— Smriti Z Irani (@smritiirani) March 25, 2022

The viral image, captured Prime Minister Narendra Modi, HM Amit Shah, BJP chief JP Nadda, Union Ministers Rajnath Singh & Nitin Gadkari, in the backdrop of a big audience.
Top 5 achievers in one frame, answer to 'parivar politics'
The photo got people talking on Twitter. And, the moot point remained the profile and transformation of 5 BJP leaders from 'no one' to the most popular political icon of the country.
All these BJP veterans, come from non-political family, who toiled hard through the ranks and reached the echelon of politics with their sheer hard work and integrity.
Nitin Gadkari started off party's groundworker and used to install posters before making it big, JP Nadda has a moderate background with no political affiliation while PM Modi's 'chaiwala to PM' journey remains an inspiration for an entire generation. Rajnath Singh & Amit Shah also began their political journey as party workers and worked their way to the top.
Sharing the photo, BJP National Secretary BL Santosh hailed the photo as one decimating the parivarvaad politics. He said that the biggest contribution of BJP to country's polity is the strengthening of democracy.
All 5 are from self made men … all are from non political families … all are from different families … all reached top of the pyramid sheerly by the strength of character. Biggest contribution of @BJP4India to country's polity is this … strengthening of Democracy . pic.twitter.com/22MDkIMaM9

— B L Santhosh (@blsanthosh) March 25, 2022
Unlike BJP, Congress remains a family fiefdom with Gandhi siblings at the helm while regional parties like SP, RJD have seen reins being transferred from father to son.
What people said on 'powerful 5' photo
A lot many people reacted to the viral image, with most of them lauding the change that the saffron party brought in country's political discourse.
This is the most emotional tweet I have seen. Nothing can be better than having family feeling in a political party. India is in the best hands. We are proud of you all.??

— Prashant (@prashant6401) March 25, 2022
Gadakari ji is an over achiever
What he has achieved in infra under ABV ji and now under Modi Ji , no leader arround the world has achieved where he needs to work through so many hurdles
??

— Eminent Woke (@WokePandemic) March 25, 2022
Same to same ? pic.twitter.com/mpuyqXsLPY

— Debudada (@MagnuRex) March 25, 2022
#Toon-हमारा परिवार, श्रेष्ठ परिवार!!#हमारा_परिवार_भाजपा_परिवार!#मेरा_परिवार_भाजपा_परिवार!! pic.twitter.com/PYG6pygsFj

— Shuchita Vatsal (@SJVatsal) March 25, 2022
What a photograph ???

— Ajit Datta (@ajitdatta) March 25, 2022
One of the rarely picture, the leadership of the nation, great strength ❤️ @smritiirani

— KVS HARIDAS (@keveeyes) March 25, 2022
In the Yogi cabinet 2.0, a lot of fresh faces have been inducted including 5 women ministers. With 32 new faces in 52 member cabinet, a lot of focus is on building a young & dynamic government that delivers on promises.
Yogi-led BJP returned to power in the state with a massive mandate for the second term, winning 273 seats in the 403 member Assembly.