Fresh row in Cong Prez race: Tharoor's manifesto shows distorted map of India
His manifesto has a map of India on the front cover but the map is devoid of two inalienable parts of India – Ladakh & Jammu & Kashmir.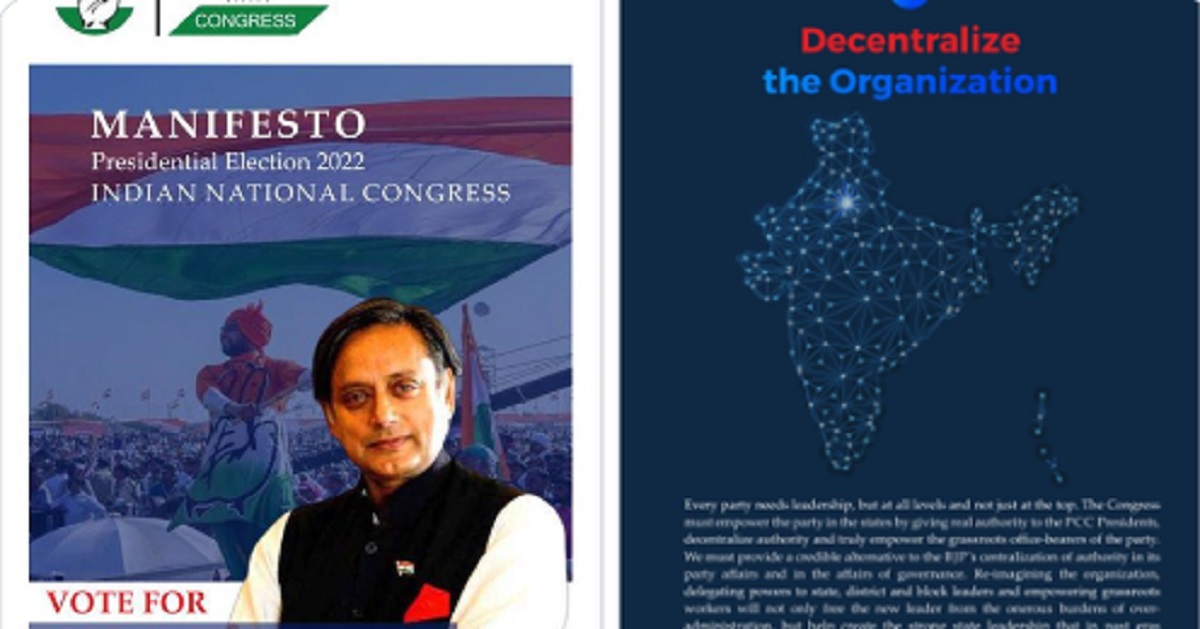 New Delhi: The election for new Congress President got marred by another controversy, this time related to Shashi Tharoor.
Tharoor, one of the contenders for Congress President post, sparked a major row today as his manifesto displayed a distorted map of India.
His manifesto displays a map of India on the front cover but it is devoid of two inalienable parts of India – Ladakh & Jammu & Kashmir. As the photo landed on social media, it triggered
Congress presidential candidate Shashi Tharoor's manifesto for the election shows a distorted map of India, part of J&K omitted from Dr Tharoor's manifesto.

(Document source: Shashi Tharoor's Office) pic.twitter.com/Xo47XUirlL

— ANI (@ANI) September 30, 2022
Tharoor has been vocal about his aim & vision for the party in 21st century and has elucidated his views in the manifesto for winning support of partymen.
'Think Tomorrow, Think Tharoor'… the tagline on his manifesto aptly describes his ambition & desire to lead the party in the right direction but on the day of nomination only, the senior leader ignited a major row.
The move is bound to receive lot of backlash not from within the party but from other parties, who will be unsparing in their attack given the fact he is a nominee for Congress top post now.
The conspicuous & glaring error by the illustrious and highly literate face of the party has also taken the internet the surprise. Many are questioning whether it's a printing error or deliberate distortion that has lately been Cong's stance on security issues. On issues like India-China border strife, many Congress leaders questioned Modi govt & Indian Army's capability rather than standing firm with the nation.
For a week now, the party is witnessing high-voltage drama and chaos over filing of nominations for top party post. Till a day ago, Ashok Gehlot was understood to be the de-facto choice of Gandhis but his powerplay in state politics changed the equations dramatically. Digivjaya Singh, another Gandhi family loyalist came forth in last moment to contest polls but opted out of race within 24 hours. Lastly, 80-year-old Mallikarjun Kharge made last-minute entry in the race and he got the backing of all top party leaders, leading to speculations whether the elections for Congress President will remain free & fair and devoid of any family influence.