From Madhavan to Sunny to Yami, B-Town celebs go gaga over Chandrayaan-3 success
India's Chandrayaan-3 successfully landed on the South Pole of Moon on Wednesday evening as planned.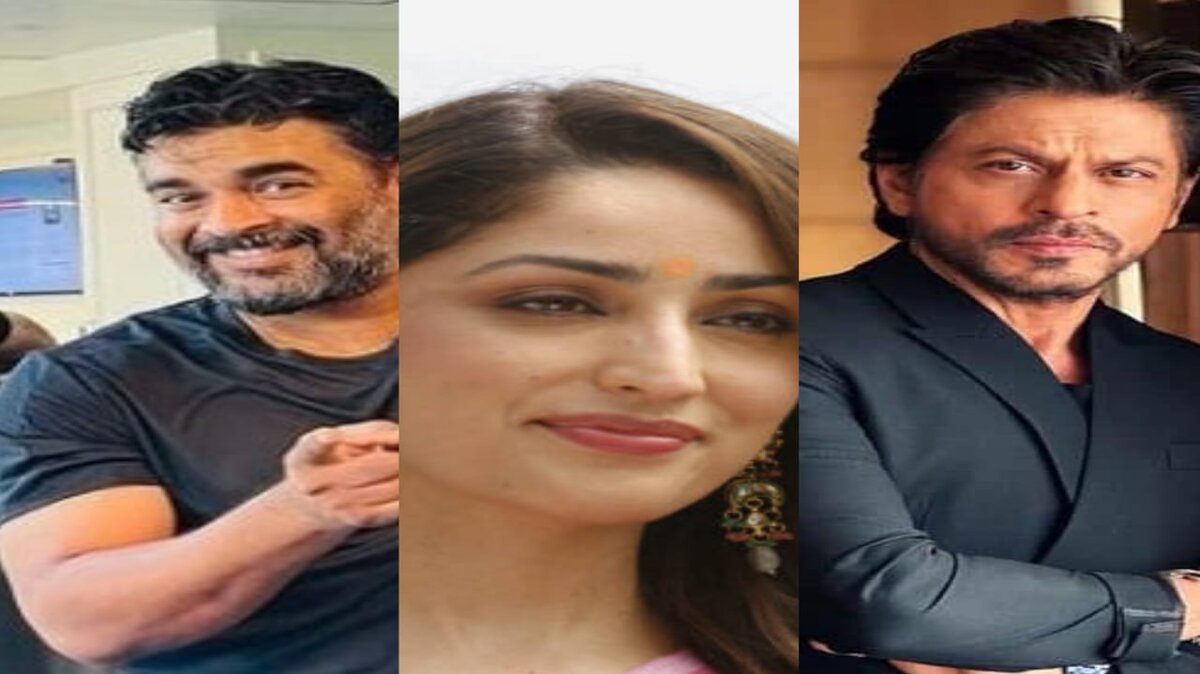 New Delhi: On August 23, 18:04 Hrs. As soon as India's much anticipated Chandrayaan-3 completed its successful landing on the Moon, the whole nation went into festive mode to celebrate India's historic achievement.
Prayers and havans were going on throughout the nation for the success of the Chandrayaan-3 mission days before its landing day. Many temples around the country were giving their offerings to ensure Chandryaan-3's safety.
Chandrayaan-3 without disappointing anyone completed its safe landing giving the nation another reason to celebrate. Soon after the landing, everyone started to give their take on the event. From common people to celebrities to politicians everyone expressed their joy and shared it with people using their social media handles.
Shahrukh Khan quoted his song in the caption saying, "Chaand Taare todh laoon…Saari Duniya par main Chhaoon'. Politician Kiren Rijuju congratulated the scientists for their historic feat. South actor Ramcharan captioned his post with, "ETTHARE JENDA".
Actor R Madhavan shared a video expressing his excitement saying, he is very proud of his nation and all the Chandrayaan-3 team involved in this mission. He said achieving this feat in itself is historic but, achieving it in the kind of budget it was given is nothing sort of miracle.
OTT platforms like Amazon Prime and Netflix also shared their joy by sharing posts on their Instagram handles.
Check out the reactions below;
हर देशवासी की तरह मेरा मन चंद्रयान महाअभियान पर भी लगा हुआ था।

नया इतिहास बनते ही हर भारतीय जश्न में डूब गया है, हर घर में उत्सव शुरू हो गया है: PM @narendramodi pic.twitter.com/vliDpW4uc5

— PMO India (@PMOIndia) August 23, 2023
Dhanyavaad, Thank you, @isro for:
—Teaching us how to aim for the stars
—Making us believe in our own abilities
—Showing us how to deal with failure & use it as a platform to rise again.
And above all, making us Proud to be Indian. #Chandrayaan3 pic.twitter.com/BNFVacYXQJ

— anand mahindra (@anandmahindra) August 23, 2023
Chaand Taare todh laoon….Saari Duniya par main chhaoon. Aaj india aur @isro chhaa gaya. Congratulations to all the scientists and engineers…the whole team which has made India so proud. Chandrayaan-3 has successfully
soft-landed on the moon. #Chandrayaan3 pic.twitter.com/yBJu9k7Q8a

— Shah Rukh Khan (@iamsrk) August 23, 2023
When you offer your reverence to the creator of the universe, everything will be looked after. Simply surrender and have faith.

HARI OM 🙏#Chandrayaan3 #Chandrayaan3Landing pic.twitter.com/uq2FfOcrgW

— BALA (@erbmjha) August 23, 2023
View this post on Instagram
View this post on Instagram
View this post on Instagram
View this post on Instagram
View this post on Instagram
View this post on Instagram
I've lost proper words to express my happiness. A moment of pure joy & pride as #Chandrayaan3 lands on the moon making India the 1st country to land on the moon's south polar region.
Congratulations to our exceptional scientists in @isro for their dedication, brilliance, and… pic.twitter.com/cZEf0xeh4m

— Kiren Rijiju (@KirenRijiju) August 23, 2023
Chandrayaan-3's upcoming lunar rover will leave its mark by etching our national emblem, the Lion Capital of Ashoka from Sarnath, along with ISRO on the lunar surface. A historic moment that symbolizes India's lunar legacy and presence. 🇮🇳🌕🚀 #Chandrayaan3 #ProudIndian pic.twitter.com/KYNlNAZYHY

— Kajal Aggarwal (@MsKajalAggarwal) August 23, 2023