Gujarat Assembly Election Final Result 2022 Highlights: BJP's Massive win on 156 seats
BJP has been in power in Gujarat for 27 years with Prime Minister Narendra Modi remaining in the Chief Minister's post for the longest time before becoming Prime Minister.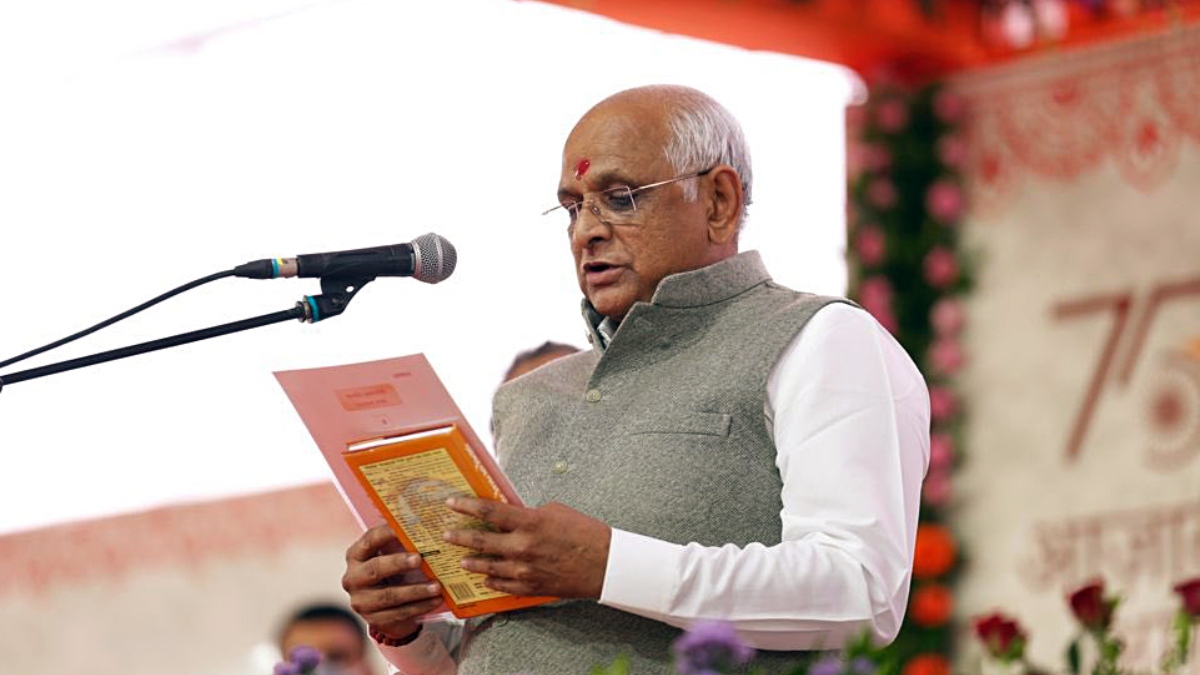 New Delhi: The Bharatiya Janata Party (BJP) won 156 seats, while Congress Party won 17 seats, AAP 5 and others won 4 seats.
As BJP crossed the majority mark and Bhupendra Patel is all set to take oath as Gujarat CM on December 12.
Prime Minister Narendra Modi, and Union Minister Amit Shah will also be attending the oath-taking ceremony.
With this, BJP is all set to form its government for the seventh time in the state.
Gujarat Assembly elections 2022 were held in two phases on December 1 and 5.
In the first phase of polling, an overall turnout was 63.14 per cent, while in the second phase of polling, an overall turnout was recorded at 59.11 per cent.
After polling was completed, the exit polls predicted a clear win for the incumbent Bharatiya Janata Party (BJP) in Gujarat.
Gujarat Assembly Election Final Result HIGHLIGHTS:
# BJP's Massive win on 156 seats
#GujaratElections | Over 40 lakh people have voted for the AAP. We won that day itself when BJP started talking about schools, in the first go itself 4-5 people from our party became MLAs, that's a big feat. We'll work for the people for 5 yrs: AAP CM candidate Isudan Gadhvi pic.twitter.com/UBzjr6TiSu

— ANI (@ANI) December 8, 2022
Gujarat polls 2022 | Gujarat votes for politics of development. Some years ago, here prevailed politics of vote banking, divide & rule because of which people were fed up and they started voting for BJP: Purnesh Modi, BJP candidate from Surat pic.twitter.com/wRLRL8pDqs

— ANI (@ANI) December 8, 2022
#WATCH | Gujarat: BJP workers celebrate in Surat as the party sweeps #GujaratAssemblyPolls. As per the official EC trends, BJP has won 5 seats and is leading on 150 of the total 182 seats in the state. pic.twitter.com/OULjOcwy3H

— ANI (@ANI) December 8, 2022
It's a win of BJP's work, the removal of Art 370. We'll focus on the work to be done in next 20 yrs. There was no competition with AAP. Viramgam made Hardik Patel win for the further development of constituency: Hardik Patel, BJP#GujaratElectionResult pic.twitter.com/Jt6kwlfuva

— ANI (@ANI) December 8, 2022
Manner in which BJP worked in Guj for last 27 yrs & established Gujarat model, people believed they want to take forward the development journey with only BJP. Gujarat was with BJP&will continue to be with them: BJP's Jamnagar North candidate, Rivaba Jadeja#GujaratAssemblyPolls pic.twitter.com/nYDYBlpXxU

— ANI (@ANI) December 8, 2022
Gujarat CM Bhupendra Patel and state BJP chief CR Paatil have sweets in celebration as the party sweeps the #GujaratAssemblyPolls

The Chief Minister is also leading from his constituency Ghatlodia by a margin of 1,07,960 votes. pic.twitter.com/9CAGPjMLsM

— ANI (@ANI) December 8, 2022
#GujaratElections | Gujarat model is being endorsed&accepted by people since 2000-2001. The model that we're presenting before the nation is being accepted. I congratulate the people&BJP of Gujarat. It's one of the biggest ever record in polling history: Parliamentary Affairs Min pic.twitter.com/aVOSZ66IOC

— ANI (@ANI) December 8, 2022
AAP candidate Karshanbhai Karmur leading with a total of 4582 votes so far, in Jamnagar North. Congress' Bipendrasinh Chatursinh Jadeja trailing on second & BJP's Rivaba Jadeja on the third position. Counting on.

BJP -123; Congress-22; AAP-10 in early trends#GujaratElections

— ANI (@ANI) December 8, 2022
# Trends show Gujarat leading.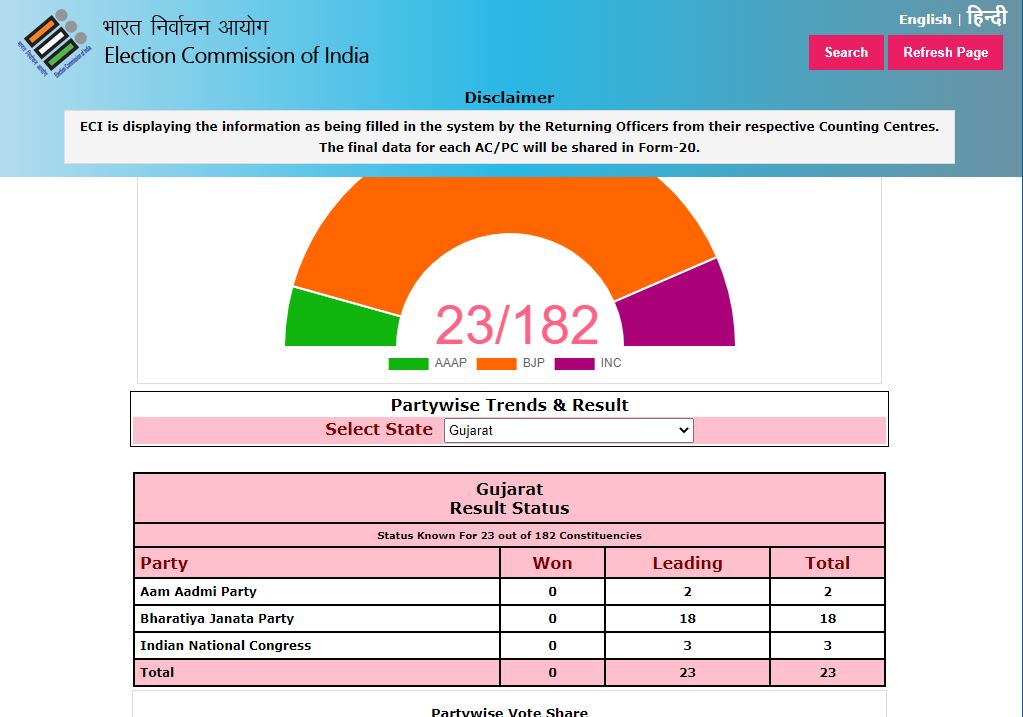 BJP will break records. It will get the maximum number of seats &the highest voting percentage. All our candidates will be ahead of their rival candidates by a huge margin. BJP will have a huge victory: Guj Min & BJP candidate from Surat West, Purnesh Modi#GujaratElectionResult pic.twitter.com/XrQgjLfg6c

— ANI (@ANI) December 8, 2022
#GujaratElections2022 | Counting of votes begin, visuals from Government Commerce College in Gandhinagar. pic.twitter.com/PmcIXC1rS8

— ANI (@ANI) December 8, 2022
Counting of votes for #GujaratAssemblyPolls and #HimachalPradeshElections begins.

Counting for by-elections for Mainpuri Lok Sabha seat in Uttar Pradesh and six assembly seats in Bihar, Chhattisgarh, Odisha, Rajasthan and Uttar Pradesh also begins. pic.twitter.com/Ef67XtMLYx

— ANI (@ANI) December 8, 2022
# Counting of votes begins