Janmashtami 2022 celebrations in full swing in India | Glimpses here
Janmashtami 2022 celebrations in full swing in India | Glimpses here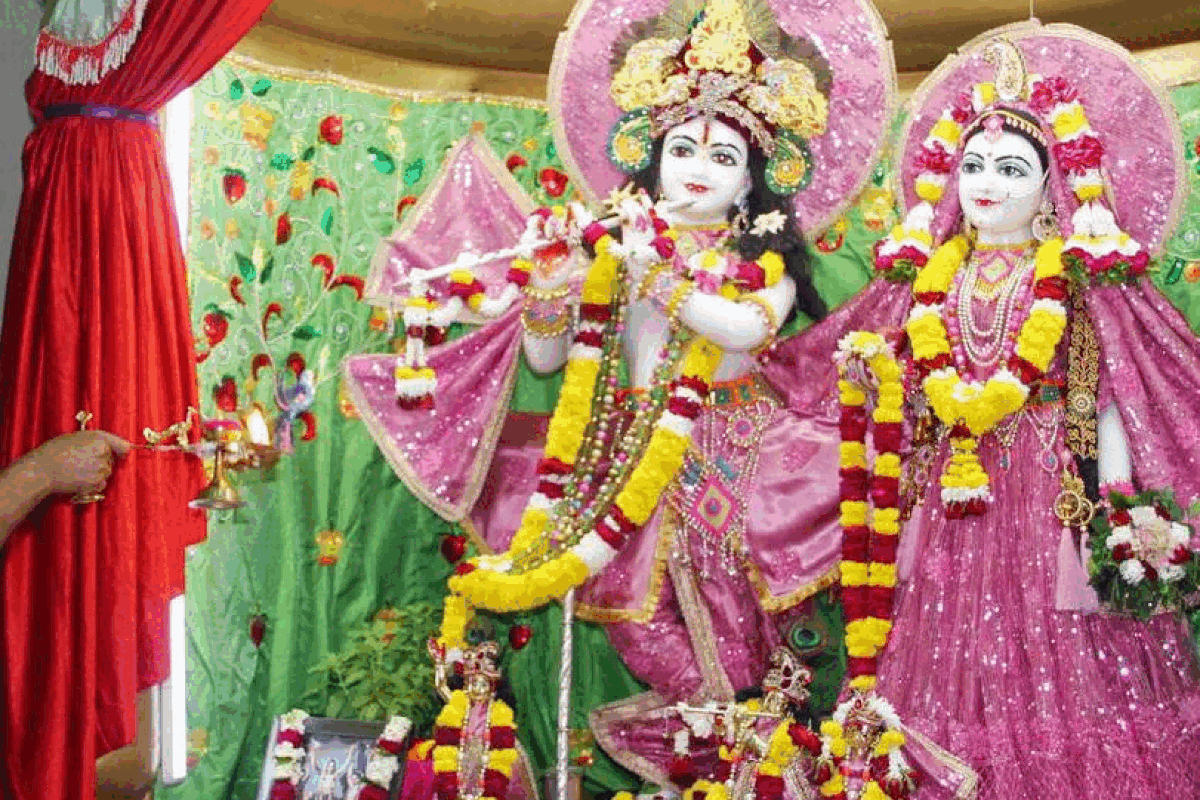 New Delhi: The festival of Janmashtami is being celebrated today with immense fervour. It is believed that on this day Lord Krishna was born, the God who is the embodiment of playfulness and innocence.
According to the Hindu mythology, it is believed that Lord Krishna, an avatar of Lord Vishnu, was born on the eighth day of the month of Bhadra.
As per the Western calendar, this day basically falls in the months of August or September.
Beautiful picture's and videos of Krishna Janmashtami is coming from across the country.
GLIMPSES OF JANMASHTAMI CELEBRATION FROM ALL OVER INDIA
मुंबई – घाटकोपर इलाके में दही हंडी के दिन दिखा शानदार नज़ारा, मुस्लिम महिला ने अपने 8 साल के बेटे आहत मुजवार को भगवान श्री कृष्ण के रूप में सजाया pic.twitter.com/51pvjPUcCN

— Newsroom Post (@NewsroomPostCom) August 19, 2022
#WATCH | Kerala: Processions were taken out and performances were done on the streets in Kannur yesterday, for #Janmashtami pic.twitter.com/YXNGZm2YdY
— ANI (@ANI) August 19, 2022
Karnataka | People gather at Iskcon temple in Bengaluru as celebrations for Krishna Janmashtami begin pic.twitter.com/YXgOQdkiVc

— ANI (@ANI) August 19, 2022
चंडीगढ़: कृष्ण जन्माष्टमी के मौके पर पूरे शहर को रंग-बिरंगी रोशनी से सजाया गया। भक्तों में उत्साह। pic.twitter.com/Wi1VRZ31U9

— ANI_HindiNews (@AHindinews) August 18, 2022
Delhi | Morning visual from Iskcon temple in East of Kailash where devotees have gathered to celebrate Krishna Janmashtami pic.twitter.com/6NkmxwOipz

— ANI (@ANI) August 18, 2022
Kerala | Devotees along with children took part in a procession which was taken out on the occasion of Krishna Janmashtami in Kozhikode (18.08) pic.twitter.com/Ikk1SxMHBP

— ANI (@ANI) August 18, 2022
Gujarat | Devotees at a temple in Vadodara prepare a Rs 25 lakh swing, which's made from gold & silver, for Lord Krishna's idol on occasion of Janmashtami

Swing is made from 200 grams gold & 7kg silver,its cost is Rs 24-25 lakhs which was donated by devotees,says temple official pic.twitter.com/lnJGdeSWjy

— ANI (@ANI) August 18, 2022
Maharashtra | People gather at Iskcon temple in Mumbai as celebrations for Krishna Janmashtami begin pic.twitter.com/e8kfhkzKxp

— ANI (@ANI) August 18, 2022
#WATCH | Uttar Pradesh: Celebrations begin on the festive occasion of Krishna Janmashtami as devotees in large numbers gather in temples in Mathura pic.twitter.com/KzTVGlvU2u

— ANI UP/Uttarakhand (@ANINewsUP) August 18, 2022
#WATCH | Devotees in large numbers assemble in Mathura for Shri Krishna Janmashtami#UttarPradesh pic.twitter.com/rz46NmsgNS

— ANI UP/Uttarakhand (@ANINewsUP) August 18, 2022
Delhi | BJP national president JP Nadda attends a #Janmashtami programme in Sector-10, Dwarka pic.twitter.com/zenJkdVsYc

— ANI (@ANI) August 18, 2022