#JusticeForRinkuSharma: Bajrang Dal activist collecting donations for Ram Mandir stabbed to death in Delhi
February 12, 2021 08:58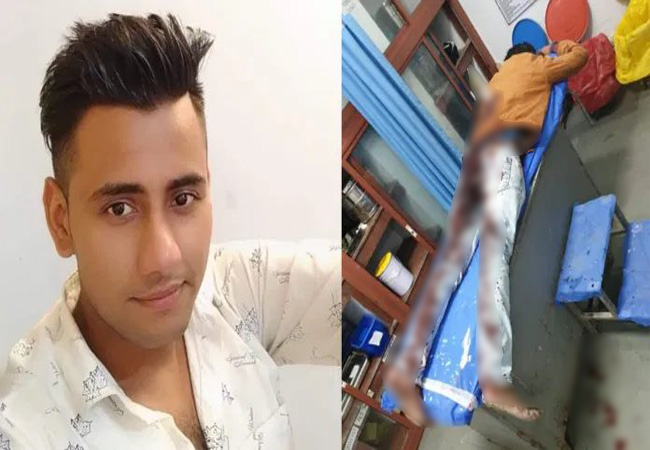 New Delhi: In a shocking incident, 26-year-old, identified as Rinku Sharma was stabbed in Delhi's Mangolpuri area on February 10.
Rinku Sharma was actively involved with the Hindu outfit and was a part of the donation drive being carried out by Bajrang Dal for contributing towards the construction of Ram Mandir in Ayodhya.
The incident took place in front of his family members.
According to media reports,  police have arrested the four assailants, who entered Rinku's house late on Wednesday night and killed him in cold blood. The arrested assailants have been identified as Mohammad Islam, Danish Nasruddin, Dilshan and Dilshad Islam, according to social media posts.
Rinku Sharma worked as a lab technician in a hospital in Paschim Vihar. The young activist was survived by his mother Radha Devi, father Ajay Sharma and brothers Ankit and Manu Sharma.
The victim's father told Sudarshan TV that on Wednesday night, around 25-30 persons knocked on the door. After they were let in, they attacked his son Rinku Sharma, and his younger son Ankit was also attacked. He said that the attackers kicked them around, stabbed Rinku, and vandalised the house.
राम नाम लेने पर सज़ा-ए-मौत।
दिल्ली के मंगोलपुरी में #RinkuSharma की हत्या उस जिहादी ने की जिसे पिछले महीने #Rinku ने अपना खून दे कर बचाया था। देखे उसके पिता की पिडा को #JusticeForRinkuSharma on @SudarshanNewsTV pic.twitter.com/8smHiQz8iB

— Maya Suresh Chavhanke (@MayaChavhanke) February 11, 2021
BJP leader @ManojTiwariMP expressed his condolences to the #RinkuSharma's family and asked @DelhiPolice for strict and fast action.

Rinku was stabbed to death while collecting donations for #RamMandir. Since news broke #JusticeForRinkuSharma has been trending. pic.twitter.com/Ngm0hWRHvh

— Newsroom Post (@NewsroomPostCom) February 12, 2021
Video of the incident
Feel the pain of this father and think about your own children or family members, Another day another Hindu lynched just for saying Jai Shri Ram #JusticeForRinkuSharma https://t.co/nnLsnHOOAW

— Kangana Ranaut (@KanganaTeam) February 11, 2021
राम नाम लेने पर 'सज़ा-ए-मौत'
दिल्ली के मंगोलपुरी में #RinkuSharma की हत्या उस जिहादी ने की जिसे पिछले महीने #Rinku ने अपना खून दे कर बचाया था। देखिए उसके पिता की पीड़ा को और उसे घर में घुस कर चाक़ू से हत्या करने का वीडियो#JusticeForRinkuSharma

Follow👉🏻 @TheShubhamtv pic.twitter.com/mg7oQ5CacU

— Shubham Tripathi 🇮🇳 (@TheShubhamtv) February 11, 2021
#JusticeForRinkuSharma trends
अगर रिंकू का नाम रेहान होता तो उसकी हत्या देश की सबसे बड़ी खबर होती

हर नेता उसके दरवाजे पर होता

रिंकू शर्मा जी की हत्या दिल्ली में ऐसा पहला अपराध नहीं

अंकित सक्सेना, ध्रुव त्यागी, डॉ नारंग, राहुल, अंकित शर्मा सब को ऐसे ही तो मारा गया

आखिर क्यों?#JusticeForRinkuSharma pic.twitter.com/pC1ckKG0QZ

— Kapil Mishra (@KapilMishra_IND) February 12, 2021
14 of them reportedly pinned him down and stabbed him, mostly in the back. In the heart of Delhi. Because he was raising money for Ram Mandir. #JusticeForRinkuSharma pic.twitter.com/TIFho4UEYP

— Abhijit Majumder (@abhijitmajumder) February 11, 2021
A mob lynching that will never make it to the headlines of International media because it doesn't fit into their narrative. #JusticeForRinkuSharma

— Monica (@TrulyMonica) February 11, 2021
#JusticeForRinkuSharma @AmitShah ji 🙏🙏🙏It happened in Delhi, where Police and Law/Order is under your control. Pl take effective steps so that such incidents don't happen in future. Pl punish the culprits through Fast Track Court pic.twitter.com/xZYVm95m6o

— अनिल_खन्ना248 (@khanna248) February 12, 2021