'Rashtrapatni' remark creates storm in Parliament, BJP blasts Congress; Sonia's 'don't talk to me' remark increases 'hostility'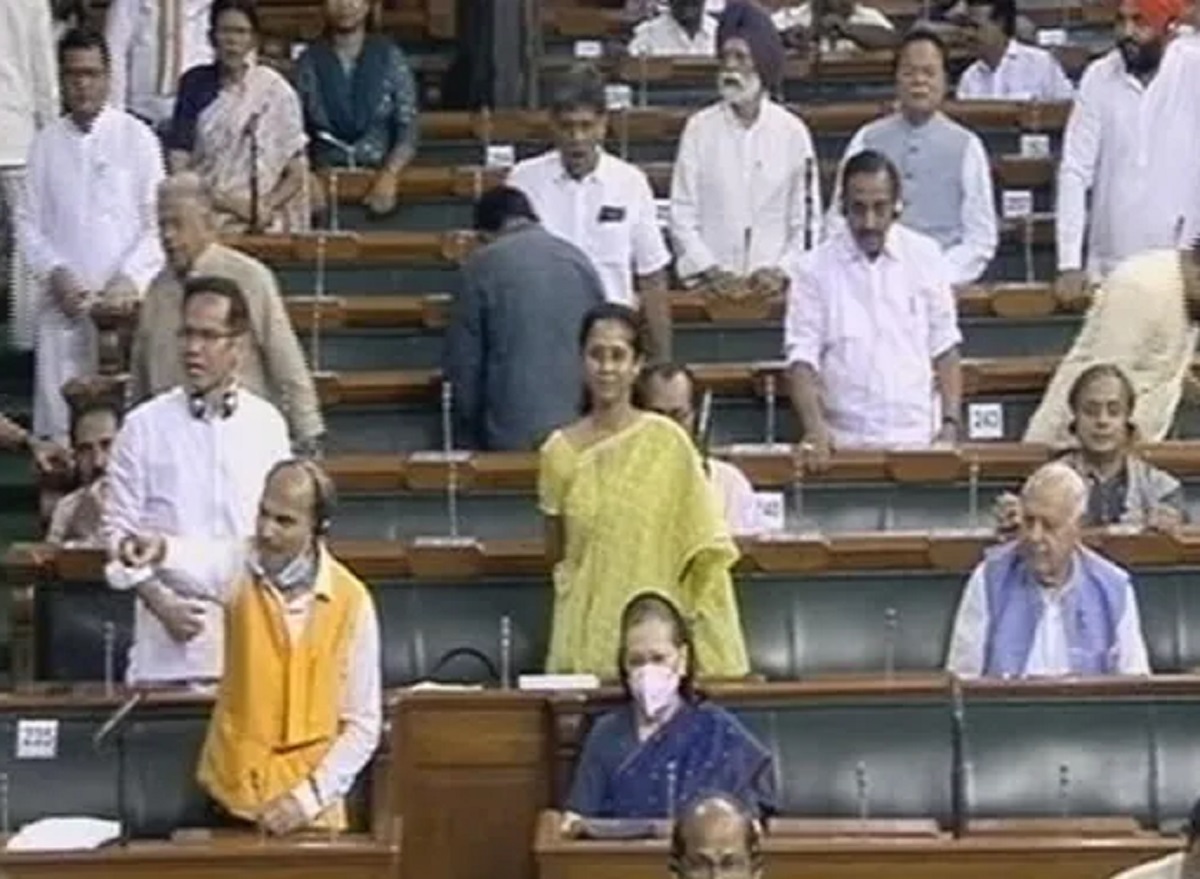 New Delhi: A major ruckus broke out in the Parliament today, over Congress leader Adhir Ranjan Chowdhury's remarks demeaning the newly-elected President Droupadi Murmu.
Union Minister Smriti Irani & Finance Minister Nirmala Sitharaman led a vociferous protest against insulting & derogatory remarks against the President and demanded that the Congress chief Sonia Gandhi must apologize for its party leader's conduct.
The Lok Sabha witnessed loud protests by BJP MPs who demanded apology by Adhir Ranjan Chowdhury as well as Sonia Gandhi.
"Sonia Gandhi must apologise," demanded Smriti Irani while the BJP MPs backed the slogan in loud voice.
"Sonia Gandhi, you sanctioned the humiliation of Droupadi Murmu. Sonia ji sanctioned humiliation of a woman in the highest constitutional post," the Union Minister said.
Following loud uproar, the House was adjourned.
#WATCH | "He has already apologised," says Congress interim president Sonia Gandhi on party's Adhir Chowdhury's 'Rashtrapatni' remark against President Droupadi Murmu pic.twitter.com/YHeBkIPe9a

— ANI (@ANI) July 28, 2022
Sonia's snub to Smriti enrages BJP
After the adjournment of House, Sonia Gandhi reportedly went to the treasury benches to 'placate' the protesting MPs. However, she was interjected by BJP minister Smriti Irani.
She reportedly told Sonia Gandhi, mam.. "I took your name, can I help?"
Sonia was to retort in a terse remark, "don't talk to me".
This apparently triggered further protests from the BJP MPs while the Opposition members also raised the pitch.

Finance Minister recalls 'threatening demeanour'
Moments later, the Finance Minister Nirmala Sitharaman speaking to press narrated what happened inside the house and why some BJP members felt 'threatened' by the approach of Congress chief.
"Some of our Lok Sabha MPs felt threatened when Sonia Gandhi came up to our senior leader Rama Devi to find out what was happening during which, one of our members approached there and she (Sonia Gandhi) said – You don't talk to me – putting our MP down in the house. So instead of remorse from the highest leader of the Congress party, we find greater aggression," said Sitharaman.
#WATCH | Some of our Lok Sabha MPs felt threatened when Sonia Gandhi came up to our senior leader Rama Devi to find out what was happening during which, one of our members approached there & she (Sonia Gandhi) said "You don't talk to me": Union Finance Minister Nirmala Sitharaman pic.twitter.com/WxFnT2LTvk

— ANI (@ANI) July 28, 2022