Indian men okay with women putting pregnancy on backseat but not comfortable with contraceptives
Besides, female sterilisation continues to be the most popular contraceptive method used among married women between the age group of 15 to 49 years.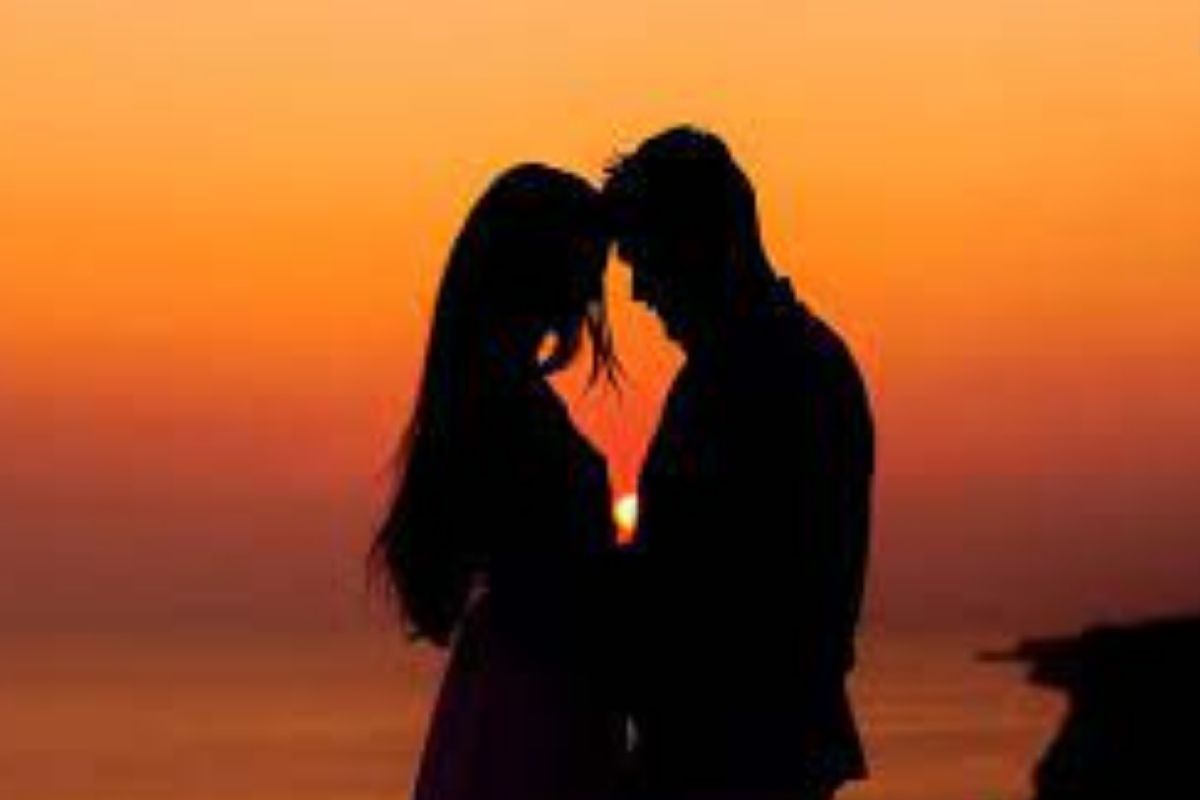 New Delhi: A report by the National Family Health Survey (NFHS-5) 2013-2021 shows that a considerable number of men in India put the responsibility of contraception and family planning on women. Around India, almost 35% of male respondents surveyed believe that contraception is "women's business and a man should not have to worry about it," while 19.6% of them think that women who use contraception may promiscuous. The survey was conducted on men within the age group 15 to 49 years.
These perceptions are even common with the male members living in South Indian states. Besides, female sterilisation continues to be the most popular contraceptive method used among married women between the age group of 15 to 49 years. Moreover, 66.7% of the women respondents have used some method of contraception with 37.9% opting for female sterilisation reported NFHS-5.
Among the south Indian states, in Telangana half of the male respondents believe that contraception is a women's business while 44.1% of male respondents in Kerala stated that women who use contraception may become promiscuous.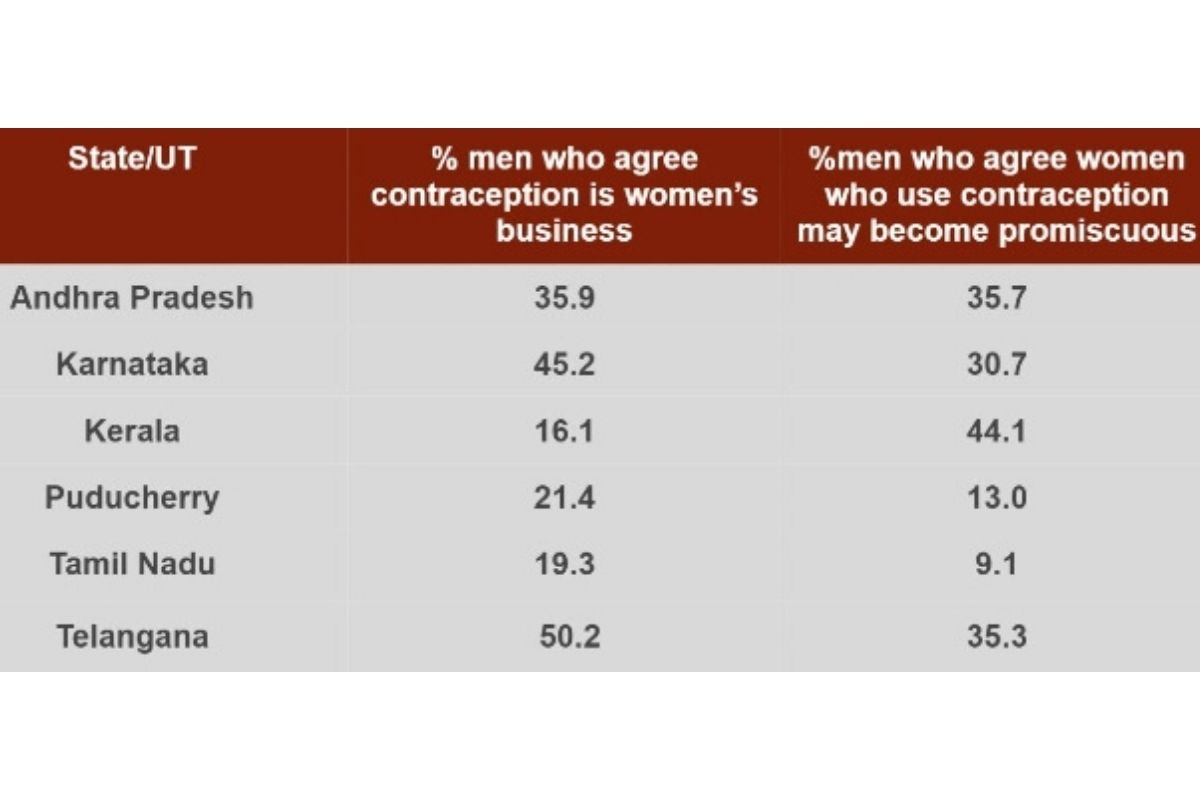 On the other hand, the overall use of contraception has risen from 53.5% to 66.7% as compared to NFHS-4 (2015-2016). The percentage of married couples opting for female sterilisation has gone up from 36% in the previous survey to 37.9% in the current report. However, the male sterilisation rate has remained the same, that is, at 0.3%. Only 9.5% of the respondents said that they used condoms, which accounts for an increase of 5.6% as seen in NFHS-4.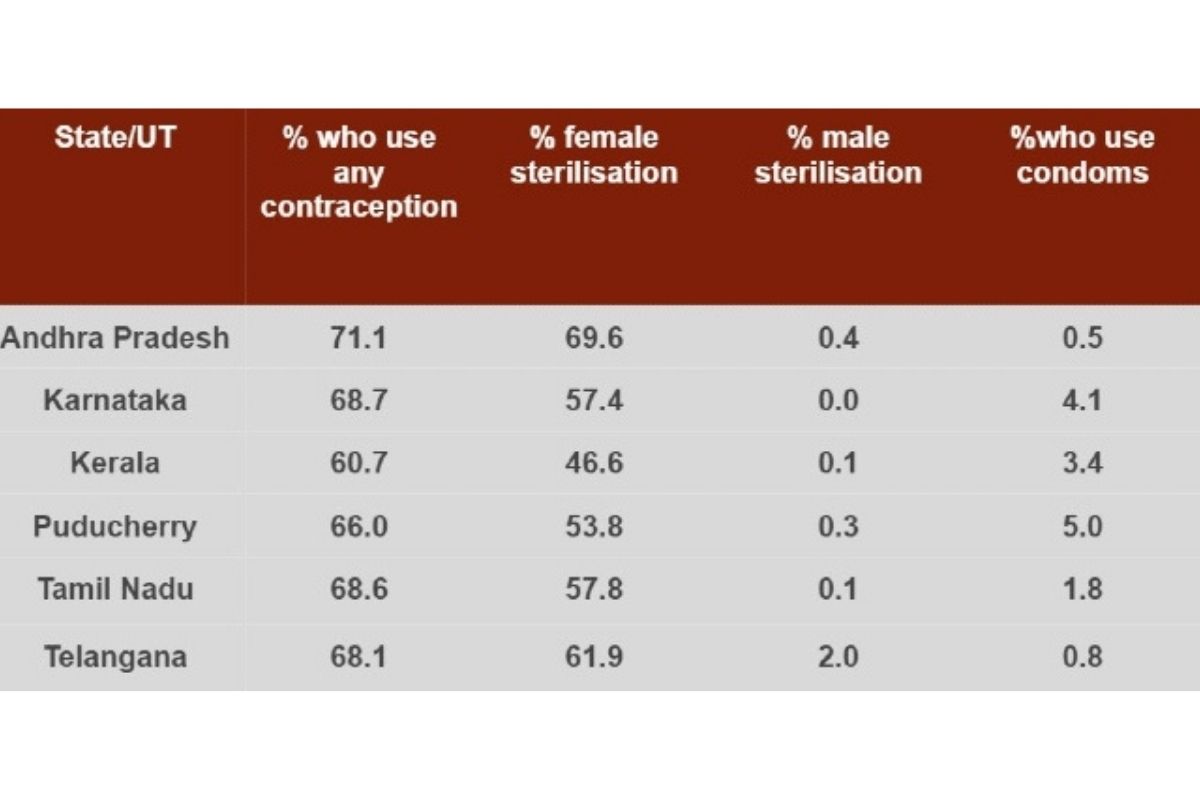 Although NFHS data indicates that men onus contraception onto women, a few studies showed that many men control women's decisions when it comes to family planning. As per the 2014 study on masculinity and son preference in India by the International Center for Research on Women (ICRW) and United Nations Population Fund (UNFPA), it is noticed that half of the men surveyed (54%) stated that they would not want their partner or wife to use contraceptives without their permission. Even another survey by IndiaSpend in Bihar found out that only 18% of the female respondents have a say in family planning discussions with their husbands.
"It's a matter of concern that female sterilisation remains the most popular method of contraception, showing that the onus of family planning continues to be on women," said Poonam Muttreja, Executive Director of Population Foundation of India, told PTI.
Context-specific policy and programmes will be needed for states passing through different stages of the demographic transition, Poonam said. "Our experience shows that targeted social and behaviour change communication campaigns can address social norms, harmful practices, and promote male engagement in family planning," she added.
The NFHS-5 survey has been conducted in almost 61,000 sample households from 707 districts of the country, from 28 states and eight Union Territories. The survey had female respondents between 15 to 49 years and male respondents between the age group of 15 to 54 years.