Battle for Bihar: Challengers add up but can they unsettle Nitish Kumar?
The BJP-JD(U) alliance may be confident as it swept 2019 Lok Sabha elections and won almost 90% votes in 243 assembly segments. However, as Delhi has shown, assembly elections in Bihar can be a totally different ballgame.
February 20, 2020 19:21
After the hotly contested Delhi Assembly elections, Bihar is the next state going to polls. In Delhi, AAP and BJP, being the main contenders, fired on all their cylinders to sway public opinion. Eventually, Kejriwal's AAP won the poll battle hands down.
Bihar Assembly elections are almost eight month away but state politicians have already started hitting the ground running. Looking at instances like Delhi, no party wants to take chances. The BJP-JD(U) alliance may be confident as it swept 2019 Lok Sabha elections and won almost 90% votes in 243 assembly constituencies of Bihar. However, as Delhi has shown, assembly elections can be a totally different ballgame.
BJP's electoral reverses in last few assembly elections like Delhi, Maharashtra, Jharkhand are no secret. The emergence of new players in Bihar political scene has made poll battle, all the more interesting. Kanhaiya Kumar is touring the state with 'Jan Gan Man Yatra' while Tejashwi Yadav is set to embark on 'Berozgaari Hatao Yatra'. And, now the political strategist Prashant Kishor has made his political ambitions clear by boasting to create a network of 1 crore 'agents of change' in next 4-5 months.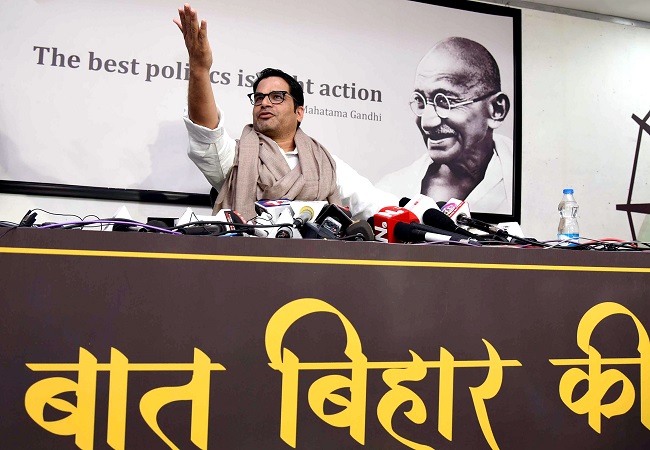 Nitish Kumar, undoubtedly, remains the unchallenged leader of Bihar. His clean image and developmental politics define his tenure of last 15 years.
Prashant Kishor, his deputy in the party, told a press conference that the aspirant youngsters of the state want change and they can't afford to stay happy with the status quo. Throwing an open challenge, he dared JD(U) for open debate on slow development in Bihar. Though, Nitish has not much to worry as his former protégé lacks mass base and electoral apparatus but his poll consultancy firm I-PAC has been extremely successful. It has potential to reach out to large sections of society and impress upon the citizens about Nitish's 'insipid' governance.
Development to be main poll plank
Development plank would be the base for electoral contest in upcoming Bihar elections. Nitish Kumar enjoys confidence of vast section of people but this time, his rivals too are latching on to the same narrative. Prashant Kishor has dared his 'political guru' to come clean on what Bihar has achieved in last 15 years as he quoted data to assert that Bihar still remains among the backward states of the country.
Going by numbers, Lalu Yadav's RJD, led by Tejashwi Yadav will be in direct fight with NDA. For months, Lalu's son tried to sully Nitish reputation by launching direct assault on him, however, now the party has changed tack. RJD will try to make Unemployment a big rallying point. But, given Lalu Yadav's disastrous 15 year tenure, new and young voters will mostly evade it. Kanhaiya Kumar, mostly a TV face, has been mobilising support against CAA but has largely remained ineffective on ground.
No communal rhetoric, tom-toming about 'Sushasan'
Months ago, Amit Shah proclaimed that Nitish would be the NDA face in Bihar. The message is clear enough for Nitish baiters, mostly in BJP, to pipe down and put up a united face. Further, the canvassing for elections won't be hyperbolic, hypernationalist and with communal rhetoric, rather it will be about developmental issues keeping in with the image of 'secular' Nitish Kumar. JD(U)-BJP govt will have to take its achievements to people, especially in light of the fact that 'sushan babu' image has seen decline after return to power in 2017.