PKL 10: Check complete team list and the schedule of the Pro Kabaddi league season 10
The tenth season of the PKL will be played across 12 cities and will have a total of 138 matches.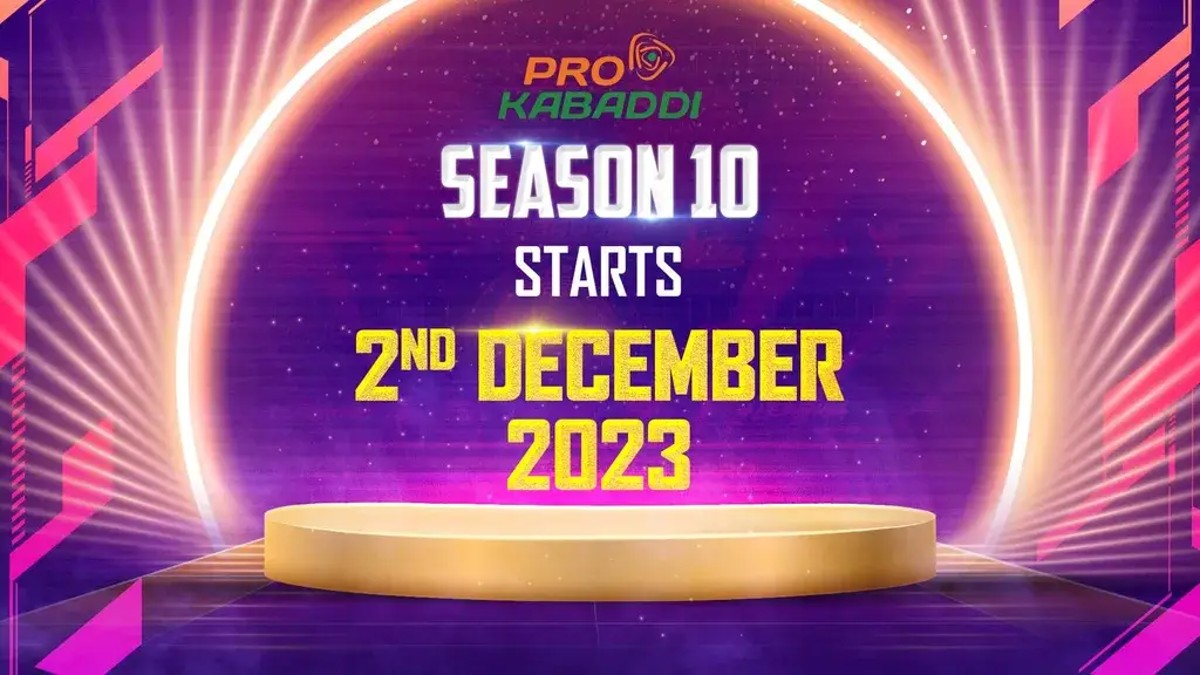 New Delhi: The tenth season of Pro Kabaddi league is up on the horizon as the full list of team members of all the 12 teams are out along with the schedule of all the venues phase-wise starting from December 2, in Ahmedabad.
The Pro Kabaddi League started off with 8 original teams, i.e., Patna Pirates, Telugu Titans, U Mumba, Jaipur Pink Panthers, Puneri Paltan, Bengal Warriors, Bengaluru Bulls and Dabang Delhi KC, in 2014 by the Mashal Sports, with broadcasting rights acquired by Star sports networks.
Next to the Sea Link and the skyscrapers of Worli, lies the fishing village of Koliwada filled with passionate Kabaddi players 🤩

Here is their story!

Tune-in to #PKLOnStar
DEC 2, 8 PM | Star Sports Network#ProKabaddiLeague #PKLSeason10 pic.twitter.com/8DOfr6OwbC

— Star Sports (@StarSportsIndia) November 17, 2023
The tournament added four more teams, i.e., UP Yoddhas, Gujrat Gaints, Tamil Thalaivas and Haryana Steelers, in the fifth season in 2017.
In the 9 years, since its debut, the league has grown exponentially and received the second-highest number of views in India after the league it was influenced from, i.e., the Indian Premier League (IPL).
Patna Pirates are the most successful team in the tournament, after winning the title 3 times. They also hold the record of qualifying for the knock-out stage of the tournament.
Format
The tournament features 12 teams who play 2 matches against each team in a round-robin format.
After the completion of the round-robin stage, the top 6 teams qualify for the knock-out stages, where the top 2 teams qualify for the semifinals directly, while the other 4 teams have to play eliminators.
A sport that requires incredible strength & agility, the Kiwis are in awe of Kabaddi! 🙌

Which New Zealand cricketers do you think would do well in the sport?

Tune-in to Season 10 of #PKLOnStar
Starts DEC 2, 8 PM | Star Sports Network pic.twitter.com/KzxjwalQl2

— Star Sports (@StarSportsIndia) November 15, 2023
The winner of the 1 and 2 position directly qualifies for the finals, while the loser has to play the winner of the eliminators.
The 3rd and 4th team plays against each other, and the 5th and 6th team plays against each other, with the winner of these two matches playing against each other to get the rights to play in the semifinals 2.
The winner of the semifinals 2, then joins the winner of semifinals 1 in the finals to crown the ultimate winners.
Full squad list
Check out the complete team list of all the 12 teams, after the completion of the auction for season 10.
1] Patna Pirates
Sachin, Neeraj Kumar, Manish, Thiyagarajan Yuvaraj, Naveen Sharma, Ranjit Venkatramana Naik, Anuj Kumar, Manjeet, Zheng-Wei Chen, Daniel Odhiambo, Rohit, Sajin Chandrasekar, Krishan, Ankit, Deepak Kumar, Mahendra Choudhary, Sandeep Kumar, Rakesh Narwal and Sanjay
2] Jaipur Pink Panthers
Sunil Kumar, Arjun Deshwal, Ajith Kumar V, Reza Mirbhageri, Bhavani Rajput, Sahul Kumar, Ankush, Abhishek KS, Ashish, Devank, Amir Hossein Mohammadmaleki, Shashank B, Lucky Sharma, Lavish, Navneet, Rahul Chaudhari and Sumit
3] U Mumba
Surinder Singh, Jai Bhagwan, Rinku, Heidarali Ekrami, Shivam, Shivansh Thakur, Pranay Vinay Rane, Rupesh, Sachin, Girish Maruti Ernak, Mahendra Singh, Guman Singh, Amir Mohammad Zafardanesh, Alireza Mirzaeian, Rohit Yadav, Kunal, Visvanath V and Saurav Parthe
4] Bengal Warriors
Vaibhav Bhausaheb Garje, R Guhan, Suyon Baban Gaikar, Prashant Kumar, Maninder Singh, Nitin Rawal, Shubham Shinde, Shrikant Jadhav, Chai-Ming Chang, Aslam Thambi, Bhoir Akshay Bharat, Akshay Kumar, Akshay Bodake, Nitin Kumar and Vishwas S
5] Puneri Paltan
Abhinesh Nadarajan, Gaurav Khatri, Sanket Sawant, Pankaj Mohite, Aslam Inamdar, Mohit Goyat, Akash Shinde, Badal Singh, Aditya Shinde, Mohammadreza Shadloui Chiyanneh, Vahid Rezaeimehr, Ahmed Mustafa Enamdar, Ishwar, Hardeep
6] Bengaluru Bulls
Neeraj Narwal, Bharat, Saurabh Nandal, Yash Hooda, Vishal, Vikash Khandola, Ran Singh, Md. Liton Ali, Piotr Pamulak, Ponparthiban Subramanian, Sunder, Surjeet Singh, Abhishek Singh, Banty, Monu, Ankit, Sushil, Rakshit and Rohit Kumar
7] Dabang Delhi
Naveen Kumar, Vijay, Manjeet, Ashish Narwal, Suraj Panwar, Vishal Bhardwaj, Sunil, Ashu Malik, Meetu, Nitin Chandel, Balasaheb Shahaji Jadhav, Akash Prasher, Vikrant, Felix Li, Yuvraj Pandeya and Mohit
8] Telgu Titans
Parvesh Bhainswal, Rajnish, Mohit, Nitin, Vijay, Pawan Sehrawat, Hamid Mirzaei Nader, Milad Jabbari, Shankar Bhimraj Gadai, Omkar R. More, Gaurav Dahiya, Mohit, Ajit Pandurang Pawar and Robin Chaudhary
9] UP Yoddhas
Pardeep Narwal, Nitesh Kumar, Sumit, Ashu Singh, Surender Gill, Anil Kumar, Mahipal, Vijay Malik, Samuel Wafala, Helvic Wanjala, Harendra Kumar, Gulveer Singh, Gurdeep, Kiran Laxman Magar and Nitin Panwar
 10] Gujrat Giants
Manuj, Sonu, Rakesh, Rohan Singh, Parteek Dahiya, Fazel Atrachali, Rohit Gulia, Mohammad Esmaeil Nabibakhsh, Arkam Shaikh, Sombir, Vikas Jaglan, Sourav Gulia, Deepak Rajender Singh, Ravi Kumar, More GB, Jitendar Yadav, Nitesh, Jagdeep and Balaji D
11] Tamil Thalaivas
Parvesh Bhainswal, Rajnish, Mohit, Nitin, Vijay, Pawan Sehrawat, Hamid Mirzaei Nader, Milad Jabbari, Shankar Bhimraj Gadai, Omkar R. More, Gaurav Dahiya, Mohit, Ajit Pandurang Pawar and Robin Chaudhary
12] Haryana Steelers
K Prapanjan, Vinay, Jaideep, Mohit, Naveen, Monu, Harsh, Sunny, Siddharth Desai, Chandran Ranjit, Hasan Balbool, Ghanshyam Magar, Rahul Sethpal, Himanshu Chaudhary, Ravindra Chauhan, Ashish and Mohit
Venues with dates
The tenth season of the tournament will be played across 12 cities in 12 phases. Check out the date-wise venues schedule, below:
| | | | |
| --- | --- | --- | --- |
| S.no. | Dates | Stadium | City |
| 1 | December 2 to December 7 | Arena by Transstadia | Ahmedabad |
| 2 | December 8 to December 14 | Sree Kanteerava Indoor Stadium | Bengaluru |
| 3 | December 15 to December 21 | Belawadi Sports Complex | Pune |
| 4 | December 22 to December 28 | SDAT Multipurpose Indoor Stadium | Chennai |
| 5 | December 29 to January 4 | Noida Indoor Stadium | Noida |
| 6 | January 5 to January 11 | Dome by NSCI | Mumbai |
| 7 | January 12 to January 18 | SMS Indoor Stadium | Jaipur |
| 8 | January 19 to January 25 | Gachibowli Indoor Stadium | Hyderabad |
| 9 | January 26 to February 1 | Patliputra Indoor Stadium | Patna |
| 10 | February 2 to February 8 | Thyagraj Sports Complex | New Delhi |
| 11 | February 9 to February 15 | Netaji Indoor Stadium | Kolkata |
| 12 | February 16 to February 22 | Tau Devi Lal Indoor Stadium | Panchkula |