Home » Viral Check »
Fact Check: Amitabh Bachchan's old video being circulated as Haji Ali visit
An old video of Amitabh Bachchan is doing rounds on social media. His Ajmer Sharif visit in 2011 is being shown as Haji Ali 2020 visit with a hateful motive. Here is the fact check.
September 18, 2020 22:13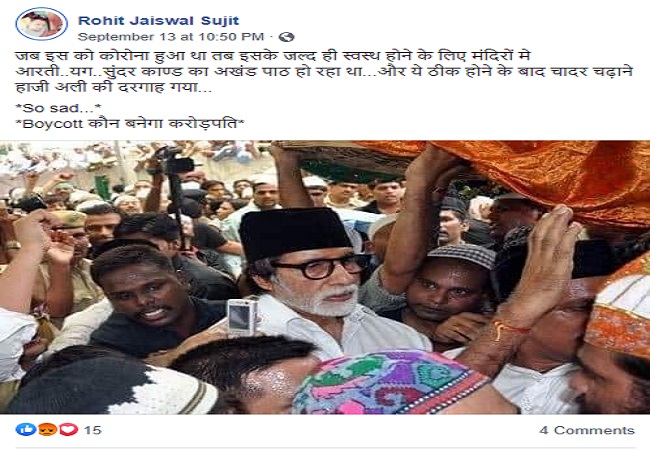 New Delhi: A Facebook post about Bollywood megastar Amitabh Bachchan is going viral on social media. It claims that Amitabh Bachchan visited the Haji Ali Dargah in Mumbai after recovering from Coronavirus. It may be noted that sometime back, Amitabh and Abhishek both had contracted the virus and were admitted in hospital for Covid-19 treatment.
However, this Facebook post about Big B is devoid of any truth. After cross-checking facts, we found it was an old video of Amitabh visiting Ajmer Sharif dargah.
Viral Claim
A Facebook user recently shared a photo of Amitabh Bachchan with cap on his head as well as chadar that is offered at the dargah. Along with the photo, the user also wrote very distasteful and disgusting remarks and also called for boycotting Kaun Banega Crorepati.
"When Big B was diagnosed with Coronavirus, yagnas were held across the country, sundarkand was organized but after recovering from Covid-19, he went to Haji Ali Dargah for prayers… so sad, boycott Kaun Banega Crorepati,"user wrote in Hindi.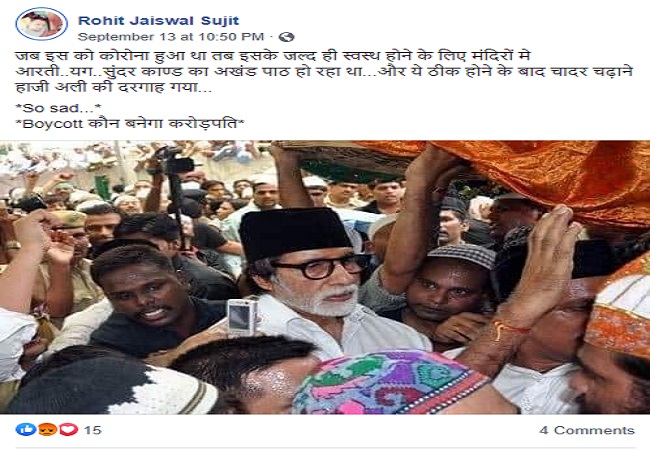 Investigation:
To investigate this claim, we did some image search on Google reverse image. We found nothing relevant related to this. However, we came across a news item of India Today, which said that Amitabh Bachchan visited Ajmer Sharif Dargah on July 4, 2011.
Comparing the images, we found that this image and that was being made viral are the same… concluding that this was a fake image propagated on social media.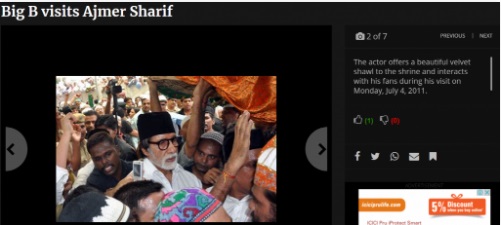 On further investigation, we came across a video on Zoom YouTube, which shows the clippings of Amitabh paying a visit to the holy Ajmer Sharif shrine. The video was uploaded on April 6, 2011 and is the same video that is being circulated now.
Therefore, the image and video both clearly show that Amitabh's old video of Ajmer Sharif was in circulation on social media as recent Haji Ali visit.
When we scanned the Facebook user, we found that his name is Rohit Jaiswal Sujit and he is a resident of Delhi.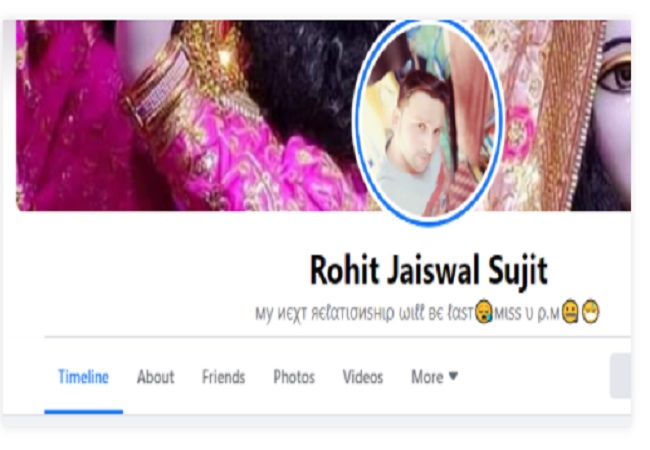 Conclusion:
There is no truth in this viral claim. It is outrightly fake, obnoxious and shared with an intent to malign the actor as well as the religious place.