OYO bankruptcy Report: NCLT admits order against its subsidiary for an amount of 16 Lakh; OYO challenges order in NCLAT, says Ritesh Agarwal
Oyo Rooms (stylised as OYO), also known as Oyo Hotels & Homes, is an Indian hospitality chain of leased and franchised hotels, homes and living space

April 7, 2021 11:59
New Delhi: OYO owner Ritish Agarwal on Wednesday said that OYO has paid that under protest and amount already banked by the claimant.
He also said that the company has also appealed with the NCLAT about the matter.
There is a PDF and text message circulating that claims OYO has filed for bankruptcy. This is absolutely untrue and inaccurate. A claimant is seeking INR 16Lakhs (USD 22k) from OYO's subsidiary leading to a petition at NCLT.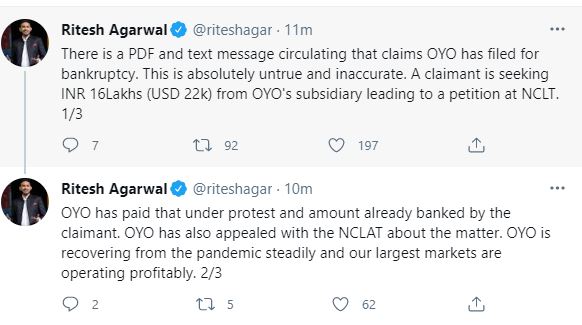 "OYO is recovering from the pandemic steadily and our largest markets are operating profitably," he Tweeted.
A Hyderabad-based hospitality company has filed an insolvency plea against Oravel Stays Pvt Ltd, the owner of Oyo Rooms.
FULL STATEMENT
The statement read, "Notice is given that the National Company Law Tribunal has orderd the commencement of a corporate insolvency resolution process of the OYO Hotels and Homes Private Limited on March 30, 2021."
"The creditors of M/S OYO Hotels and Home Pvt Limited are called upon to submit their claims with proof on or before April 15th, 2021 to the interim resolution professional at the address mentioned against entry no 10."
"The financial creditors shall submit their claims with proof by electronic means only. All other creditors may submit the claims with proof in person, by post or by electronic means."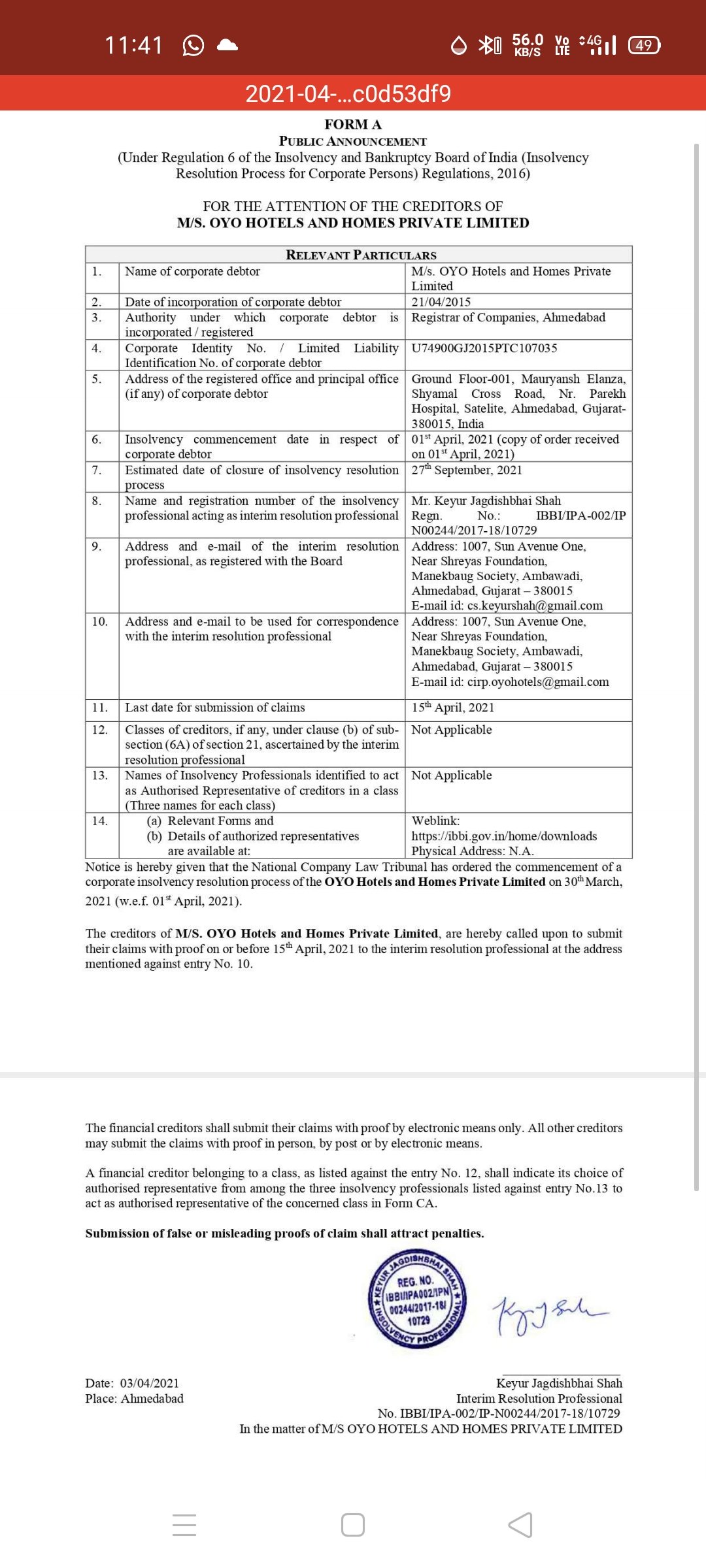 Earlier, Hospitality firm OYO said that it will cover COVID-19 vaccination cost for all its employees and their family members in India.
The employees and their family members in India can choose to get the vaccination done at any centre, convenient to them and the costs would be reimbursed in full by the company, OYO said in a statement.