Home » Coronavirus »
Covid-19 Bulletin: Top Corona News of the Day and Do's & Don'ts of fighting the pandemic
The gap between recoveries and active cases is 1,11,602 as of today. So far, as many as 3,21,722 patients have been cured of COVID-19. The recovery rate continues to steadily improve.
June 29, 2020 20:45
New Delhi: Government today said that a total of 3,21,723 people affected with coronavirus have been cured so far. In the past 24 hours, 12,010 people have recovered from Covid-19 and with this, the recovery rate has reached 58.67%.
ICMR said that 1,70,560 tests of corona virus samples were conducted by the various laboratories in 24 hours. So far, 83,98,362 have been conducted.

Recovery rate further improves to 58.67%
The gap between recoveries and active cases is 1,11,602 as of today. So far, as many as 3,21,722 patients have been cured of COVID-19. The recovery rate continues to steadily improve. It has reached 58.67% amongst COVID-19 patients today.During the last 24 hours, a total of 12,010 COVID-19 patients have been cured. Presently, there are 2,10,120 active cases and all are under active medical supervision.India now has 1047 diagnostic labs dedicated to COVID-19. This includes 760 in the government sector and 287 private labs. The 11 labs that have been inducted in the last 24 hours are all operated by the government. The total number of samples tested is showing an uphill trend, and has touched 83,98,362. Yesterday 1,70,560 samples were tested.

Sufficient stock of food grains available with Food Corporation of India
As per the Food Corporation of India report dated 28.06.2020, FCI currently has 266.29 LMT rice and 550.31 LMT wheat. Hence, a total of 816.60 LMT food grain stock is available (excluding the ongoing purchase of wheat and paddy, which have not yet reached the godown). About 55 LMT food grains is required for a month under NFSA and other welfare schemes. Since the lockdown, about 138.43 LMT food grains have been lifted and transported through 4944 rail rakes. Apart from the rail route, transportation was also done through roads and waterways. A total of 277.73 LMT has been transported. 21,724 MT grains was transported through 14 ships. Total 13.47 LMT food grains have been transported to the North-Eastern States.
PM FME Scheme to generate 9 lakh skilled and semi-skilled employment
Minister for Food Processing Industries Smt. HarsimratKaurBadal launched the PM Formalization of Micro Food Processing Enterprises (PM FME) scheme yesterday, as a part of "Atmanirbhar Bharat Abhiyan". The Minister said that the Scheme would generate total investment of Rs 35,000 crore and generate 9 lakh skilled and semi-skilled employment and benefit 8 lakh units through access to information, training, better exposure and formalization. The guidelines of the Scheme were released on the occasion. She said that the unorganized food processing sector comprising nearly 25 lakh units contribute to 74% of employment in food processing sector. Nearly 66% of these units are located in rural areas and about 80% of them are family-based enterprises supporting livelihood rural household and minimizing their migration to urban areas. These units largely fall within the category of micro enterprises.
"Gaganyaan" will not be affected by COVID pandemic
Union Minister DrJitendra Singh said today that the launch of India's first human space mission "Gaganyaan" will not be affected by COVID pandemic and preparation are carrying on in the right direction. Briefing about the important achievements of Indian Space Research Organisation (ISRO) and the Department of Space over the last one year and some of the important missions planned for the future, DrJitendra Singh said that even though because of the COVID-19 pandemic, the training of four Indian astronauts in Russia had to be halted, yet the opinion of Chairman ISRO and the scientific team is that there had been kept a "cushion" both in the training programme and launch deadline.
Mission Sagar: INS Kesari Arrives Kochi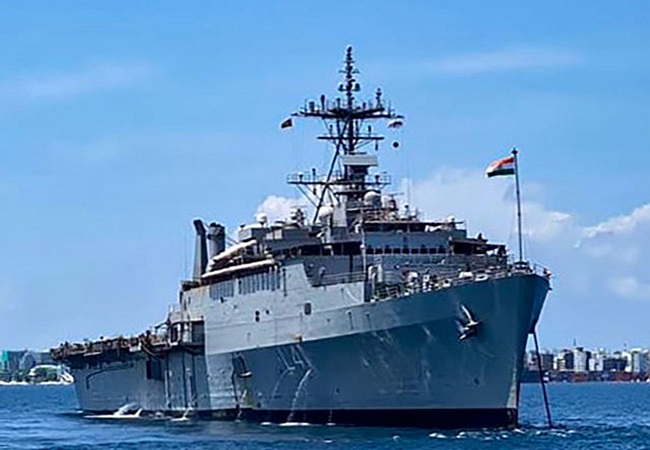 Indian Naval Ship Kesari arrived at Kochi yesterday after 55 days of deployment to the Southern Indian Ocean region as part of 'Mission Sagar'. The ship was deployed on a special 'COVID Relief Mission' and made port calls at Male (Maldives), Port Louis (Mauritius), Antsiranana (Madagascar), Moroni (Comoros Islands) and Port Victoria (Seychelles) for delivery of 580 tons of food aid and essential medical stores to local authorities. A 14 member Naval Medical Assistance Team was also deputed to Mauritius and Comoros for 20 days each and assisted local governments in formulation of long term strategy to counter COVID 19 through mutual sharing of experience.
Unlocking travel and tourism safely and responsibly during COVID
In the continuation of DekhoApnaDesh webinar series, Ministry Of Tourism introduced latest session in the series on Unlocking Travel & Tourism Safely & Responsibly during COVID on 27th June 2020. DekhoApnaDesh Series is an effort to showcase India's rich diversity under Ek Bharat Shreshtha Bharat.