"Big Budget Haatim": Prabhas as Rama disappoints fans, makers get trolled for poor VFX in Adipurush
After watching the teaser, a section of Twitter users said that it has been released in a hurry, while others compared it to a 'cartoon movie'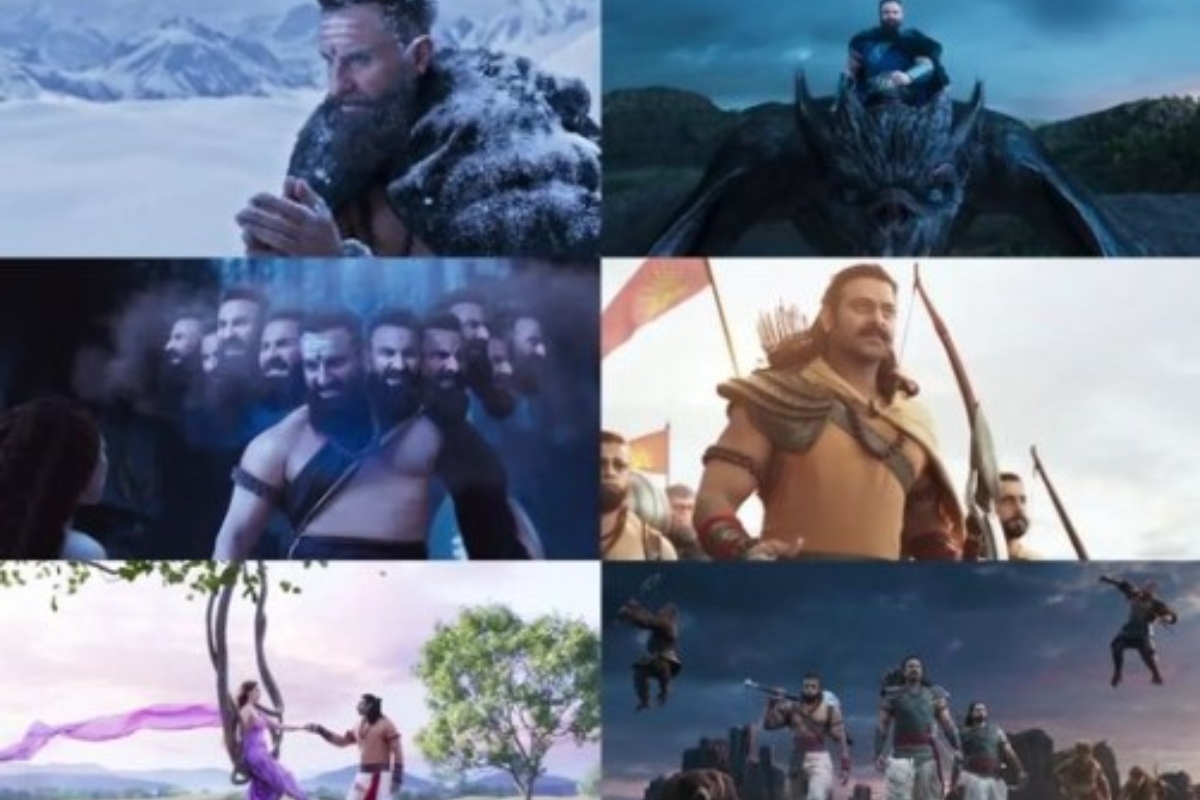 New Delhi: The first teaser of Om Raut's directorial venture Aadipurush was dropped on Sunday evening featuring Prabhas, Saif Ali Khan and Kriti Sanon in lead roles. The movie narrates the story of Ramayana, wherein Prabhas will be seen portraying the role of Lord Rama while Khan will play the antagonist Raavana.
Apart from being star-studded, Aadipurush is made is one of the most expensive Indian films ever made, with a budget of ₹500 crores.
The film is set to release at the pan India scale in multiple languages in 2023. Fans had been waiting for the makers to release the first teaser since the film's poster came out, though the social media response garnered by the fresh teaser doesn't seem good enough.
Why fans are disappointed?
The teaser opens up with Prabhas meditating underwater, then appears Lankesh-turned-Saif with blue eyes amidst the snow-covered peaks of Kailash. In another scene he can be seen riding on the back of a dragon-like creature and showing his scary 10 heads to a woman.
After watching the teaser, a section of Twitter users said that it has been released in a hurry, while others compared it to watching a 'cartoon' movie. Significantly, the poster of 'Adipurush' had received comparatively better reviews by netizens.
Another scene from the one-minute 46 seconds-long video shows a giant gorilla (likely to be Jambavan), which looks like a lousy work of CGI.
Check online reactions here:
"After watching this teaser my respect for Krish 3, Robot, chota Bheem, shaktiman, little Krishna etc increased by 1000000000000%", a user wrote trolling the film, while another trolled the film calling it an expensive version of 'Haatim'.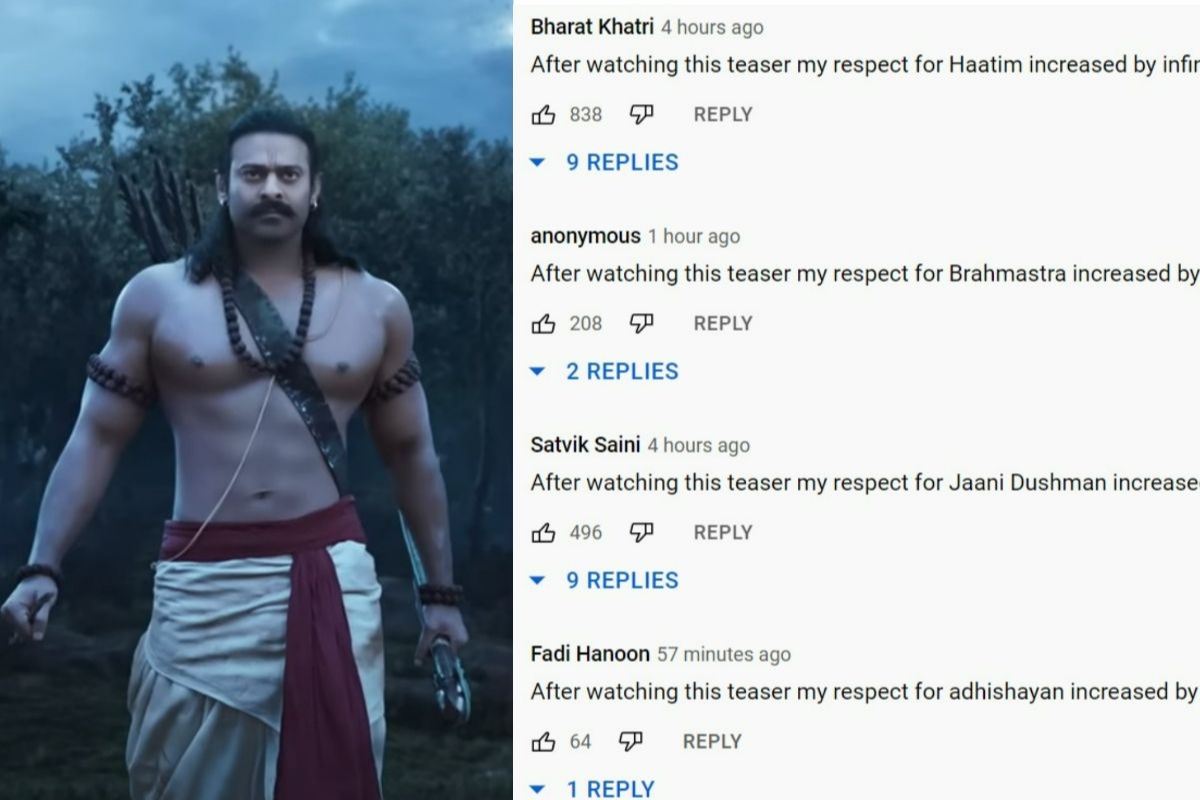 700 cr Temple Run???#Adipurush #AdipurushTeaser #AdipurushMegaTeaserLaunch #Disappointed #Animated pic.twitter.com/fH4B6k55iv

— Prem Sharma (@imprem858) October 2, 2022
Exclusive: #Adipurush satellite rights bagged by POGO channel pic.twitter.com/AAps23ORhe

— L E E (@trolee_) October 2, 2022
Just sayin pogo channel can beat adipurush's ass pic.twitter.com/aRNmB5qq2U

— Magen D eren (@vea_mahi) October 2, 2022
Breaking : Cartoon Network, Nickelodeon and Pogo fighting for #Adipurush satellite rights

— Actual India (@ActualIndia) October 2, 2022
#disappointed #Adipurush #AdipurushMegaTeaserReveal
We asked for lankhapuri not asgard made out of charcoal pic.twitter.com/6TdxAGns0y

— Dingle (@Dingle_12) October 2, 2022
Looks like Lord Ram's Vaanar sena is quite diverse in #Adipurush movie. Chimpanzee, Gorilla, Babboon and even Orangatun. It would have been better if they looked as they are simple half human and half monkey. (1/3) #disappointed #Prabhas? pic.twitter.com/Nrl2ZIavVp

— Tao Suppapong (@GarryStarz) October 2, 2022
#Adipurush makers didn't ask Prabhas to work on real body instead of this VFX body ? He was in bad shape when they signed him for this movie. This is Ramayan & not 2 minutes maggi noodles. If he wasn't dedicated then there are many other actors as well.#OmRaut #disappointed pic.twitter.com/RbK5C8XfJc

— ? Woke Sanatani ? (@Lado_Ya_Maro) October 2, 2022
I was wrong about #Adipurush, we can't do justice to stories like #Ramayana & #Mahabharata unless we have a budget of 1000+ crores. #Adipurush looks promising but I am #disappointed with the VFX & CGI. Instead of Prabhas's hefty fees, makers could have invested that money in VFX. pic.twitter.com/1s6gCb9Phh

— Manish Raj Srivastav (@saddaaindia) October 2, 2022
#disappointed #Adipurush
Worst Level VFX
Looks like Video Game ? pic.twitter.com/tFqXbmQUEw

— Aditya Sahu ??? (@adityasahu5th) October 2, 2022
Tell me this Isn't a Cartoon movie ?#AdipurushTeaserDay #Prabhas pic.twitter.com/yRbZL7cs6g

— ??ℝ???? ⚡ #KisiKaBhaiKisiKiJaan (@TarikulThor) October 2, 2022