Is Kangana Ranaut's 'Dhaakad' worth watching? These 12 Twitter reviews can help you decide
Plot of the film revolves around a super-agent Agni who is tasked with pulling down a child-trafficking racket that has its roots in India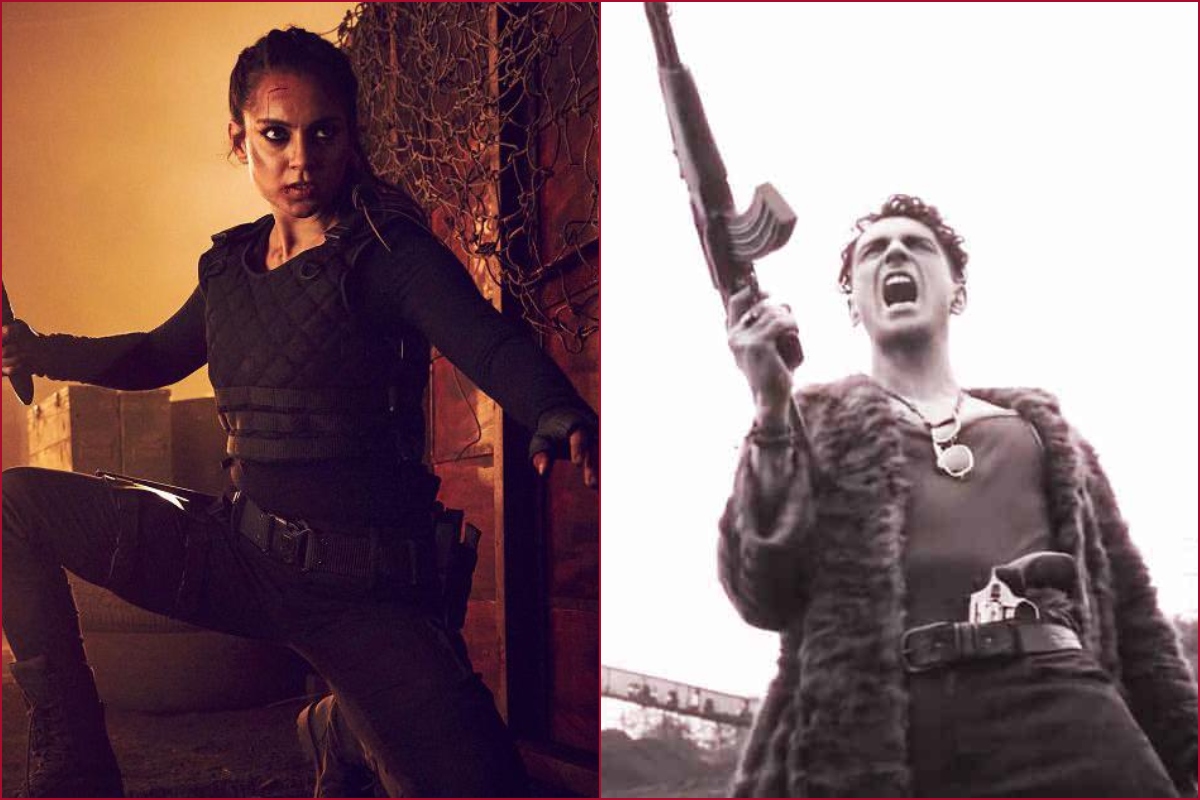 New Delhi: Moviegoers and film enthusiasts had enormous hopes with Kangana Ranaut starrer 'Dhaakad' which hit the theatres today, i.e. on Friday.
The fast-paced action of Ranaut's character in the movie and Arjun Rampal-Divya Dutta's savagery seen during the trailer had raised our curiosity towards the film to the next level.
Then when you visit the theatre to watch this much-anticipated project directed by Razneesh Ghai, you are faced with Expectation vs Reality.
Here, we have brought to you a short synopsis of the film along with 12 Twitter reviews to help you decided if the newly released film is worth making an effort to go to a theatre and being watched on a big screen.
Synopsis:
The plot of the film revolves around a super-agent Agni who is tasked with pulling down a child-trafficking racket that has its roots in India. While doing her research, she came across Rudraveer (Arjun Rampal), who along with his girlfriend Rohini (Divya Dutta) illegally grabs coal mines, and is involved in the biggest human trafficking racket in Asia.
Twitter Reviews:
watched #Dhaakad last night. Quick Review Part 1 –
The film is all about #KanganaRanaut . Quite literally. However, she is really good in her action sequences. If there is anyone in #Bollywood who can do such sequences is her.#dhaakadreview

— Pradeep D (@PradeepDesai008) May 20, 2022
#Dhaakad is a next gen action thriller nd #KanganaRanaut u nailed it thru from entry to finish she will give u goosebumps moments throughout.For all story lovers story has twists & will keep u on d edge because of #Agni. #ArjunRampal nd #DivyaDutta too good #DhaakadReview (1/3)

— RealityLive (@LockUppReview) May 20, 2022
REVIEW: #Dhaakad

– A great action movie, worthy of an even bigger sequel. #KanganaRanaut is FLAWLESS, #ArjunRampal looks deadly. Script, camerawork, execution; everything is top notch. But what wins you over is Hollywood like screenplay & action sequences.

MUST WATCH 4/5

— Anto M (@antomuthum) May 20, 2022
#KanganaRanaut𓃵 Wears The Crown In @RazyGhai Universe Making sure You Bow Down To Her Talent#Dhaakad is a must watch 🔥@rampalarjun get ready to witness new level of stardom 💜#Dhaakadreview https://t.co/4nFNalRJNc

— Rahul Chauhan (@RahulCh9290) May 19, 2022
#DhaakadReview: #KanganaRanaut shines yet again in this fast paced action flick. She's played the role of an assassin to the T! Every scene is tailor-made for her and she delivers and how! This one is yet another addition to her kitty 🔥 – @ravanspeaks, Entertainment Head 👑

— @shirlysethia (@shirlysethia) May 19, 2022
#DhaakadReview #Dhaakad is POWERFUL. UNCONVENTIONAL . FUTURISTIC.
While #KanganaRanaut surpasses VERSATILITY, #ArjunRampal is the MODERN VENOM with #DivyaDutta having her own charm. HARDCORE ACTION included with GRIPPING
🌟 🌟 🌟 🌟

— Himesh (@HimeshNankad) May 19, 2022
Only the versatile @divyadutta25 manages to hold tight to whatever meat her character is given and takes it further with her experience. Also the ever dependable @sharibhashmi makes an impression in a sizeable attempt. Rest is an assault on the senses. #DhaakadReview

— Sushri Sahu (@SushriSahu) May 20, 2022
#RealReview #Dhaakad movie hit hai. #DhaakadKangana is performance good ..my Review… @rampalarjun @KanganaRanaut#DhaakadReview pic.twitter.com/XecmMwATer

— Salim Khan (@SalimKh57633692) May 19, 2022
REVIEW: #Dhaakad

– A great action movie, worthy of an even bigger sequel. #KanganaRanaut is FLAWLESS, #ArjunRampal looks deadly. Script, camerawork, execution; everything is top notch. But what wins you over is Hollywood like screenplay & action sequences.

MUST WATCH
⭐️⭐️⭐️½

— Review Junkie (@jagatjoon12) May 19, 2022
Kangana is brave and the film has the story. Finished watching the film in a premiere show dubai. I must Kangana will get her 4th national award. Must must watch.#Dhaakad

— Swati Yadav (@swat19940) May 19, 2022
Watched #Dhaakad FDFS in Australia #OneWordReview OUTSTANDING #DhaakadReview ⭐⭐⭐⭐ 4/5#KanganaRanaut is Lady Khiladi in a spy role. Brilliant in action and emotions.#ArjunRampal is another actor when playing a villain. He raises the bar.

🔥Treat for Action Lovers.🎯 pic.twitter.com/AXmv9tsYWB

— Nitesh Naveen (@NiteshNaveenAus) May 20, 2022
#KanganaRanaut has immortalised Agent Agni in #Dhaakad

Her preparation for this role makes #AgentAgni one of the most iconic character for actresses in India.

She breathes fire, shows no mercy and agony.

India's first super heroine character of this generation. pic.twitter.com/aZi2d0Bhgt

— Nitesh Naveen (@NiteshNaveenAus) May 20, 2022