Home » Entertainment »
Netizens slam Hrithik, Katrina's Zomato adv, call its letter a 'non-apology'
Users accused Zomato for not allowing spare time to its delivery executives and wasting money on adds instead of compensating its workers.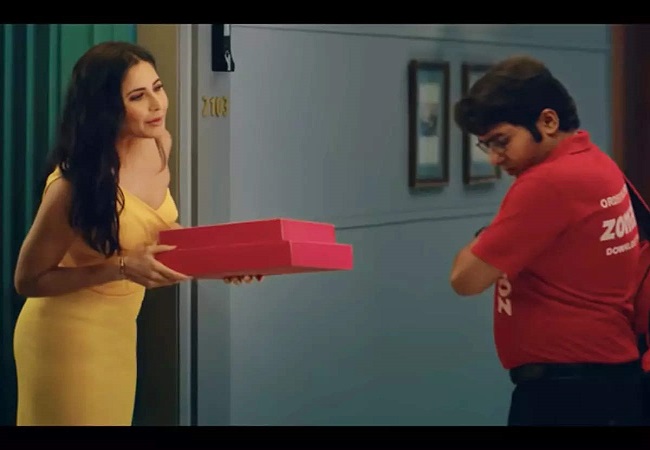 New Delhi: Bollywood actor Hrithik Roshan recently appeared in Zomato's advertisement, for which the food delivery app is facing backlash from the social media users.
The add showed how a Zomato delivery partner reaches to the doorstep of Roshan and how he had to refuse a selfie with the superstar as he had to make his next delivery. In a different add featuring actress Katrina Kaif, it is shown how a delivery person could not eat a piece of cake that she had offered to him as he was pressed for time.
Netizens found the advertisement to be offensive and insensitive towards delivery personals. Many connects the add to the recent controversy of Zomato where delivery persons had accused the food delivery platform of financial exploitation on social media.
People called Zomato a tone-deaf platform which doesn't allow spare time to its delivery executives. The app was also accused of wasting money on advertisements instead of compensating its workers.
After a week-long trolling and criticism for its advertisement, Zomato posted a clarification letter on Twitter defending the advertisements. The company said that the adds were mis-interpreted by some, while the actual intention behind the adds was to glorify the heroic role of delivery partners and how they keep their customers above anything.
The other side of the story… pic.twitter.com/hNRj6TpK1X

— zomato (@zomato) August 30, 2021
Twitteratis however were not very thrilled with this clarification, as they call it a 'non-apologetic' letter.
Take a look at the critical comments on the advertisements by social media users:
Thank you for explaining your goals.

Both ads have failed on all counts. They are tone-deaf, and portray your delivery partners as victims, not heroes.

But then, if you have to back up an ad with long-form text like this, you already know it has failed.

— Abhishek Mukherjee (@SachinAzharCT) (@ovshake42) August 30, 2021
Isn't it amazing how the same people in charge of the story can claim to tell us "the other side"?

— Amit (@amit_tushar) August 30, 2021
You wanna make delivery partners the heroes & raise the level of dignity associtated with a delivery partner's job? Pay them well ffs. pic.twitter.com/ACORF5G3VR

— AKK (@AJayAWhy) August 30, 2021
Dismantle this algorithm from hell first. Pay a flat fixed fee then talk pic.twitter.com/c9W5JpU4CQ

— Asif (@asifkabeer) August 30, 2021
Zomato on Twitter:- We don't impose time rules on our delivery partners.

Meanwhile their Delivery Partner App:- 🙃🙃 pic.twitter.com/zibeaLKPwU

— Delivery Partner (@DliveryPartner) August 29, 2021
Delivery partners are the heroes but Hrithik and Katrina are paid crores 🤡🤒

— Snoopendra Bahubali (@ABDbilliards) August 30, 2021