WATCH: Ranbir Kapoor roasted by Netizens after he angrily throws fan's phone, full details here
Twitter is now flooded with people calling Ranbir Kapoor a shameless, bratty nepotism product, and every other name under the sun.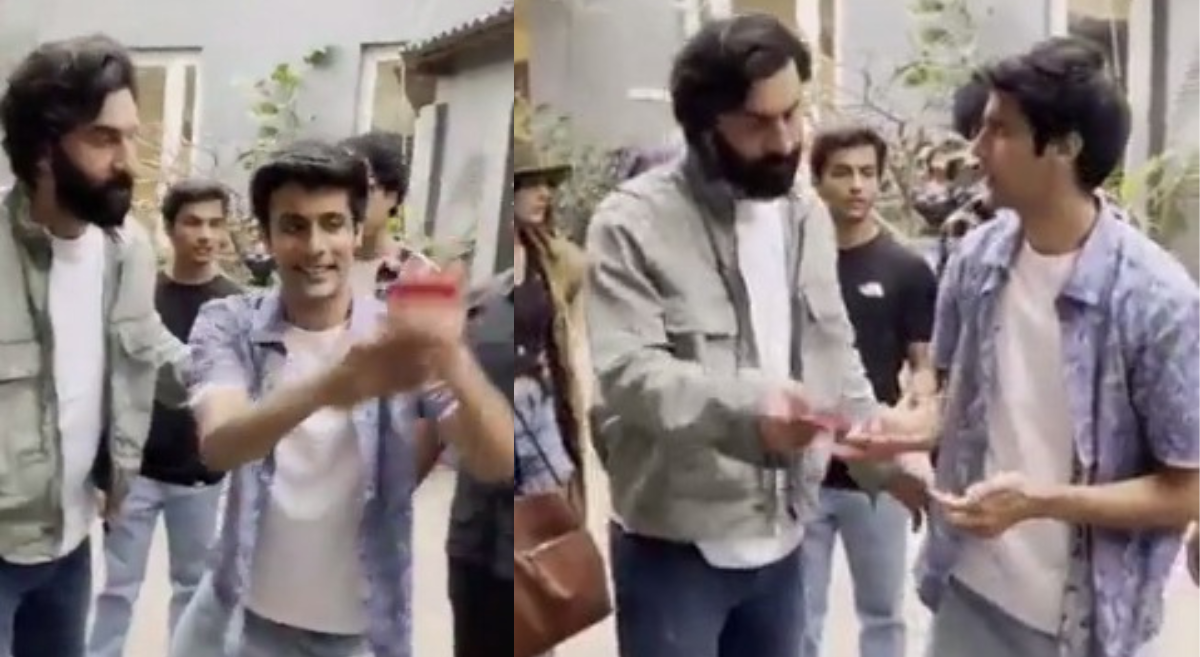 New Delhi: Ranbir Kapoor has caught the side eye of Netizens yet again. This time over a 16-second clip that is spreading over the internet like wildfire.
In the short clip, a fan is seen taking selfies with Ranbir Kapoor. The next second, we see Ranbir snapping the phone out of the fan's hand and throwing it away.
In no time, the hashtag angry Ranbir Kapoor started trending on Twitter. And people had a whole lot of things to say about the actor's unruly behavior.
Calling him out for his rude behavior, many users insisted that Ranbir Kapoor apologize.
#angryranbirkapoor should need to apologies for his behavior toward his fan
Celebrity likepic.twitter.com/bfUtMpXZnL

— Sushma Pandey (@ISushmaPandey) January 27, 2023
A user wrote that such celebrities think they can behave in this manner just because they are famous.
Just because you're famous doesn't give you#angryranbirkapoor pic.twitter.com/Pbo0NIVDnq

— Saurav Srivastav (@Sri__Saurav) January 27, 2023
Twitter is now flooded with people calling Ranbir Kapoor a shameless, bratty nepotism product, and every other name under the sun.
Congrats #bollywood u got a new polite star coming up after #jayabachchan and #SalmanKhan𓃵 … its getting worse… #angryranbirkapoor pic.twitter.com/Buc97rjctX

— Dr. Pradyumn Ghosh (@drpradyumnghosh) January 27, 2023
Some Netizens used memes to take a jab at the Brahmastra's actor.
#angryranbirkapoor #RanbirKapoor

Fan : Ranbir, let's take a selfie

Ranbir Kapoor : pic.twitter.com/KqnJGsy4UR

— g0v!ñD $#@®mA (@rishu_1809) January 27, 2023
Aur karo celeb worship… #angryranbirkapoor pic.twitter.com/6M0zYPgiQt

— ni Oops (@rinkiakpapa) January 27, 2023
But wait, hold on! How come people are not catching on to this?
Here's the truth behind Ranbir Kapoor's phone-throwing video:
It is a publicity stunt for a phone ad. The video of originally posted by the popular paparazzi account Viral Bhayani.
#angryranbirkapoor
A video is going viral in which #Ranbirkapoor throws a fan's mobile when he is taking a selfie,
Just to clear this out, this is an Ad shoot going viral bcoz of the unique promotion campaign, so please don't spread unnecessary hate, think twice before tweeting pic.twitter.com/fisqEDsUne

— K R I S H N A S A N K A R (@iskspeaks) January 27, 2023
A cleverly crafted stunt that will serve two purposes in one shot, phone advertisement as well as it will get Ranbir Kapoor some clout for his upcoming movie animal.
Earlier, Anushka Sharma also used a similar tactic to garner publicity for her collaboration with Puma.
Initially, she put the sportswear brand Puma on blast for using her photos. "I am not your ambassador," She wrote.
And what next? She announced a day later that Puma has made her the ambassador for their brand.
Not very slick huh! Whether this marketing strategy was a hit or miss we can't tell because Anushka and Puma both were trolled after the public stunt played out.
The moral of the story is don't make a fool out of people. It doesn't sell anymore.