Farm Bill 2020: MSP has always been Govt of India's administrative decision & remains so, says Agriculture Min on MSP not being part of Bills
Tomar also hit out at Opposition parties and asked why they did not include MSP as part of law when they were in power "for many years".
September 24, 2020 10:40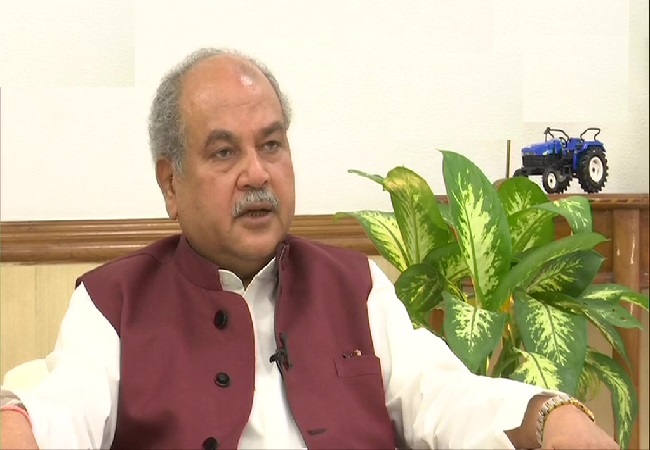 New Delhi:  The new agriculture Bills passed recently by the Parliament will lessen the distance between the trader and farmers, said Union Agriculture Minister Narendra Singh Tomar. "Farmers know about their rights. Those politicians and farmer leaders who think that they are expert are not so. Farmers understand everything and know who will purchase his produce. As the traders have to purchase the produce, and when the produce will not come in mandi, the traders will be forced to visit farmers' village and they will develop cordial relationship with farmers and purchase farmers' produce," Tomar said in an exclusive interview with ANI.
Congress leadership is dwarfed. Good ones in the party aren't being heard & those helming it have no standing in the nation. Their own party doesn't listen to them. They're making baseless arguments to mislead nation: Agri Min on Congress calling #FarmBills 'kaala kanoon' pic.twitter.com/2n76Hcq81w

— Newsroom Post (@NewsroomPostCom) September 24, 2020
TOP POINTS
Firstly, Bill will give price guarantee to farmers at time of sowing. Second, selling agreements will only deal with the produce & there can be no mention of farmland. Farmers can opt out of agreement, traders cannot. Farmers & their land are fully protected: Agriculture Minister
Firstly, Bill will give price guarantee to farmers at time of sowing. Second, selling agreements will only deal with the produce & there can be no mention of farm land. Famers can opt out of agreement, traders cannot. Farmers & their land are fully protected: Agriculture Minister
Farmers have to bring produce to 'mandis' where 25-30 licensed traders hold auction. Then farmer is forced to sell at whatever price is fixed. New Bills give freedom to sell outside APMC 'mandis' at prices they deem fit, without the taxes levied there: Agriculture Minister
MSP (Minimum Support Price) will continue, we have declared MSP for Kharif and Rabi crops. As soon as Kharif crop is harvested, govt procurement will begin: Agriculture Minister Narendra Singh Tomar to ANI
Has MSP ever been part of law? Congress ruled for 50 yrs, why didn't they incorporate it in law? They're making issue as they don't have anything to criticise. MSP has always been Govt of India's administrative decision & remains so: Agriculture Min on MSP not being part of Bills
Has MSP ever been part of law? Congress ruled for 50 yrs, why didn't they incorporate it in law? They're making issue as they don't have anything to criticise. MSP has always been Govt of India's administrative decision & remains so: Agriculture Min on MSP not being part of Bills
The welfare we want for farmers wouldn't have been possible without changing laws. Farmers' Produce Trade & Commerce (Promotion & Facilitation) Bill, & Farmers (Empowerment & Protection) Agreement of Price Assurance & Farm Services Bill will be revolutionary: Agriculture Minister