Karnataka assembly elections 2023 Results: Congress Tweets "Ham Jeet Gaye"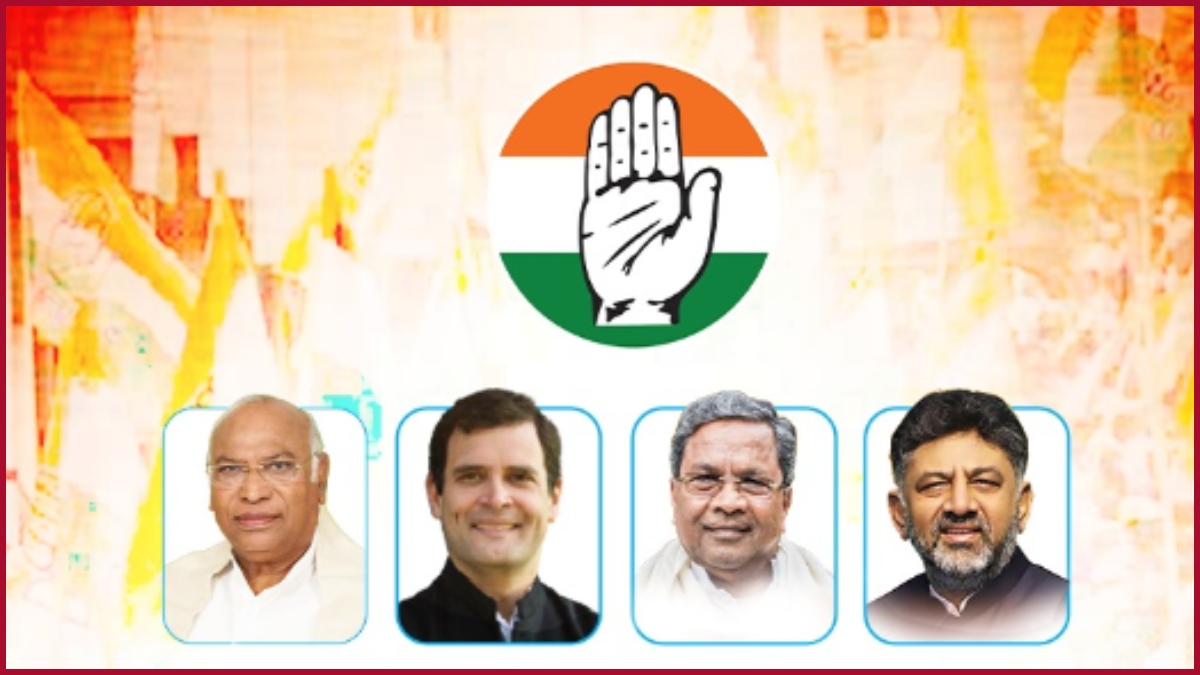 Karnataka assembly elections 2023 Results: The counting of votes for the Karnataka assembly elections 2023 was concluded on Saturday (May 13), Congress secures resounding victory by winning 135 seats, BJP won 66 seats, Janta Dal (Secular) won 19 seats, Independent 2 seats, Kalyana Rajya Pragathi Paksha 1 seat and Sarvodaya Karnataka Paksha won 1 seat.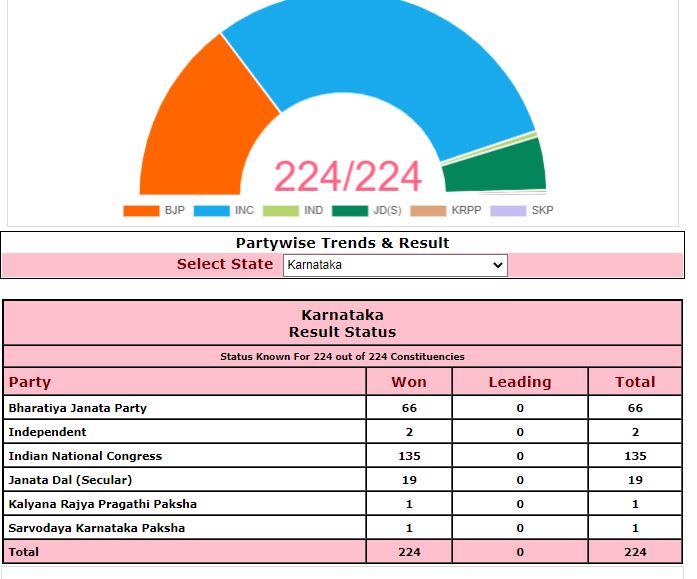 The voting for Karnataka Assembly Elections was held on Monday (May 10) to elect the 224 members of the state Assembly.
Record turnout
This year, the voting was held peacefully in Karnataka. The voting turnout was 73.19 per cent.
In 2018, the voting percentage was 72.36 per cent.
To inspire joung voters, this year, over 286 Polling Stations that were set up were managed by the youngest available staff. This year over 11.71 lakh first-time voters registered in the state.
Karnataka assembly elections 2023 Results| HIGHLIGHTS
नंदिनी के बिना ये जीत अधूरी है। pic.twitter.com/G7xoJ4HHmv

— Congress (@INCIndia) May 13, 2023
हम जीत गए ?

कर्नाटका ?

— Congress (@INCIndia) May 13, 2023
#WATCH | It is a mandate against Narendra Modi, Amit Shah and JP Nadda. PM came to Karnataka 20 times; No PM in the past campaigned like this: Congress leader Siddaramaiah on his party's victory in Karnataka elections pic.twitter.com/bNk1HMLk4y

— ANI (@ANI) May 13, 2023
#WATCH | #KarnatakaElectionResults | Congress leader Digvijaya Singh says, "…If they (BJP) spend Crores of Rupees, 'Operation Lotus' can take place but Congress will get majority. There is no Scindia in Karnataka. There are strong Congress men in Karnataka…" pic.twitter.com/DQLFgdH9el

— ANI (@ANI) May 13, 2023
Rajasthan CM and senior Congress leader Ashok Gehlot tweets, "The result of the atmosphere that was seen in Karnataka during Rahul Gandhi's Bharat Jodo Yatra, clearly shows in #Karnataka election results…This will be repeated in the upcoming Vidhan Sabha election in Rajasthan,… pic.twitter.com/kDAifaSkvD

— ANI (@ANI) May 13, 2023
#WATCH | #KarnatakaElectionResults | Congress MP and Karnataka Congress president DK Shivakumar's brother, DK Suresh shows a thumbs-up sign as he arrives at the latter's residence in Bengaluru. pic.twitter.com/4bkdRFQPuJ

— ANI (@ANI) May 13, 2023
#KarnatakaElectionResults2023 | Karnataka Congress chief DK Shivakumar leading from Kanakapura assembly constituency with 71.63% votes.#KarnatakaPolls pic.twitter.com/9L8G7m96TY

— ANI (@ANI) May 13, 2023
#WATCH | "We told that even if PM Modi comes nothing will work and see that has happened. We are leading in 120 seats. As we expected we will get the majority": Congress leader Siddaramaiah as party crosses majority mark in #KaranatakaElectionResults pic.twitter.com/QW7ozxzYvY

— ANI (@ANI) May 13, 2023
#WATCH | Congress party workers celebrate at the residence of Karnataka Congress chief DK Shivakaumar in Bengaluru as the Congress party surges ahead and crosses halfway mark in #KaranatakaElectionResults pic.twitter.com/BNf6zZ78BY

— ANI (@ANI) May 13, 2023
#WATCH | It is certain that Congress will form the government in Karnataka. BJP will attempt to strike a deal with MLAs of other parties and independent candidates: Congress leader & former MP CM Kamal Nath pic.twitter.com/AH4BmGCWEB

— ANI (@ANI) May 13, 2023
#WATCH | Fireworks at AICC office in Delhi as the party crosses halfway mark in #KarnatakaElectionResults2023 pic.twitter.com/C4SV4R8sBE

— ANI (@ANI) May 13, 2023
कर्नाटक विधानसभा चुनाव : चुनावी नतीजों के बीच बेंगलुरु में कांग्रेस दफ्तर में मनाया जा रहा जश्न#KarnatakaElectionResults2023 pic.twitter.com/iqmwG8LORP

— Newsroompost (@NewsroomPostCom) May 13, 2023
#KarnatakaPolls | As per the ECI, Congress crosses the halfway mark in early trends, leads in 115 constituencies, BJP ahead in 73 seats while JDS leads at 29 seats.#KarnatakaElectionResults pic.twitter.com/7SNZudoMp0

— ANI (@ANI) May 13, 2023
Karnataka CM and BJP leader Basavaraj Bommai is leading from the Shiggaon Assembly seat
आज कांग्रेस महासचिव श्रीमती @priyankagandhi जी ने शिमला स्थित प्रसिद्ध जाखू हनुमान मंदिर में पूजा-अर्चना कर देश की सुख-समृद्धि की प्रार्थना की। pic.twitter.com/IlTXdYAtjN

— Congress (@INCIndia) May 13, 2023
Karnataka assembly elections 2023 Results LIVE: Early trends | #KarnatakaElectionResults #karnatakapolls2023 | READ HERE: https://t.co/PLBn7x049H pic.twitter.com/1zClkLEt1t

— Newsroompost (@NewsroomPostCom) May 13, 2023
Karnataka assembly elections 2023 Results LIVE: Early trends | #KarnatakaElectionResults #karnatakapolls2023 |
READ HERE: https://t.co/PLBn7x049H pic.twitter.com/dBNEX2dfPf

— Newsroompost (@NewsroomPostCom) May 13, 2023
#WATCH | Celebrations underway at national headquarters of Congress party in New Delhi as counting of votes gets underway for #KarnatakaPolls. pic.twitter.com/e0eGObhLh3

— ANI (@ANI) May 13, 2023
#WATCH | Counting of votes cast in May 10 Karnataka Assembly elections, underway in Kalaburagi pic.twitter.com/n5CT5efun3

— ANI (@ANI) May 13, 2023
#WATCH | "No one has contacted me till now. There is no demand for me, I am a small party" says JD(S) leader HD Kumaraswamy, ahead of Karnataka election results. pic.twitter.com/0Mkbqdd7Tr

— ANI (@ANI) May 13, 2023
#WATCH | Visuals from a strongroom in Hassan as counting of votes begins for #KarnatakaPolls. pic.twitter.com/vxNnhgGlRD

— ANI (@ANI) May 13, 2023
#WATCH | As counting of votes begins for #KarnatakaPolls, CM Basavaraj Bommai visits Hanuman temple in Hubballi. pic.twitter.com/isXkxoa79D

— ANI (@ANI) May 13, 2023
#WATCH | Today is a big day for Karnataka as the people's verdict for the state will be out. I am confident that BJP will win with absolute majority and give a stable government, says Karnataka CM Basavaraj Bommai, in Hubballi. pic.twitter.com/8r9mKGiTIe

— ANI (@ANI) May 13, 2023
Counting of votes begins in all 224 Karnataka Assembly constituencies; 2,615 candidates in the fray
Karnataka | In the next 2-3 hours, it will become clear. Exit polls show that the two national parties will score in a big way. The polls have given 30-32 seats to JD(S).I am a small party, there is no demand for me…I am hoping for a good development: JD(S) leader HD… pic.twitter.com/maJU3EAoek

— ANI (@ANI) May 13, 2023
Karnataka | It's a big day today. We are hopeful that Congress will emerge victorious. We should get a comfortable majority with more than 120 seats. It's not just the exit polls that predict Congress victory, the same is also visible on the ground level, people want change: K… pic.twitter.com/HAWDM9VDC2

— ANI (@ANI) May 13, 2023
#KarnatakaElectionResults | Security arrangements tightened ahead of counting of votes for the 224 seats in the Karnataka Legislative Assembly elections held on May 10.

Visuals from Mount Carmel College and St. Joseph's College counting centres in Bengaluru. pic.twitter.com/m8DNikK6Jd

— ANI (@ANI) May 13, 2023
Bengaluru | "Congress will form the government once again with a majority. We are confident about this. The public of Karnataka is looking for a change, they were fed up with this present govt," says Congress leader Saleem Ahmed pic.twitter.com/bAXS0Jz4Ts

— ANI (@ANI) May 13, 2023
Security outside Karnataka CM Basavaraj Bommai's residence in Hubballi, ahead of Assembly election results today pic.twitter.com/kjbpN77lsr

— ANI (@ANI) May 13, 2023