Pak anchors baffled over costly wedding gifts to Rahul & Athiya, go bonkers decoding price (VIDEO)
The big fat Indian wedding, becoming the talking point for Pakistani anchors/news presenters is also drawing flak from lot of netizens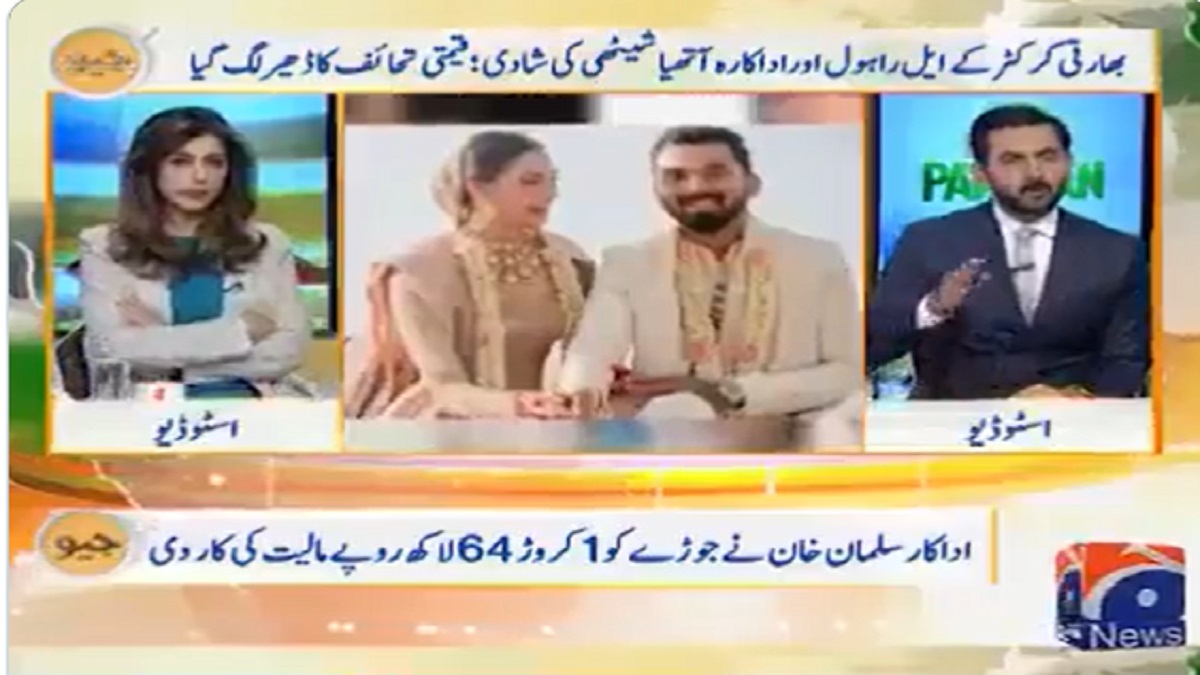 New Delhi: While Bollywood celebs recently converged for the wedding of KL Rahul and Athiya Shetty, their marriage and expensive wedding gifts have become the talking point of a Pakistani news channel. In a viral video, two Pakistani news presenters can be seen decoding the expensive wedding gifts received by Rahul & Athiya during their lavish wedding at farmhouse.
For the unversed, KL Rahul is leading Team India cricketer while Athiya Shetty is the daughter of Bollywood acter Suniel Shetty.
The big fat Indian wedding, becoming the talking point for Pakistani anchors/news presenters is also drawing flak from lot of netizens, as they derided & poked fun at the channel as well as presenters for holding cheap conversation during the news telecast.
What Pak news presenters discussed at length
In the viral video clip, the two Pakistani news presenters can be seen going bonkers over expensive & exquisite gifts given to Athiya & Rahul, ranging from swanky apartment to luxurious cars. The anchors, surprised & shocked over range of gifts to the newlywed couple, go on discussing at length about the gifts received by them.
Decoding the price of gifts, they compare it to own Pakistani currency, in turn mocking their own.
Pakistani be like.. Itne paise bhi hote hai kya!🤣🤣 pic.twitter.com/ER3MM6WAdh

— Amber Zaidi 🇮🇳 (@Amberological) February 1, 2023


Going bonkers over costly gifts
In the video clip, one presenter says, "Ek shaadi hui hai, jisme itne taufe, itne taufe….., "Shaadi samajh aa gayi aapko, ab zaraa taufe sune," before prompting co-anchor Abdullah to shed more light on the same.
She says that Suniel Shetty gifted his daughter Rs 5 crore apartment to which her co-presenter corrects and says it's actually Rs 50 crore.
Abdullah says "Salman Khan has gifted his friend's daughter an Audi car". The woman anchor quotes it Rs 64 lakh, to which the former interrupts again and corrects its price at Rs 1 crore 64 lakh.
Abdullah also gets upset at one point and says, "Aap kyun kam kar rahe hai paise har cheez ka."
Then, they list out numerous gifts received by the couple from various B-Town celeb including Jackie Shroff, Arjun Kapoor and Virat Kohli.
The duo can also be heard comparing prices of these gifts to their own currency and how their citizens can't afford such luxury.
Remember, Pakistan is in deep economic mess and battling many challenges at home, including soaring prices of basic essentials & high inflation.