Sachin Meena does shameless act with Seema Haider on live TV, netizens say 'Itna bhi lappu nahi hai' (Watch)
Rumours also have it that the makers of Salman Khan's Bigg Boss 17 are considering the famous cross-border couple as contestants for their upcoming reality show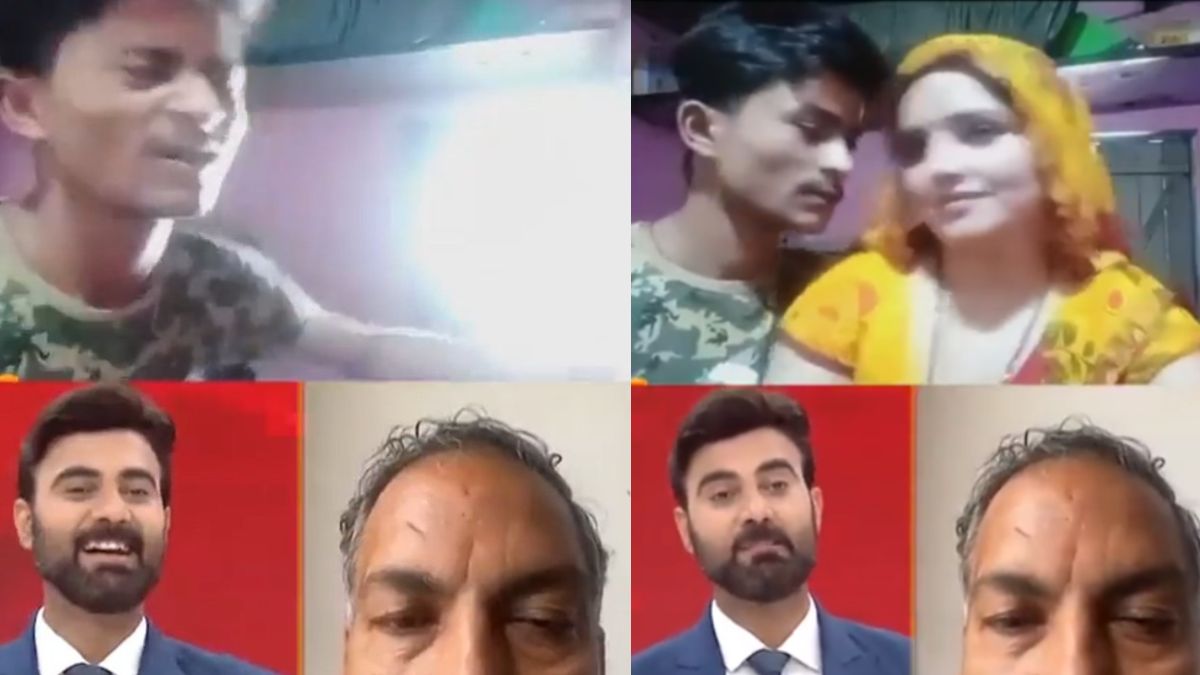 New Delhi: Pubg couple Seema Haidar and Sachin Meena have been making headlines for quite a while now.
Ever since their controversial cross-border marriage, the couple has gone viral in both India and Pakistan and is constantly grabbing attention by appearing on numerous media platforms and giving interviews with media persons.
Lately, one video clip from the viral couple's latest interview on a TV channel is garnering a lot of attention from netizens who are giving their reactions on the same.
During this one particular interview, the viral couple did something unexpected and surprised everyone by showcasing their affection for each other publicly on Live Television.
Watch it here:
Sachin to naughty ho ra 🤣🤣pic.twitter.com/cx8raubv9P

— Raja Babu (@GaurangBhardwa1) September 3, 2023
In the viral video of the controversial interview, Seema and Sachin are seen participating in a discussion about the Indian festivals of Rakhi and Nag Panchmi.
However, they soon lose interest in the discussion with the panellists and start to get increasingly intimate and affectionate towards each other on national television. Amidst this, Sachin is seen taking things way too far as he even tries to kiss his Pakistani lover Seema Haider right in front of the panellist.
Later, we see the news anchor cutting short the couple's little intimate session by quickly interrupting and reminding them that they are on live Television.
Trying not to sound rude, the anchor is seen smiling before he politely says "Are camera Chalu hai Sachin Ji camera chalu hai"(Watch out! You are in front of the cameras) before getting back to the discussion.
Seeing this happen, one of the show's guest panellists also Jokes and says, " Inka to Pyar hi Amar hai Chahe Camera ke samne ho ya peeche, inka pyaar hi misal hai" ( Be it in front of the camera on behind it, There love is worth giving example of)
Netizens react
The video of the couple's hilarious interview is now making rounds on social media and has garnered over 3,67,000 views in just a matter of a single day. Reacting to the video, one internet user wrote, "inko naughty hone ke paise mil rahe hai" (they are getting paid for it)
inko naughty hone ke paise mil rahe hai

— Kana Sir🕉️ (@Kanatunga) September 3, 2023
Another said,"Itna bhi Lappu na hai Sachin." (Sachin is not that Lappu)
Itna bhi Lappu na hai Sachin

— Alok Sharma (@toonfactory) September 3, 2023
"Aap kaahe interview leke time waste kar rahe ho unka",
wrote a third netizen.
aap kaahe interview leke time waste kar rahe ho unka

— Anuj (@Anujology) September 3, 2023
Here are some more reactions:
Jhingur aunty be like 🤣 pic.twitter.com/OV944pbfjM

— The Winter Guy❄️ (@The_WinterGuy) September 3, 2023
got real pic.twitter.com/IjtzaiwsQH

— kunal jhurani (@myhumour_side) September 3, 2023
Meanwhile Seema Husband: pic.twitter.com/AYvQm8EdV7

— Captain levi (@___Captain_levi) September 3, 2023
Mauj masti rukni nahi chahiye 😂 pic.twitter.com/GDrqaHVU2k

— AwardeeAnshuman (@RoadRollerr) September 3, 2023
Roj interview chal rahe hain Sachin ko private time to mile Media walon paap lagega 🤪🤪

— Manvendra (@Purush_UP50) September 3, 2023
Tu news channel hai na ? 🙂
Indians to news media 💀 pic.twitter.com/5NBISXWL0t

— Shub s (@dwane317) September 3, 2023
Yeh lappu kand kar raha hai pic.twitter.com/JfkGoTIRMX

— Anand jain (@Aanbhan) September 3, 2023
सचिन वो पड़ोस वाली भाभी (जिसके नाक के बड़े-बड़े छेद हैं) को दिखाने के लिए कैमरा पे अपनी मर्दानगी साबित कर रहा है ।

— Ayush Dammani (@ayush_dammani) September 3, 2023
iska baap isko maarta nhi kya

— Ashu (@ashuGera19) September 3, 2023
Naughty nahi ho raha, apni tharak dikha raha hai😂

— 𝐖α𐓣ᑯ𝖾𝗋𝐋υ𝗌𝗍𝐀𝗋𝖼ɦα𐓣α 🇮🇳 (@sylent_eyez) September 3, 2023
Seema Haider in Bigg Boss 17?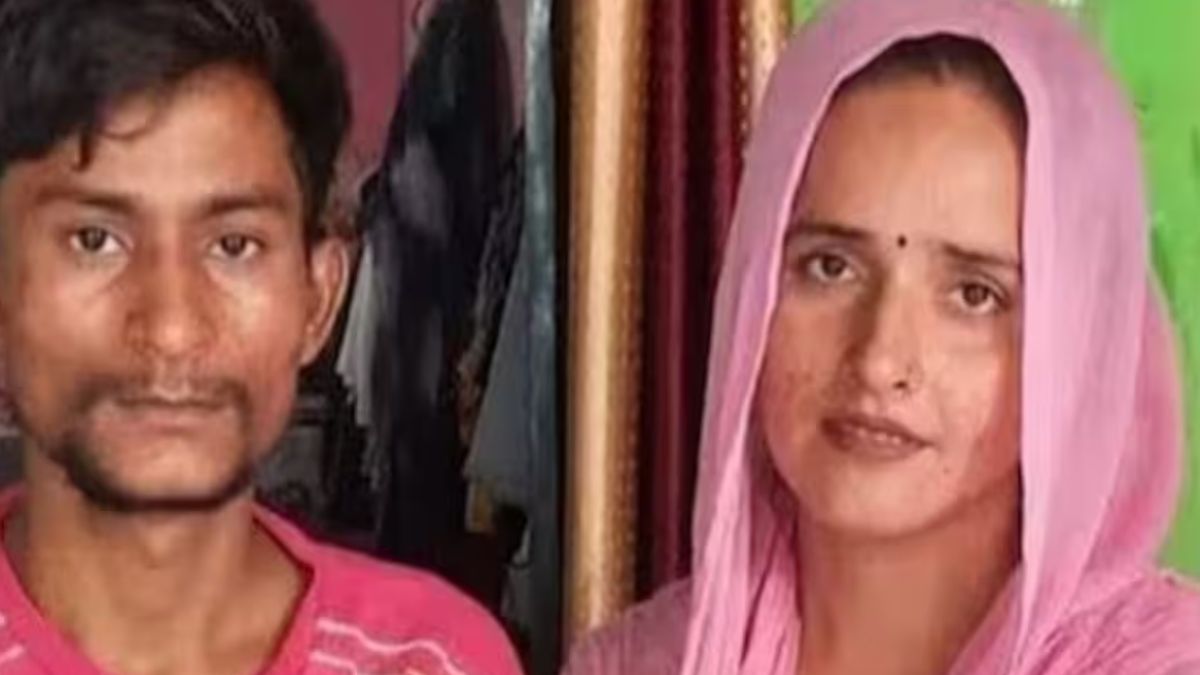 Meanwhile, Seema and Sachin continue to be the talk of the town with their popularity soaring to new highs with each passing day.
Earlier, Reports and rumours also have it that the makers of Salman Khan's Bigg Boss 17 are considering the famous cross-border couple as contestants for their upcoming reality show and have approached them for the same.
Confirming the rumours, Seema Haider recently opened up with a news outlet and said that the show makers indeed approached her and Sachin for roping them in. She also claimed that the couple has turned down the reality show's offers considering the ongoing investigations about Seema Haider's illegal entry into India.
In addition to this, rumours about Seema and Sachin's guest entry in Kapil Sharma's popular comedy show The Kapil Sharma Show are also circulating across social media. However, the rumours and reports of the couple's entry into the show are merely based on speculation and no official confirmation about the same has been made by the makers so far.