Uttarakhand glacier burst: 15 people rescued, 14 bodies recovered from different locations
A glacial broke in the Tapovan-Reni area of Chamoli District of Uttarakhand on Sunday led to massive flooding in Dhauliganga and Alaknanda rivers and damaged houses and the nearby Rishiganga power project.
February 8, 2021 08:59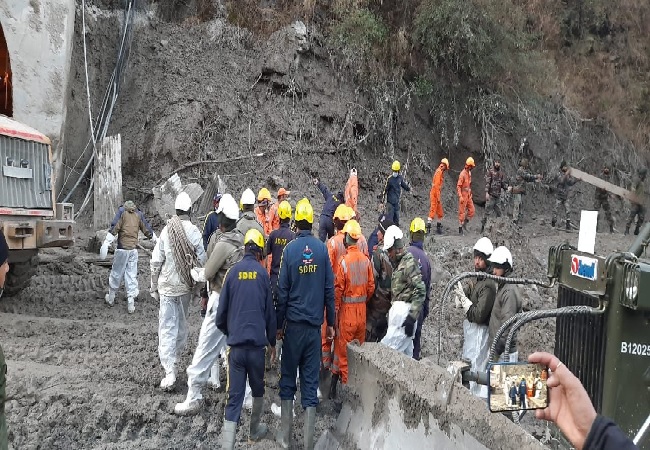 New Delhi: As many as 15 people have been rescued so far while 14 bodies have been recovered from different locations following the glacier burst in the Chamoli district of Uttarakhand, said Chamoli Police on Monday.
"Relief and rescue operations continue for those stranded in the tunnel. Efforts are being made to open the way by reaching inside the tunnel with the help of JCB. So far, a total of 15 persons have been rescued and 14 bodies have been recovered from different places," Chamoli Police tweeted. Meanwhile, the State Disaster Response Force (SDRF) on Monday removed the debris and slush at the tunnel near Tapovan dam here in Chamoli district, following the glacier burst which led to heavy flooding in Dhauliganga and Alaknanda rivers.
ITBP, Indian Army, the SDRF and National Disaster Response Force (NDRF) forces are engaged in the retrieval in the affected areas.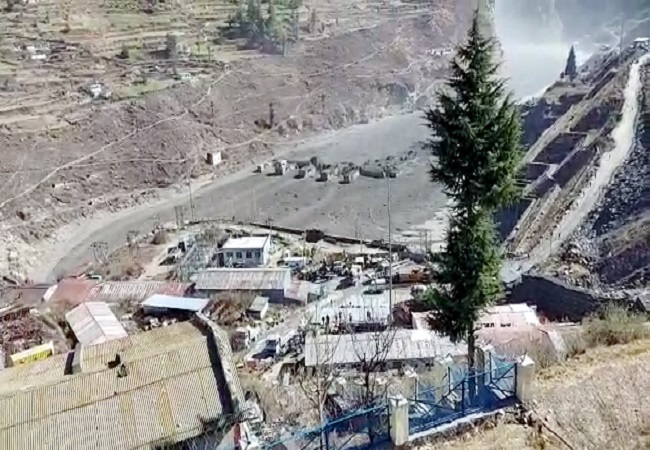 LIVE UPDATES 
The bigger tunnel has been cleared till 70-80 m. Debris blocked it, it is being cleared with the help of JCB. It is around 180 m long & around 30-40 workers are trapped since yesterday. Efforts are underway to rescue them: Aparna Kumar, DIG Sector HQ, ITBP Dehradun
Uttarakhand: Rescue operation continues on the second day at Joshimath in Chamoli where a flash flood, triggered due to glacier burst, occurred y'day.

12 people were rescued from one tunnel y'day. The second tunnel is being cleared with the help of JCB machines to rescue people pic.twitter.com/WEe0qA6rXi

— ANI (@ANI) February 8, 2021
No need to spread panic. The glacier burst yesterday, boulders and debris followed which washed away the Raini power project causing a massive impact on Tapovan. All of this happened yesterday. 32 people from first and 121 people are missing from the 2nd project: Uttarakhand DGP
CPI MP Binoy Viswam has given suspension of business notice under rule 267 in Rajya Sabha over the flash floods in Chamoli, Uttrakhand.
Aerial rescue & relief missions have resumed with Mi-17 & ALH helicopters flying from Dehradun to Joshimath with disaster relief teams on board: Indian Air Force#Uttarakhand pic.twitter.com/RplNQxbayO

— ANI (@ANI) February 8, 2021

The operation to rescue the people trapped in a tunnel is underway. Efforts are on to clear the tunnel with the help of JCB machine. A total of 15 people have been rescued and 14 bodies have been recovered from different places so far: Chamoli Police, Uttarakhand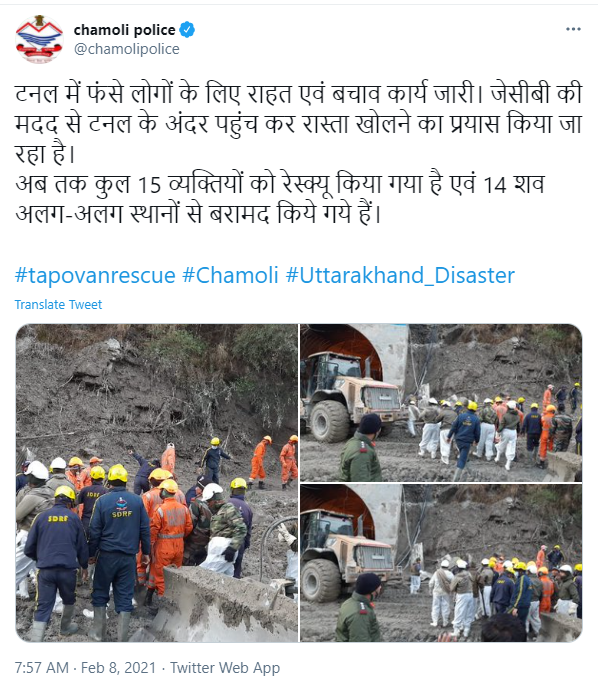 #Uttarakhand: SDRF members wait for the level of the Mandakini river to lower, to commence rescue operations for the people who're stranded in the tunnel near the Tapovan Dam in Chamoli pic.twitter.com/d5yJs8zoZ5

— ANI (@ANI) February 8, 2021
Uttarakhand: Canine squad also deployed to carry out the search operation near Tapovan dam in Chamoli. A flash flood hit the area yesterday.

(Pic Source: NDRF Director-General SN Pradhan) pic.twitter.com/gwIS8w8dVN

— ANI (@ANI) February 8, 2021
#Uttarakhand: Visuals from yesterday when the Indo Tibetan Border Police(ITBP) personnel started digging to find the way to tunnel near Tapovan, Chamoli to rescue the persons trapped inside

(Pictures Source: ITBP) pic.twitter.com/QkGK6m2Gbj

— ANI (@ANI) February 8, 2021