Chitta Dey: Meet the rock artist of Bengal, who is on a mission to restore hills & plateaus of state
Chitta Dey has revived the ancient technique of rock carving popularly known as 'in-situ' and gave faces to hills and mountains of West Bengal's Purulia.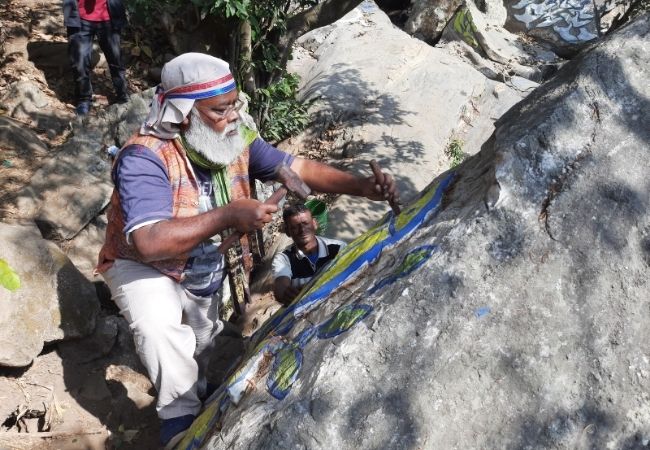 Lending his hands in the world of art and craft, a piece of paper appeared to be too small for him. Chitta Dey converted the bare rocks and stones of West Bengal into his canvas. He revived the rock carving technique 'in-situ' and gave a face to the scenic hills surrounding the Ayodhya hills of Matha range, Balarampur range, and Bamni falls of West Bengal's Purulia.
There are two types of rock carving – assemble work and in-situ. In-situ rock carving is one in which the rocks are fixed in a particular place and cannot be removed for artwork and thus the sculptures are done on the site. Reportedly, in-situ rock carving was practiced even before the birth of Christ, when people used to live in caves. The use of fire, rock materials, and in-situ rock carving became everyday activities of the rock shelter culture. Popularly, these types are seen in places like Ajanta Ellora, Mahabalipuram, and Unokoti.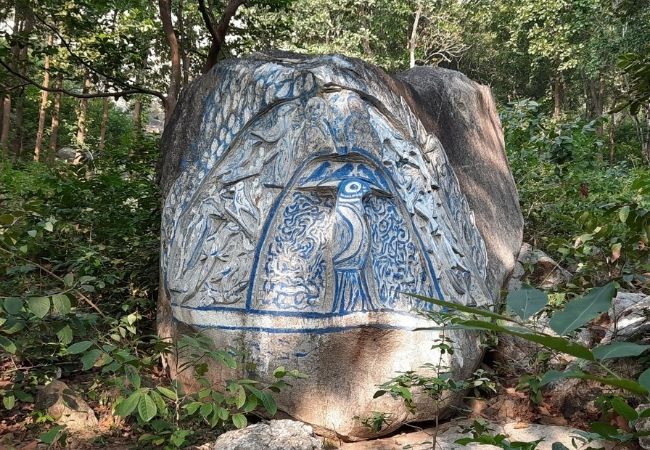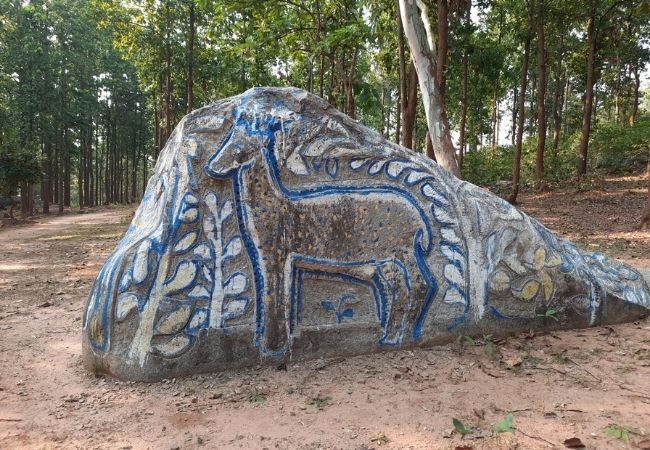 "This ancient technique of rock carving attracted me as I could resemble different forms of species in these rocks. For some unknown reason, this type of rock carving was not practiced for almost 800 years," said Chitta Dey.
"My artwork is different from the rest of the rock carvings across India and the world. Most of the rock carvings depict religious customs, political issues, or sculptures of popular kings or queens. However, my work represents extinct or endangered species like turtles, mongooses, and others. Probably, this is the first time species-themed in-situ rock carving is being practiced. I want the world to remember the species that once existed in different corners," he added.
Early days of Chitta
Chitta Dey's journey was tough unlike most artists as he got very little support from his family. Losing his father at an early age and being financially unstable, it was a challenge for him to emerge as an artist in the late 1900s. However, locally he was quite popular for his artworks.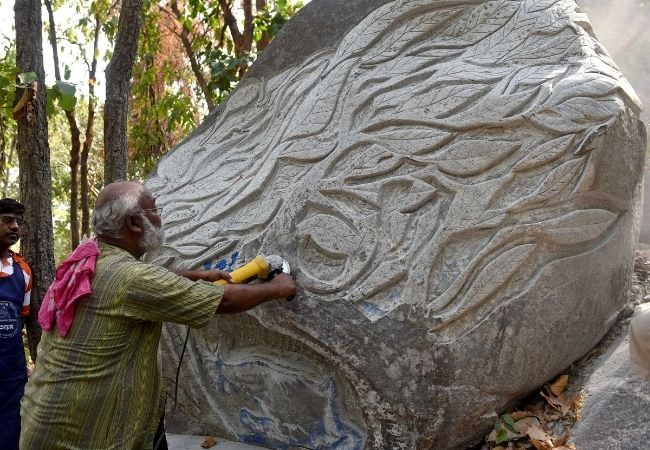 Graduating with a degree from the Government Art College in Kolkata, Chitta Dey became the first art director of a Bengali TV serial. He designed the sets of the most popular serial of that time known as 'Tero Parbon.' After working for days, he realised that it was not possible for him to showcase his talent independently. Since then, he started shifting his focus to metal sculptures, stone sculptures, terracotta, finally delving himself into the famous artwork known as 'in-situ' rock carving.
Idea of illustrating art on stone
The 64-year-old man found it heartbreaking when he saw various stones and rocks being stolen and smuggled. Though is aware that rocks and stones are needed for different purposes such as for the construction of railway lines, roads, buildings, and others, many people without seeking permission steal rocks lying on barren lands. To stop this evil practice, he started engraving birds and animals of rocks which are as tall as 800 feet.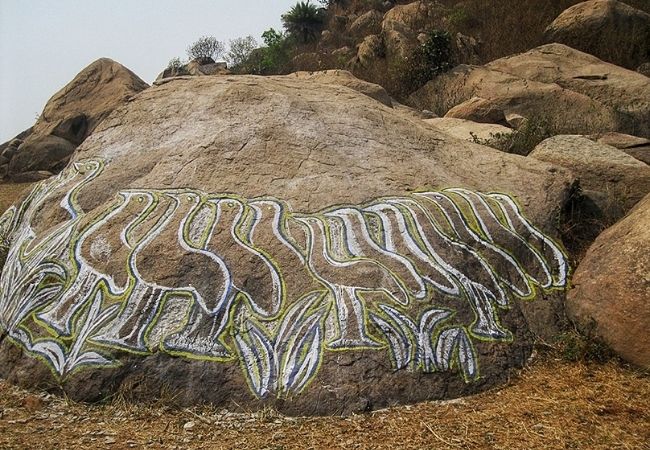 "Initially, to stop the practice of rock stealing and smuggling, I started roughly drawing on the surface of the spared rocks and stones. Soon, I noticed that people from that region stopped destroying the rocks. Since then I knew that through artwork, I can curb the illegal practice," said Chitta to Newsroom Post.
Now the places where he carved and painted the rocks have seen negligible stealing and smuggling and have emerged as tourist spots.
Giving sight to Kana Pahar
Currently, Chitta Dey is working on the hills surrounding the Ayodhya hills of Matha range, Balarampur range, and Bamni falls of West Bengal's Purulia. The hills are named 'Kana Pahar (Blind hills)' however Chitta Dey and his team call it 'Kana Pahar e drishti daan (Giving sight to the Blind hills).'
Through his artwork, he made sure that these hills are preserved from the heinous crime of stealing and smuggling. Along with his team, he has used the 'in-situ' technique to engrave different spices on stones, including small birds, frogs, squirrels, mongoose, and also prehistoric animals like Ambuloketas or the Triassic Longiscuma among others.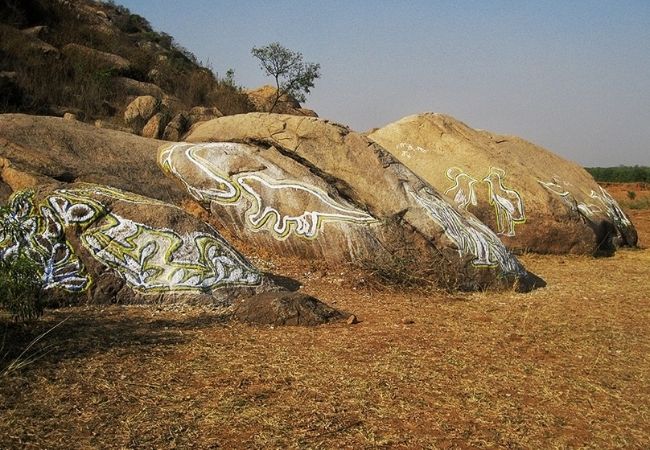 In this project, the team has used three kinds of painting colours – white, blue, and yellow. Yellow colour is used to outline the sculpture and inside, the blue colour is stoke following which the stones are carved. Lastly, the white colour is given as a base. After the carving is completed, all the colours are eased except the white that gives the form to the structure.
This project provides a social message to the viewers as well. Recently, it has been witnessed that a lot of forests are being polluted with solid and unsustainable wastes like plastic bottles. Also, many forests have suffered burnt from cigarette fires. Thus to spread that awareness, he has modelled some drawings on the surface of the rocks.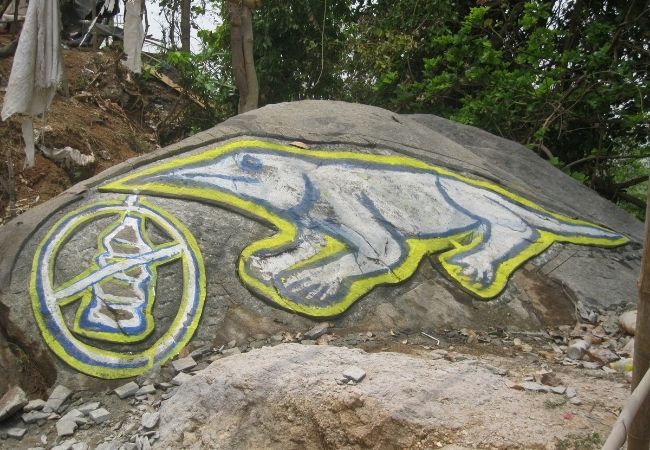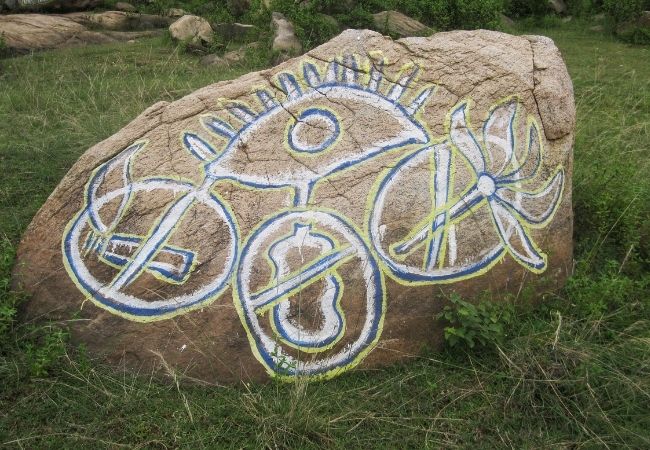 "We have tried to create awareness to prevent people from throwing plastic bottles or lit-cigarette butts onto the ground. For instance, we have engraved a bird carrying a plastic bottle in its mouth and put a cross mark over it. Similarly, message related to cigarette butts are also shown," said Chitta.
Around 20 to 22 local youth whom he has trained as artists are working under his guidance. Besides, several prisoners all across the jails in West Bengal also contribute to his artworks.
Request to government
Though the government has always helped and encouraged Chitta to continue with his work, he still has some ardent requests to the government officials of the respective regions.
Chitta does not want this form of art to disappear after him. He wants to pass his passion on to the next to next generation. For this he wants the government to establish training centres to train those local people who have a sense of art in them, thus providing a branch of employment opportunity as well.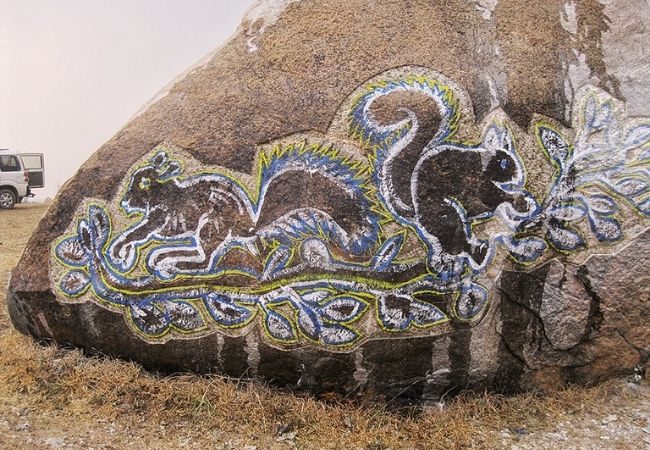 Secondly, some people from the government should be assigned to explain such artworks and guide tourists for the same in return for some tips from the tourists. These tips would add to the government revenue.
Thirdly, Chitta Dey and his team noticed that unlike the Forest Conservation Act, there is no law for the preservation of hills, mountains, rocks, and stones. Just like India is home to a large variety of flora, the country also has hills and mountains that add to the scenic beauty of the nation. Thus he appeals to the government to implement laws on the conservation of hills and mountains in India.
Lastly, in the places where such rock carving is done, vehicles running on petrol or diesel should be strictly prohibited. The dust and pollution created by the vehicles tend to destroy the fine art engraved on stones and rocks. The vehicles run by petrol or diesel should be parked at least 1 km away from the respective spots and to aid the travel of tourists to the sites, battery-run vehicles can be utilised.
The projects come under West Bengal Forest Department and they have so far encouraged and appreciated Chitta's work. Sufficient funding is provided to Chitta and his team to carry on such beautiful artwork in near future.
Chitta's other projects
Chitta Dey rose to fame after completing his dream project called 'Pakhi Pahar (Bird on Hill).' The 800 feet high-hill located in Matha Range in Purulia district was offered to him by the then-West Bengal government. He carved flying birds from the smallest to the largest on the surface of the hill, symbolising peace and harmony.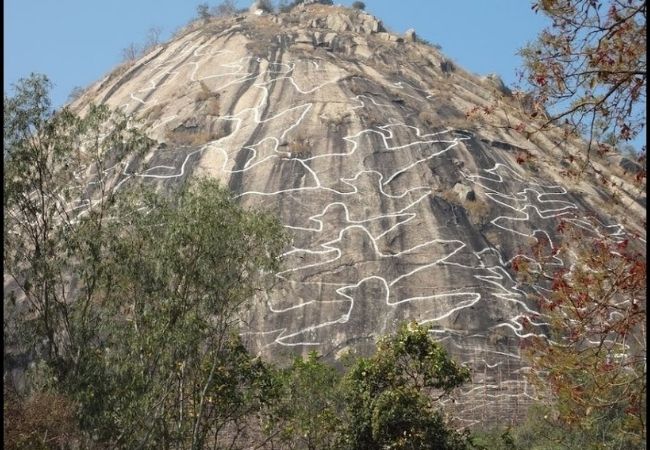 "One of the layouts of the upcoming projects is almost ready, which will have a theme of 'Under the sea.' Here, we will depict the lives of corals and fishes. Also, I want to do something related to dinosaurs. Although, till now I haven't planned about it," concluded Chitta.