Ind vs Eng: KL Rahul trends on Twitter after he falls to Woakes in T20 World Cup 2022 Semi-Final, Twitterati calls him 'FRAUD'
KL Rahul Dismissed: Twitterati calls him fraud. Cricketer scored only five runs.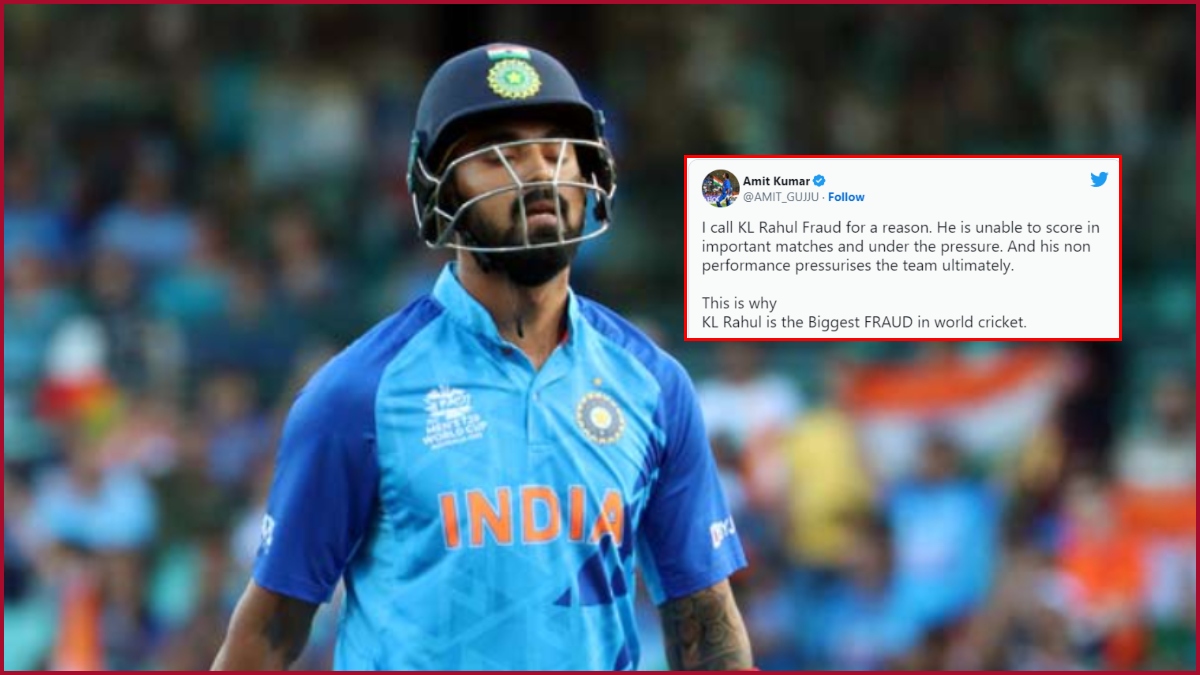 New Delhi: KL Rahul started trending on social media after he was dismissed om five runs in five balls in the second semifinal of the ICC men's T20 World Cup 2022 at the Adelaide Oval.
Amit Kumar, a Twitter with a verified handle called him a fraud. There were a few others who called his dismissal a 'disappointment'.
Catch LIVE UPDATES of India vs England Live Score, T20 World Cup 2022 Semi-Final(Click on the LINK)
Here is how Twitterati are reacting:
I call KL Rahul Fraud for a reason. He is unable to score in important matches and under the pressure. And his non performance pressurises the team ultimately.

This is why
KL Rahul is the Biggest FRAUD in world cricket.#INDvsENG

— Amit Kumar (@AMIT_GUJJU) November 10, 2022
Just Kl Rahul , doing what he does the Best . Big Dissapointment #KLRahul #INDvsENG pic.twitter.com/UXWuTq2TtI

— Cricpedia (@_Cricpedia) November 10, 2022
We fans demand the immediate removal of Kl Rahul from every indian squad. As fans we have suffered enough because of him opening the batting for our lovely Indian team.
How many times we have to suffer?

*Your every like means you also want kl rahul dropped.#INDvENG pic.twitter.com/QTVuRUMoup

— Passionate Fan (@Cricupdatesfast) November 10, 2022
Sunil Shetty to KL Rahul right now after watching him throw his wicket in an another high pressure important match for India! #INDvsENG #KLRahul pic.twitter.com/Q0isJA26hx

— Vishal Verma (@VishalVerma_9) November 10, 2022
As expected K.L Rahul should only be played with teams like Zim and Ireland.😑😔😡#INDvsENG #KLRahul #dissapointment

— Pranav (@talkpranav) November 10, 2022
1000 time better than #KLRahul ? still not agree ?#T20worldcup22 #INDvsENG #KOL #ShikharDhawan pic.twitter.com/2f80ynldLQ

— shibin (@shibi_meppayour) November 10, 2022
KL Rahul when you ask him to score in an important and high pressure game for Indian cricket team.#INDvsENG #KLRahul pic.twitter.com/hkNfrykmL3

— Vishal Verma (@VishalVerma_9) November 10, 2022
Yep, we know! #KLRahul #INDvsENG pic.twitter.com/LfaQ0JwMtS

— Poan Sapdi (@VandanaJain_) November 10, 2022
Please drop #KLRahul from white ball cricket. We have given enough opportunity for him but yet he failed in every pressure game he played for india.

Please give this opportunity to youngster like Priti Shaw or gill.#INDvsENG

— Rampragash Karunanithi (@Rampragash_K) November 10, 2022
#INDvsENG
Kl rahul in every important match be like :🥺🥺🥺#INDvsENG #KLRahul #T20WorldCup pic.twitter.com/Ldvf9tIrNg

— Anuj Saharan (@saharan_anuj_) November 10, 2022
Fraud Player in cricket history 😡 #KLRahul #INDvsENG #ICCT20WorldCup #ICCT20WorldCup2022 #ViratKohli #GOAT𓃵 #RohitSharma𓃵 #klrahul𓃵 pic.twitter.com/dN1tGaFoS7

— Tarun Bhatiya (@saystarun) November 10, 2022
Thank You K L Rahul bsdk! #KLRahul #INDvsENG pic.twitter.com/zVK6mGYaTj

— Ana de Armas stan (@abhithecomic) November 10, 2022
Who is Rivaba Jadeja? Cricketer Ravindra Jadeja's wife gets BJP ticket and will contest from Gujarat's Jamnagar North