Narendra Modi remains the undisputed leader in Twitter engagements, across all categories (Full List)
Here is a comprehensive report for Twitter engagement in 20 categories including Politics, Business, Bollywood & others. The report has been prepared by Twitteet, a social media analytics firm.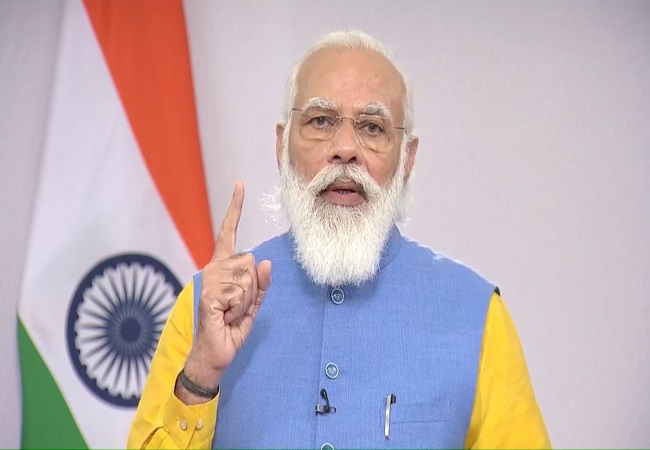 PM Modi addresses the 3rd Annual Bloomberg New Economy Forum
New Delhi: Prime Minister Narendra Modi is one of the world's most tech-savvy leaders with massive presence on all leading social media platforms.
Globally, PM Modi is the second most followed leader on micro-blogging platform Twitter, with former US President Donald Trump maintaining the Number 1 spot. His following on Facebook and Instagram too is huge and unmatched in comparison to other world leaders.
Now, a report by social media analytics firm Twitteet has once again put him in the top spot, with all others trailing him by a huge margin.
According to Twitteet's October analytics report, Prime Minister Narendra Modi has topped the Indian Twitter Engagement Rankings by garnering over 7.2 million engagements. His closes rival is former Congress President Rahul Gandhi but the latter's engagement is not even half of what PM Modi's Twitter account has accumulated.
These findings reinstate the fact that Prime Minister's mammoth social media connect with citizens presents an unprecedented benchmark of governance, which other nations can emulate.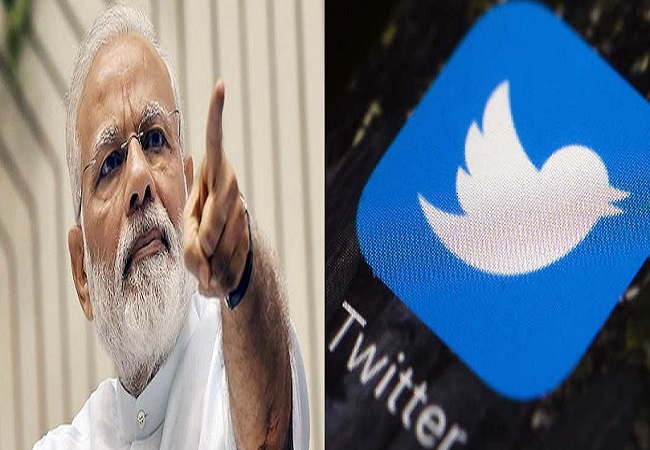 Narendra Modi's social media popularity witnessed meteoric rise after he led the BJP to two high-decibel consecutive electoral victories in General elections, 2014 and 2019.
Twitter Engagement Ranking in Politics
Among other politicians, Congress leader Rahul Gandhi secured 2nd spot with 3.5 million engagements while UP CM Yogi Adityanath and Priyanka Gandhi came on 3rd and 4th positions. One of the surprise element in Top 10 Politician list is BJP Spokesperson Sambit Patra who has clocked 1.1 million engagements and getting ranked Number 8th while Dr Kumar Vishwas secured 5th rank with 1.2 million engagements.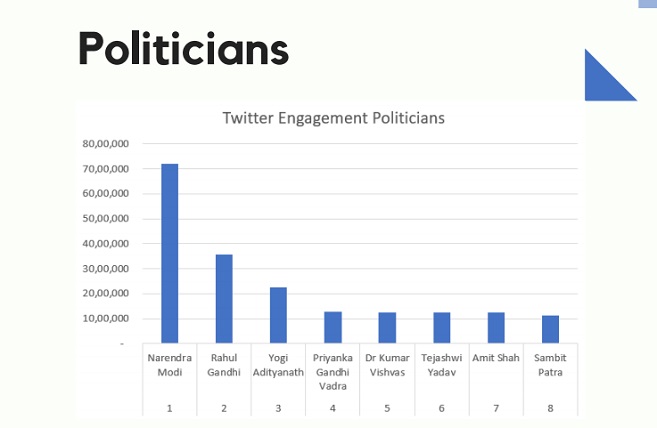 Another striking name in the list is RJD leader Tejashwi Yadav who clocked over 1.24 million engagements in October overshadowing Bihar CM Nitish Kumar with 1.34 engagements.
All India Twitter Engagement – All Categories
1. Politicians – Narendra Modi – 72,15,913 Twitter Engagements
2. Bollywood – Sonu Sood – 24,36,601 Twitter Engagements
3. Business Head – Anand Mahindra – 4,08,882 Twitter Engagements
4. Cricketer – Virat Kohli – 24,65,918 Twitter Engagements
5. Sports Star (non-cricket) – Vijender Singh – 4,27,006 Twitter Engagements
6. TV Star – Sidharth Shukla – 3,90,901 Twitter Engagements
7. Journalist – Deepak Chaurasia – 18,88,720 Twitter Engagements
8. Founders – Kunal Shah – 60,093 Twitter Engagements
9. Comedians – Kunal Kamra – 11,46,111 Twitter Engagements
10. Regional Cinema Star – Mahesh Babu – 7,32,964 Twitter Engagements
11. Authors – Anand Ranganathan – 5,36,874 Twitter Engagements
12. Investor – Mohandas Pai – 99,741 Twitter Engagements
Sharing his insights on All India Twitter engagements, Sandeep Amar, the Co-founder of Twitteet said, "Our core objective is to provide social business intelligence, social monitoring and actionable insights to the leaders across various domains and also to businesses and marketers. We run daily analysis of all engagements – which are the total of likes and retweets, collate these every month, across categories; and then slice and dice them to mine actionable insights. At some level a leaders Twitter engagement gives one sense of his connect with his constituents and what are the key issues that matter. We hope to sharpen this data over time and broad base our offerings to other social platforms and geographies."
Twitter Engagement – Journalists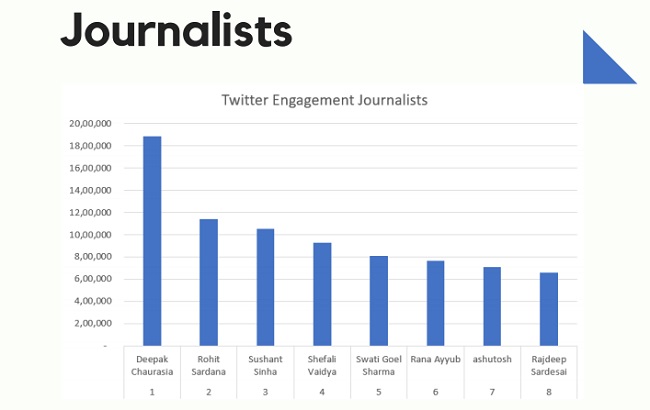 In the intensively competitive Journalists category, News Nation's Deepak Chaurasia topped Twitter engagement with a whopping 1.88 million engagements. Aaj Tak's Rohit Sardana was at #2 with 1.1 million engagement followed by Sushant Sinha with 1.05 million engagements. Veteran journalist and India Today's Consulting Editor Rajdeep Sardesai was at # 8 wit6 6.6 lakh engagements and Rana Ayyub was at #6 with 7.6 lakh engagements.
Twitter Engagement – Bollywood Stars
Sonu Sood's humanitarian work during the pandemic saw huge resonance on Twitter where even at a Twitter following of a tenth of super star Shah Rukh Khan (Sonu Sood's 4.6 million followers to SRK's 41.3 million followers) he topped Twitter engagement among Bollywood Stars with a phenomenal 2.4 million engagements.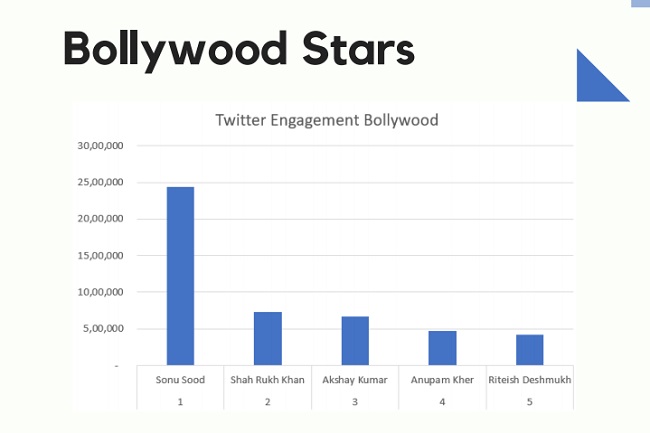 The Bollywood Badshah Shah Rukh Khan was at #2 with 7.3 lakh engagements. Akshay Kumar with 6.72 lakh engagements was at #3, and Anupam Kher with 4.74 lakh engagements was at #4. Former Maharashtra CM, the late Vilasrao Deshmukh's actor-son Riteish Deshmukh was at #5 with 4.2 lakh engagements. Pooja Hegde was the surprise entrant into the top 10 with 2.51 lakh engagements.
Twitter Engagement – Business Leaders
In the Business Leaders category, Anand Mahindra towers over others with over 4 lakh engagements. RPG Groups chief Harsh Goenka is at #2 with 2.2 lakh engagements. Chinese mobile phone brands India CEO's Manu Kumar Jain of XioMi and RealMe's Madhav Sheth are at #3 and #4 respectively with 1.5 lakh and 1.1 lakh engagements respectively.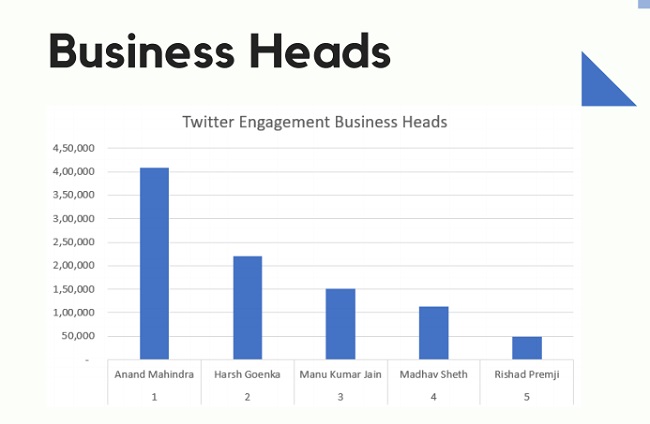 Wipro Chairman Rishad Premji with 49K engagements is at #5, Biocon's Kiran Mazumdar-Shaw with 41K engagements at #6, Marico's Harsh Mariwala with 24K engagements is at #7, Micromax co-founder Rahul Sharma with 19K engagements at #8 and Chairman of JSPL and former MP, Naveen Jindal with 16K engagements is at #9. Google's Global CEO Sundar Pichai with 15K engagements is at #10.
Twitter Engagement – Cricketers
The IPL was the flavour of the season for cricketers where expectedly India captain and expectant father Virat Kohli topped Twitter engagement with 2.4 million engagements. Suresh Raina was at #2 with 1.9 million engagements.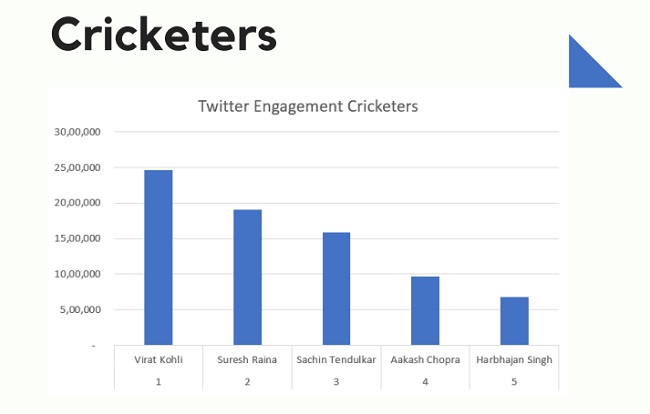 Former stars Sachin Tendulkar at #3, Harbhajan Singh at #5, and Virendra Sehwag at #6, actively engage with fans and followers on Twitter with 1.5 million; 6.8 lakh and 6.3 lakh engagements. Aakash Chopra, now a commentator is also hugely popular and ranks #4 with over 9.65 lakh engagements on Twitter in October. Perennial favourite Mahendra Singh Dhoni was completely inactive on Twitter in October despite more than 8.1 million followers.
Twitter Engagement – Sportspersons
Among Indian sports persons, outside of cricket, Olympic medallist and pro-boxer Vijendra Singh tops with 4.27 lakh engagements. Perhaps the India's best kept secret in sports is veteran pistol shooter, coach and sports enthusiast 88-year old Dadi Chandro Tomar, better known as 'Shooter Dadi' from Baghpat, UP.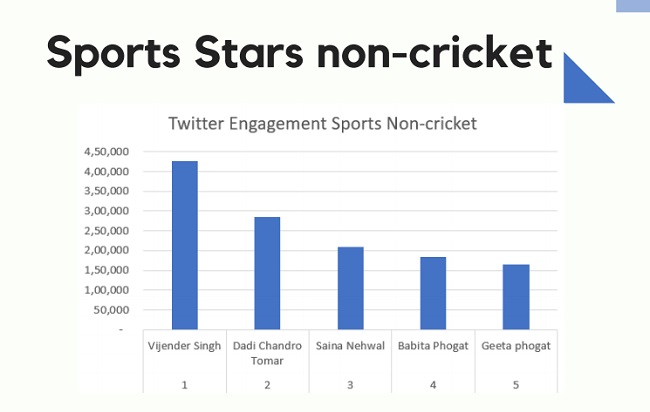 Since learning to shoot when she was well into her sixties she has attained national fame as an accomplished shooter having won more than 30 national championships. She was at #2 in the non-cricket sports category with a phenomenal 2.84 lakh engagements leaving superstars like Saina Nehwal, Babita Phogat and Jwala Gutta behind!
Twitter Engagement – Comedians & Start-ups
In other categories, Comedians and Start-up founders made their mark.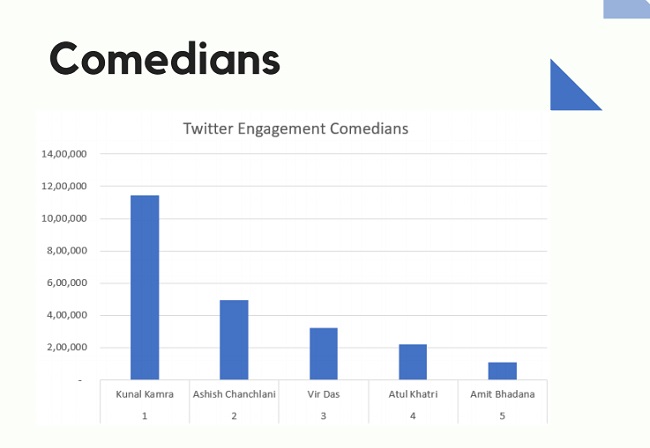 Among comedians, Kunal Kamra topped impressively with 1.1 million engagements, followed by Ashish Chanchlani at #2 with 4.92 lakh engagements, Vir Das at #3 with 3.2 lakh engagements, Atul Khatri at #4 with 2.21 lakh engagements and Amit Bhadana with 1.1 lakh engagements at #5. Cred Founder Kunal Shah lead the Business Founders category with 60K engagements and Paytm's Vijay Shekhar Sharma was next with 23K engagements.