Home » Viral Check »
Fact Check: Know the truth behind viral image of alcohol bottles in poll-bound Bihar
As Bihar prepares for polls, a viral image of alcohol bottles is circulating on social media, with claims that it will be distributed before elections to woo voters. It assumes significance as there remains total prohibition on alcohol in the state since 2016.
October 22, 2020 18:46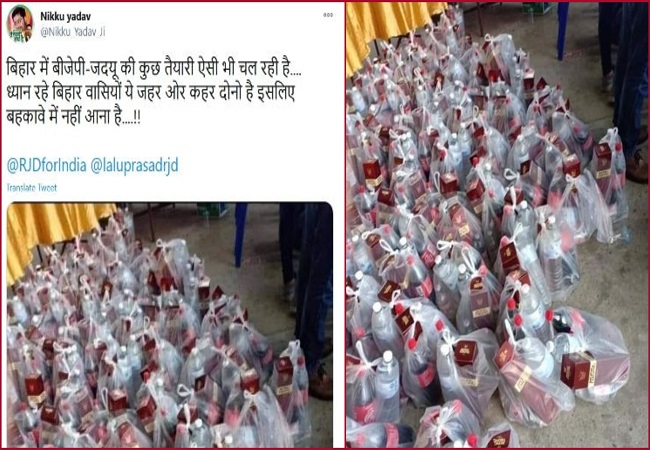 Fact Check: Know the truth behind the viral image of alcohol being distributed in the Bihar before elections
New Delhi: Elections are around the corner and social media is on fire. Amid this, a photo of alcohol bottles wrapped inside plastic bag packets is being shared falsely claiming that it is from Bihar and is being prepared to be distributed by the ruling Janta Dal-United (JDU) – Bharatiya Janata Party (BJP) alliance to woo voters.
Viral Claim:
In the viral image alcohol bottles with bottles of water and cold drink can be seen wrapped in sets of plastic bags. Bihar has imposed prohibition on alcohol since 2016
Newsroompost found out that the claim along with the image is misleading. The viral picture is at least a year old and from Thailand. The image is being shared with the same captions by different users.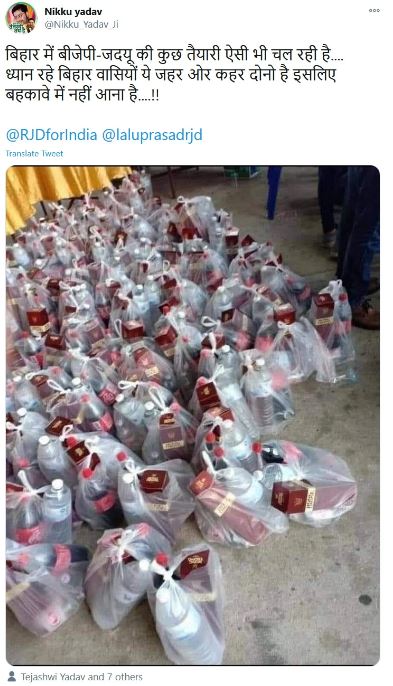 The caption in Hindi along with the picture translates to, "In Bihar, this is another poll preparation by the BJP and JD(U). Remember people, this is both poison and devastation, and so you must stay away from it."
Investigation:
Using reverse image search, we found out that the image is carried by Thai websites that stated that the alcohol kits in the viral image were being distributed by a person named Johnny, who distributed them to flood victims in Ubon Ratchathani province, Thailand in September 2019.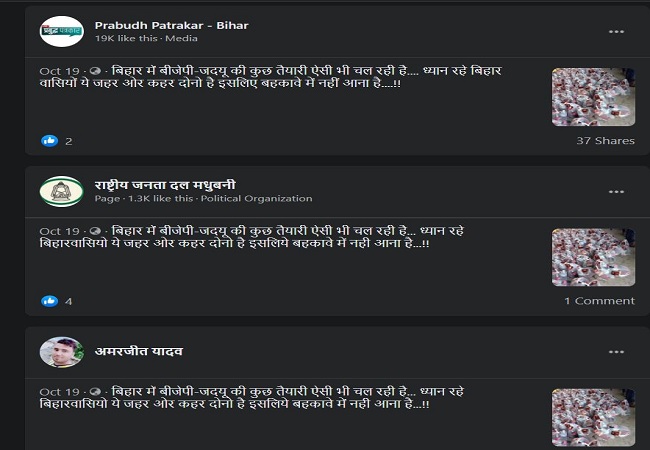 "No one understands the mind of an alcoholic. During floods, they'll have to remain stuck without alcohol. Johnny understood their mind and provided a survival kit to all alcoholics," says one of the articles in Thai. The same viral photo of alcohol bottles can be seen in these articles with images of Johnny distributing them to people.
The images of Johnny distributing liquor and other flood relief materials were also shared in a YouTube video uploaded on September 25, 2019. The liquor seen in the visuals is Hong Thong, a Thai beverage prepared at Bangyikhan Distillery near Bangkok.
Conclusion:
The viral image was carried by many social media handles and websites in India in April this year.
Therefore it's clear that this viral image is not related to the Bihar elections.