Home » Coronavirus »
Covid-19 Bulletin: Recovered cases cross 6 lakh, active patients above 3 lakh and more Corona News….
From mid-June 2020 after crossing the 50% mark in Recovery Rate, there is a steady increase in the recovered patients and decline in the number of active cases. 63.25% of the COVID-19 patients have recovered, so far.
July 16, 2020 21:13
New Delhi: As on date, the actual caseload of COVID-19 patients in the country is 3,31,146. These contribute to a little more than a third (34.18%) of total cases detected so far.

From mid-June 2020 after crossing the 50% mark in Recovery Rate, there is a steady increase in the recovered patients and decline in the number of active cases. 63.25% of the COVID-19 patients have recovered, so far.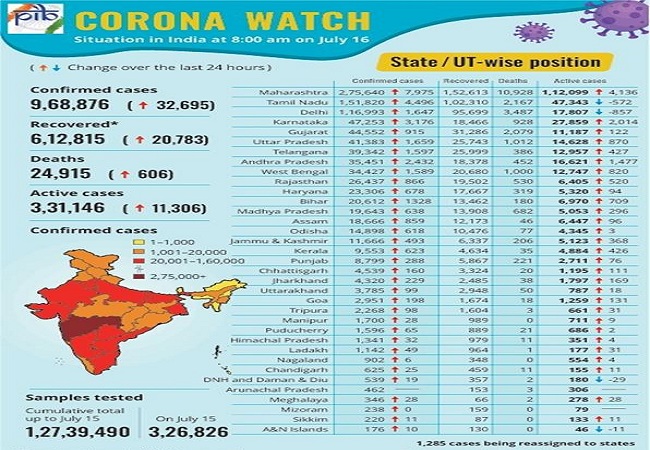 Simultaneously, there has been a steady dip in the active cases, from around 45% in mid-June 2020 to around 34.18%, as of now.A total of 20,783 people cured of COVID in the last 24 hours has taken the total number of recovered cases among COVID-19 patients to 6,12,814. The gap between recovered patients and active COVID-19 cases has further increased to 2,81,668. Only two states, Maharashtra and Tamil Nadu, constitute 48.15% of country's total active case load. Of the total 36 states and UTs, only 10 States constitute 84.62% of the total active case load.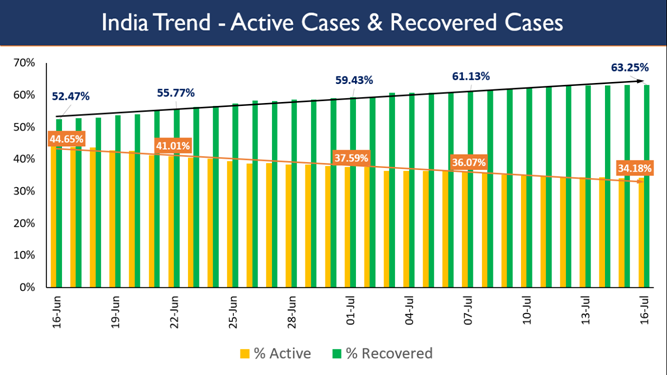 1234 labs along with use of Rapid Antigen Tests drive Tests Per Million to more than 9231
As per the "Test, Trace, Treat" strategy, the Central Government is driving enhanced testing initiatives in State/UTs. As a result, there has been a steady rise in the number of testing labs across the country. The increased testing is in accordance with the ICMR Guidelines and has helped in early detection of cases. All registered medical practitioners can now recommend testing.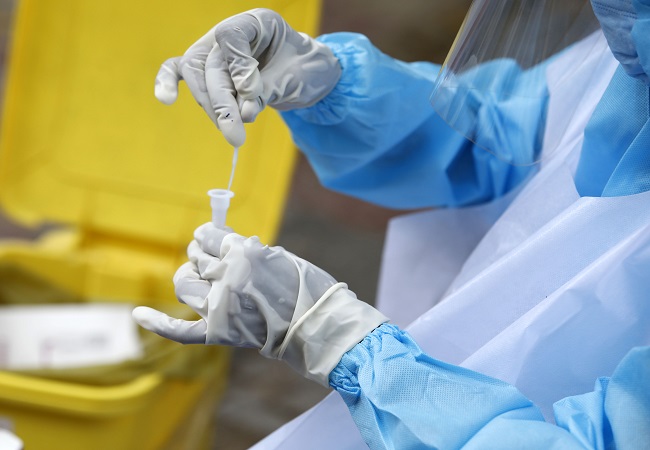 This coupled with the facilitation of widespread testing by States/UTs through the RT-PCR, TrueNat and CBNAAT lab network has contributed to a surge in the number of samples tested. 3,26,826 samples have been tested in the last 24 hours. The cumulative number of 1,27,39,490 samples tested translated to a figure of 9231.5 testing per million for India. The testing lab network in the country is further strengthened with 1234 labs in the country; 874 labs in the government sector and 360 private labs.
Dr. Harsh Vardhan inaugurates RajkumariAmritKaur OPD Block of AIIMS Delhi
Dr. Harsh Vardhan expressed happiness that the new OPD is named after Smt. Raj KumariAmritKaur, renowned freedom fighter and the first Health Minister of the country. Elaborating on the country's collective efforts against COVID-19, he stated that "gradually we are moving in the direction to win the battle against the pandemic.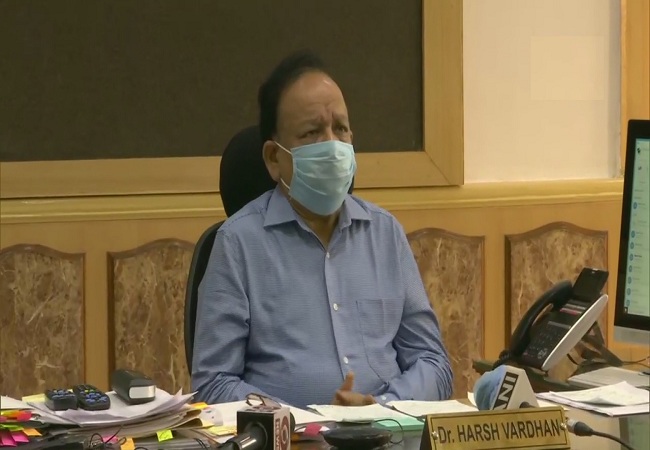 Less than 2 percent of the COVID affected patients are admitted in ICUs. Our lab network has been strengthened; we have had an exponential growth in the number of labs which have grown from one in Jan 2020 to 1234 today. As on date, we have tested more than 3.26 samples per day". Dr Harsh Vardhan added that this capacity will be further enhanced to 10 lakh tests per day in the coming 12 weeks.
Prime Minister to address High-Level Segment of ECOSOC on 17 July, 2020
Prime Minister NarendraModi will deliver a keynote address virtually at this year's High-Level Segment of the United Nations Economic and Social Council session on 17th July 2020 at the United Nations in New York. The annual High-level Segment convenes a diverse group of high-level representatives from the Government, the private sector, civil society and academia.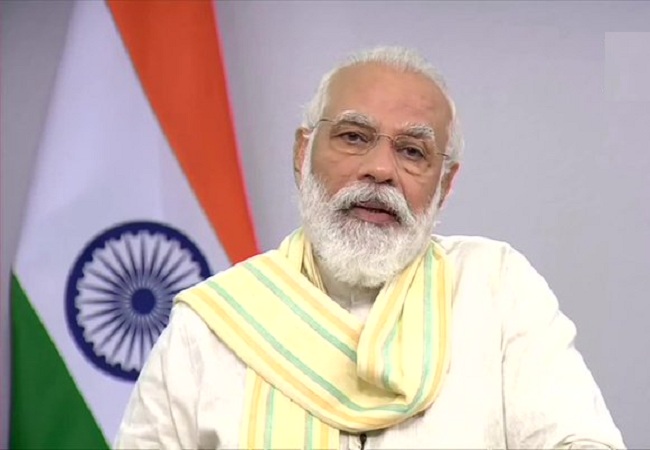 The theme of this year's High-level Segment is "Multilateralism after COVID19: What kind of UN do we need at the 75th anniversary".Set against the changing international environment and the COVID-19 pandemic, this session will focus on critical forces shaping the course of multilateralism and explore ways to bolster the global agenda through strong leadership, effective international institutions, a broadening of participation and enhanced significance of global public goods.
Department of Biotechnology supported COVID 19 Vaccine -ZyCoV-Dbegins Adaptive Phase I/II clinical trials
Biotechnology Industry Research Assistance Council (BIRAC) has announced that ZyCoV-D, the plasmid DNA vaccine designed and developed by Zydus and partially funded by the Department of Biotechnology, Government of India has initiated Phase I/ II clinical trials in healthy subjects, making it the first indigenously developed vaccine for COVID-19 to be administered in humans in India.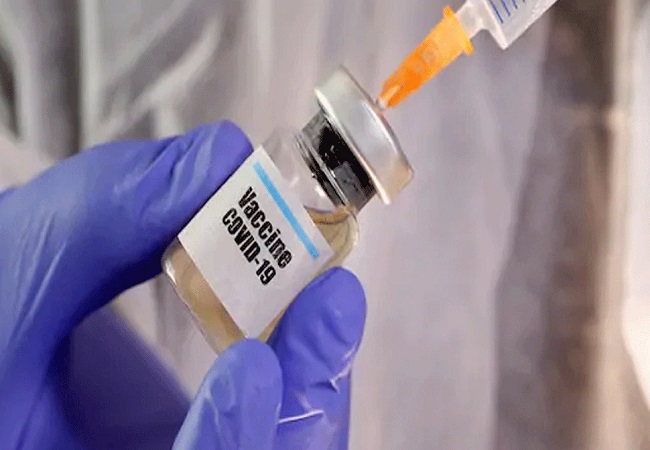 The adaptive Phase I/II dose escalation, multi-centric study will assess the safety, tolerability and immunogenicity of the vaccine. Dr. RenuSwarup, Secretary, DBT and Chairperson, BIRAC said Department of Biotechnology has partnered with Zydus to address rapid development of an indigenous vaccine for COVID-19 under the National Biopharma Mission.
Dharmendra Pradhan invites the US Investors to seize the huge opportunity in India's growth story
Minister of Petroleum & Natural Gas and Steel, Shri Dharmendra Pradhan, along with US Secretary of Energy, HE Dan Brouillette, co-Chaired industry-level interaction, organized by US-India Business Council (USIBC) yesterday. The Minister had also separately Chaired an industry-level interaction organized by US-India Strategic Energy partnership (USISPF) on Tuesday.
During these interactions, Minister Pradhan invited the US companies and investors to engage and invest in India in new opportunities. Shri Pradhan said that even during these challenging times, India and the US have been working in close collaboration, be it in stabilizing global energy markets or in collaborative efforts to address COVID-19. He said "In today's turbulent world, one constant is –and always will be –the strength of our bilateral partnership."
TIFAC releases report on 'Active Pharmaceutical Ingredients- Status, Issues, Technology Readiness and Challenges'
Indigenous production of Active Pharmaceutical Ingredients (APIs) needs to be scaled up to a level where the production is economically viable, says a report which identified a list of APIS that need prioritized manufacturing and the associated advantages.The report titled 'Active Pharmaceutical Ingredients- Status, Issues, Technology Readiness, and Challenges' was brought out recently by Technology Information Forecasting and Assessment Council (TIFAC), an autonomous organization under the Department of Science & Technology.The major recommendations given in the report include focus on engineering and scale aspect of technology development, need for Mission mode Chemical Engineering with defined targets for uninterrupted synthesis of molecules and to create mega drug manufacturing clusters with common infrastructure in India. COVID 19 pandemic has firmly put the focus of our Nation on being "AatmaNirbhar".
For details:
Giriraj Singh launches the Implementation Guidelines for Animal Husbandry Infrastructure Development Fund
Union Minister of Fisheries, Animal Husbandry and Dairying Shri Giriraj Singh today launched the Implementation Guidelines for Animal Husbandry Infrastructure Development Fund (AHIDF) worth Rs. 15,000 crores, which was approved by the Union Cabinet on 24.06.2020 under the AatmaNirbhar Bharat Abhiyaan stimulus package for ensuring growth in several sectors.
He also informed that the Dairy Processing Infrastructure Development Fund (DIDF) is being implemented for infrastructure development in cooperative sector and AHIDF is a first type of scheme for private sector. Millions of farmers will be benefited once the infrastructure is created and more milk will be processed. This will also increase export of dairy products which is presently negligible. India needs to go up to the standards of countries like New Zealand in the Dairy sector. He expressed satisfaction that during Covid-19 lockdown, dairy farmers could maintain steady supply of milk to the consumers in the country.